Motorcycling In The Adirondacks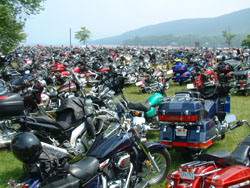 It's no secret that the Adirondack Park provides some of the best motorcyling in the country. Twisting scenic roads wrap around sparkling lakes, and graceful pines and other trees line the edges of each Adirondack Road. Each season provides another oppurtunity to discover motorcycling in the Adirondacks. Whether you arrive in early summer to rev your engine at the annual Americade, or come at during the fall to see the spectacular fall foliage, riding in the Adirondack is something that should be on every biker's bucket list.
Americade is the annual motorcycle rally is the world's largetst multi-brand motorcycle touring rally. Each year, Lake George Village turns into a motorcycle haven for one week of riding and revelry. One aspect of Americade that is espcially popular are the tours along scenic roads in the Adirondacks. Whether your tour is unguided or guided you're sure to enjoy the beauty of the Adirondacks, while discovering the thrill of the ride.
However, if you can't make it to the rally to learn some great routes, we polled our Facebook Fans to see what they had to say about the best rides in the area.
"Too many to name, but Route 3 comes to mind first..." - Will Gray

"Schroon Lake up to Sands Point"- Richard Van Patten

"Route 30- Saranac to Speculator back to Indian Lake to Blue Mountain Lake!" - Anne Minns

"The loop around Lake George"- Jeremy Srebro

"Route 8 through Speculator over to Lake George" - John Sickles

"Speculator to Lake Placid is a great run passing through many good dining opportunities." - Jeffrey M. Smith

"From Malone through Chasm Falls, Owl's Head, Mountain View, & Duane. Then Red Tavern Road to St. Regis Falls." - Nick Morey

"You've got to hit the stretch between Pine Lake and Piseco on Rte. 10." - Tom Panko

"Everywhere is beautiful in the Adirondacks!!" - Penny Parker

or as fan Richard Mersereau said: "The possibilities are endless. I've been riding for 30 years and I'm still finding new ones!"
Do you have a suggestion for a great place to ride? Like us on Facebook and your advice could be featured on Adirondack.net!