6 Trailside Adventures You Can Only Experience In St. Lawrence County
Sponsored by St. Lawrence County NY
Searching for your next outdoor adventure? Well look no further! Nestled between the banks of the St. Lawrence River and the foothills of the Adirondack Park is St. Lawrence County, a region renowned for its outdoor recreational opportunities.
What makes this area stand out among the rest of New York State is its accessible trail network for hikers, bikers, snowmobilers, and more. Wherever and whenever you visit, adventure awaits - all you have to do is follow the trail.
1. Discover Rewarding Hikes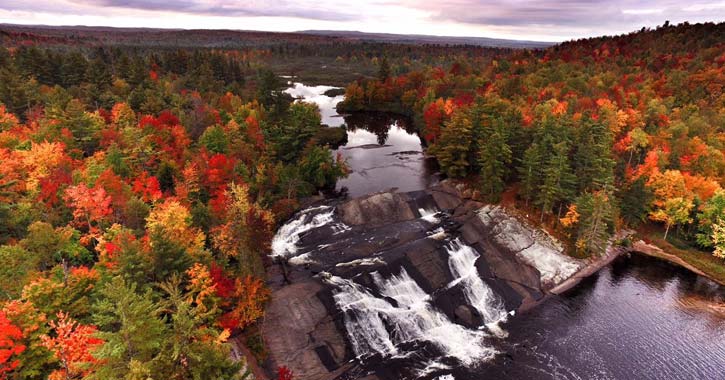 Hiking in St. Lawrence County is less about how steep a trail is and more about experiencing the region's scenic sights and hidden gems.
One hike may lead you to a majestic waterfall, while at another, you may find your new favorite picnic spot. Fall is a particularly beautiful time to visit, with the changing foliage turning the county into a picture perfect landscape.
From state forests to off-the-beaten-path waterfall and lake hikes, start your next hiking adventure at one of these top nature trails. It's always hiking season in St. Lawrence!
Postwood Park-Browns Bridge Trail - Located around Hannawa Falls in a recreational park, this hike has it all. At 5.7 miles long, the Bridge Trail features fairly easy terrain and both a public beach and a picnic area.
Lampson Falls - Best seen in late spring after the winter snowmelt, Lampson Falls is located between the towns of Clare and Degrasse along a trail. At 100 feet wide and 40 feet high, this is one of the county's most popular falls.
Clear Pond - One of the area's hidden gem hikes is Clear Pond in Parishville. This 6.6-mile round trip includes stops at beautiful glacial ponds.
2. Name That Bird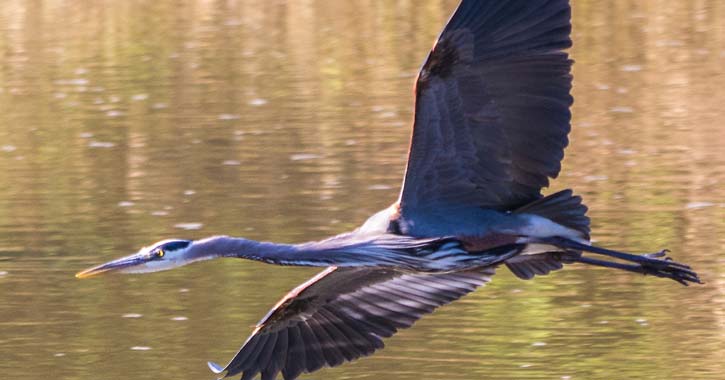 Sometimes the simplest of activities can be the most rewarding, and one of the most popular in St. Lawrence County is birdwatching.
Viewed as a birder's destination, the area is home to songbirds, nesting birds, turkeys, waterfowl, and many more. For the best birding experience, add these top lookout spots to your list of places to visit.
Black Lake - In southwestern St. Lawrence County is Black Lake, a body of water just a short distance from the St. Lawrence River. Featuring emergent marshland and open grassland, you may spot everything from turkeys and grouse to golden-winged and cerulean warblers.
Coles Creek State Park - Have you ever wanted to see a bald eagle or an osprey? Your best bet is Coles Creek State Park in Waddington, a place many migratory birds visit.
Hawkins Point Visitor Center - Come see waterfowl at the Hawkins Point Visitor Center in Massena. This is a major wintering area for waterfowl, and other species you'll see include migratory birds, songbirds, raptors, and more.
3. Cycle Your Way Through St. Lawrence County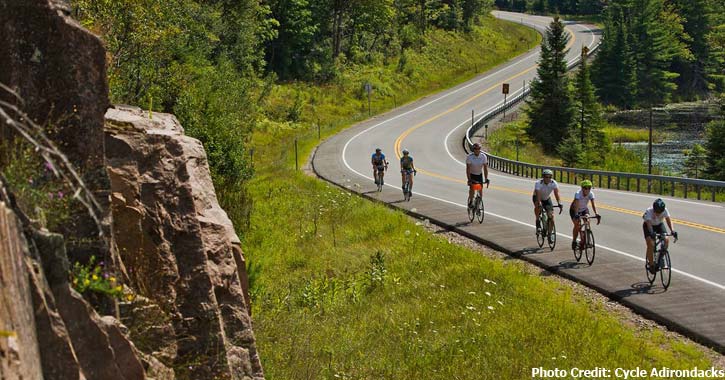 Take me on an adventure, country roads! As New York State's largest county by area, St. Lawrence is home to numerous biking trails along rolling hills and scenic back roads, offering both fun and challenging terrain.
Many of the routes connect the region's communities and are a great way to see some of the most picturesque countrysides in the entire state. From vast farmlands to riverside routes, there are plenty of easily accessible trails to choose from.
Want to find out about St. Lawrence County's best biking trails? Here are three that would make your adventure truly memorable.
St. Lawrence Seaway Ride (52 miles) - Starting from Canton, this route takes bikers north along the Seaway Trail to Massena. The ride provides amazing views of the area and local waterways, and it ends at the historic Dwight D. Eisenhower Lock.
Frederic Remington Ride (57 miles) - Named after famed artist and Canton native Frederic Remington, this ride passes by the Indian River and brings bikers to Ogdensburg, where you can tour the Frederic Remington Art Museum.
Raquette River Loop (34 miles) - Travel over the hills and far away from the Grasse River valley to the Raquette River valley. While slightly challenging, the route ends at Postwood Park where you can enjoy a picnic and a swim.
Whether you're visiting from Canada, the Adirondacks, or another area, you can bike your way into St. Lawrence County or drive to a nearby town or village to begin your ride.
4. Ride Across All Terrain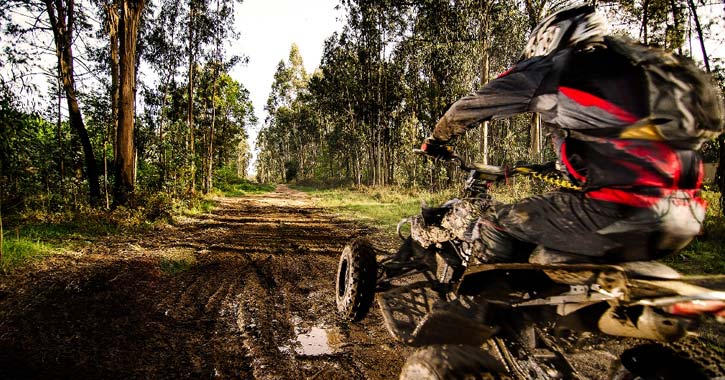 Rev up your ATV's engine and head deep into the North Country. While ATV trail riding is popular throughout much of Northern New York State, St. Lawrence County offers riders tons of accessible routes.
For prime ATV trails, the recommended area is from Massena to North Lawrence and Parishville. These communities are connected by ATV trails that are typically open from mid-May through mid-September.
Since public trails are mainly open seasonally, the ideal time to visit is during the summer for a fun-filled getaway with your ATV. ATV accessible trails usually have a green marker on them.
5. Gear Up For Unparalleled Snowmobiling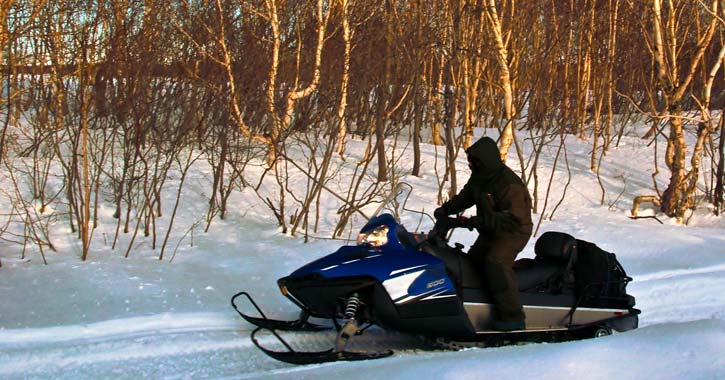 You've never truly experienced snowmobiling until you've visited St. Lawrence County. Offering over 700 miles of meticulously groomed terrain, winter is welcomed in this corner of New York State.
While the Cranberry Lake area in the southeastern section of the county is a popular snowmobiling site, if you head farther in, you'll discover even more thrilling trails around Massena and beyond.
Start at the main trails around Brasher Falls State Forest which is easily accessible and close to the Canadian border. You can ride around the region, stop at local eateries and gas stations, then take secondary trails for even more adventure. It's the perfect winter day trip.
To make it even easier for snowmobilers, the county's vast trail system includes convenient parking and access points at many communities along the routes. Just remember to have your ride registered if you're coming from out of state.
6. Ski & Snowshoe Over A Winter Wonderland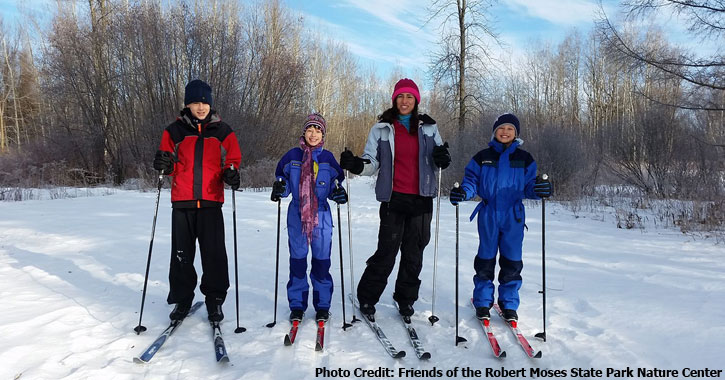 Winter isn't just for snowmobilers in St. Lawrence County. The region is packed full of state parks, forests, and local recreational sites that transform into winter wonderlands after a good snowfall. Best of all, many are free to access for cross-country skiers and snowshoers.
It doesn't matter if you're interested in an easy path that both adults and kids can enjoy, or want to tackle a longer route, there is a trail for you in the county, including:
Robert Moses State Park/Nature Center - Located in Massena, this nature center is perfect for beginners and people of all ages. There are easy trails around the park, and ski and snowshoe rentals are free.
Indian Creek Nature Center - Explore the 5 miles of trails at the Indian Creek Nature Center in Canton. Stop by during their winter events for extra entertainment.
Clarkson University - In winter, Clarkson University allows visitors access to their groomed outdoor recreational trail network. Trails range from easy to expert level, so there is something for everyone.
This article is part of an I Love New York Initiative to highlight the state's diverse tourist destinations.
Experience the rich arts and culture scene in St. Lawrence County »