Experience The Sights And Sounds Of The St. Lawrence Culture Scene
Sponsored by St. Lawrence County NY
When you think about St. Lawrence County, your mind might immediately see yourself surrounded by nature amid beautiful landscapes. While the natural beauty of the county is certainly breathtaking, did you know there is a thriving cultural scene weaved throughout the mountains and rivers? We've put together a list of some of the best places to take in art, history, and performing arts in St. Lawrence County. Check them out: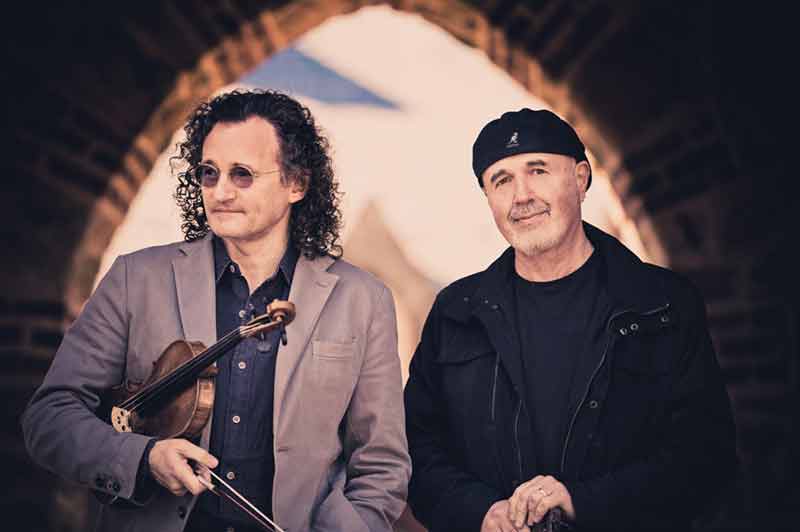 34th Annual McElheran Visiting Artist: Traditional Irish musicians, Martin Hayes & Dennis Cahill
See international performing acts right in Northern New York at Community Performance Series (CPS) in Potsdam. This non-profit college-community partnership brings world-class theatre, musical theatre, and musicians to its stage each year.
Since 1989, Community Performance Series has been in residence at one of the local four-year college, the State University of New York at Potsdam. Their Visiting Artist program has brought world-renowned acts to the stage including the Jerusalem Quartet, Doc Severinsen and the San Miguel Five of the Tonight Show with Johnny Carson, and Swazzle's Dream Carver puppet show. Additional educational art programs, like Meet the Arts, aims to engage children and their families with the performing arts. Other programs include bringing the artists out into the community for talks, workshops and more with residents and visitors alike.
Delight your eyes and ears with a Community Performance Series event. Their season runs from September to April. Ticket prices range from $10 to $50 and are available online, by phone, or at the CPS Box Office.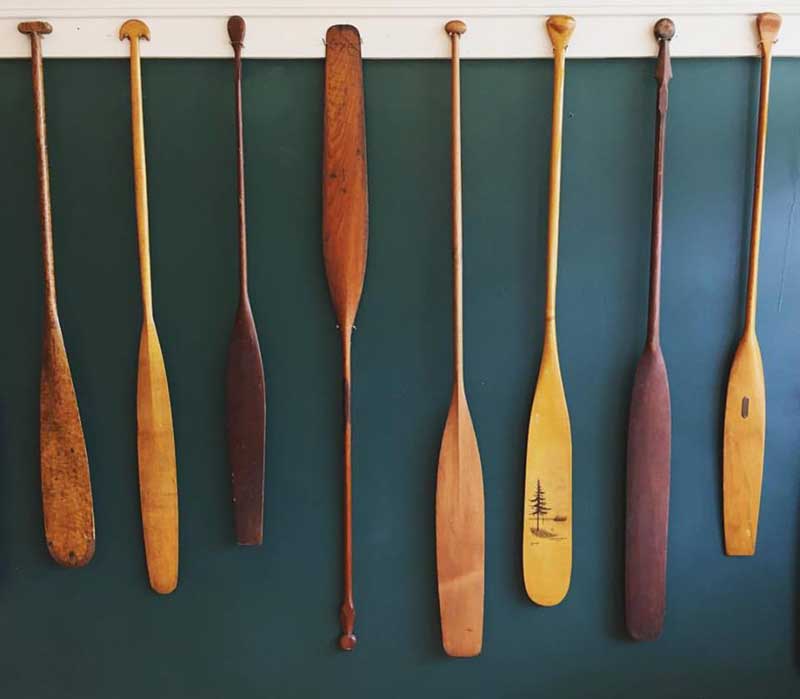 Take in the diverse customs and traditions of Northern New York at Traditional Arts in Upstate New York (TAUNY).
TAUNY is a non-profit organization dedicated to sharing the folk traditions and local culture of New York's North Country. Located on Main Street in Canton, TAUNY features curated exhibits like "Look Down and You'll See Our Tracks" which discusses the impact that damming Raquette River had on the lives of local residents. You'll also see exhibits from personal collections of local residents including paddles, fiddles, antique tools, buttons and more.
Want to take home a piece of Northern New York culture? TAUNY's Folkstore has a rotating inventory of handmade products from local artisans.
Come visit TAUNY and learn about the area's folk traditions year-round, Monday-Friday 10am to 5pm and Saturdays 10am to 4pm.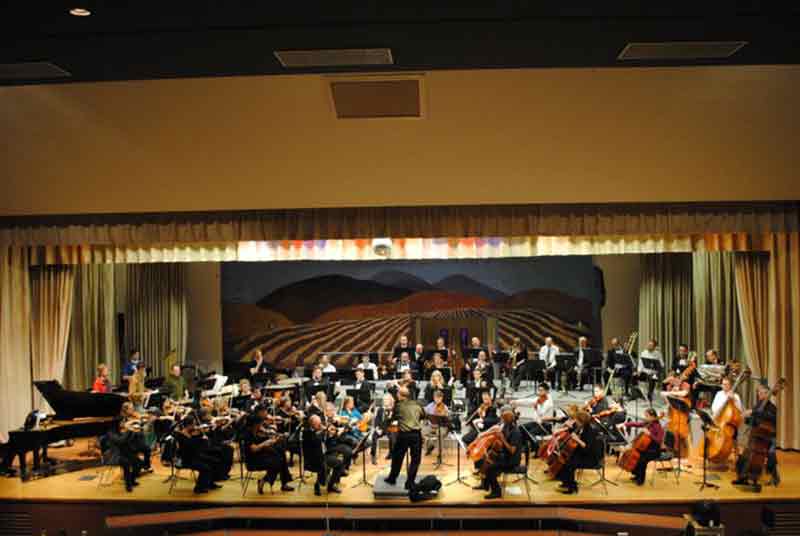 New York State is home to some excellent year-round symphony orchestras, but there's only one in the North Country: The Orchestra of Northern New York (ONNY). Started in 1988 by music director and conductor, Kenneth Andrews, ONNY entertains thousands of people each season.
The orchestra is made up of approximately seventy musicians coming from across New York State, New England, and even Canada. Faculty from the distinguished Crane School of Music, as well as truly outstanding student apprentices, also perform with the orchestra.
Renowned international soloists have joined the orchestra on stage including violinist Jamie Laredo, saxophonist Claude Delangle, harpsichordist and pianist Igor Kipnis and more. You're sure to see and hear top talent at ONNY concerts.
ONNY's season runs from October-July. Tickets cost $23 for adults, $19 for seniors & military, $10 for students 18+, and free for children 17 and younger. Season tickets are also available. Tickets can be purchased online, by phone, or at Brick & Mortar Music in downtown Potsdam.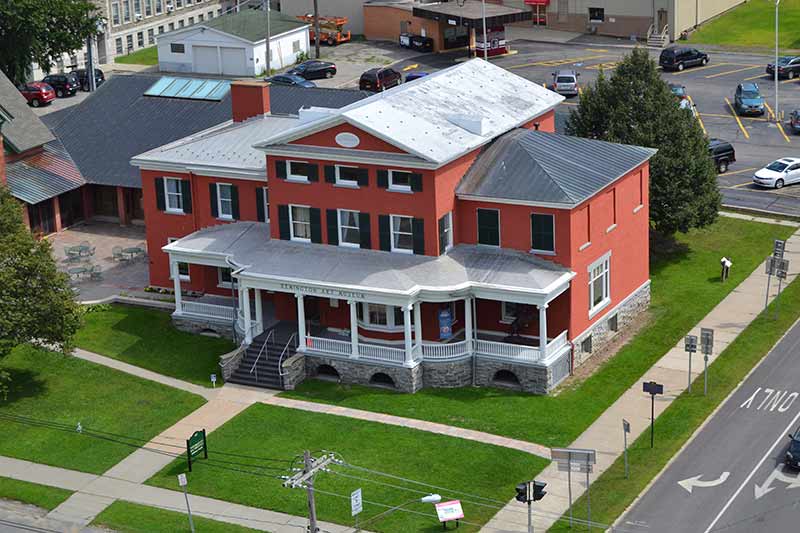 If you love westerns, cowboys, and stories of the American Old West, the Frederic Remington Art Museum museum in Ogdensburg is perfect for you.
Renowned artist Frederic Remington depicted scenes and figures of the American Old West through a variety of mediums. A Canton native, Remington's work appeared in Harper's Weekly alongside factual accounts and stories of the Old West. The detail of his work was considered so accurate, many at the time believed he was from the west himself.
Located in the historic Parish Mansion, the Frederic Remington Art Museum obtained much of its collection from the estate of his wife, Eva. After her husband's death in 1909, Eva lived at Parish Mansion with her sister. The mansion became Remington Art Memorial in 1923, just a few years after Eva passed.
Embrace your inner cowboy as you view the sculptures, paintings, sketches and personal effects of the artist. Open year round, Monday-Saturday 10am to 5pm, Sunday 1pm to 5pm. From mid-October to mid-May, the museum opens 1 hour later at 11am Monday-Saturday. Admission is $9 for adults, $8 for students and seniors, and free for children 15 and under.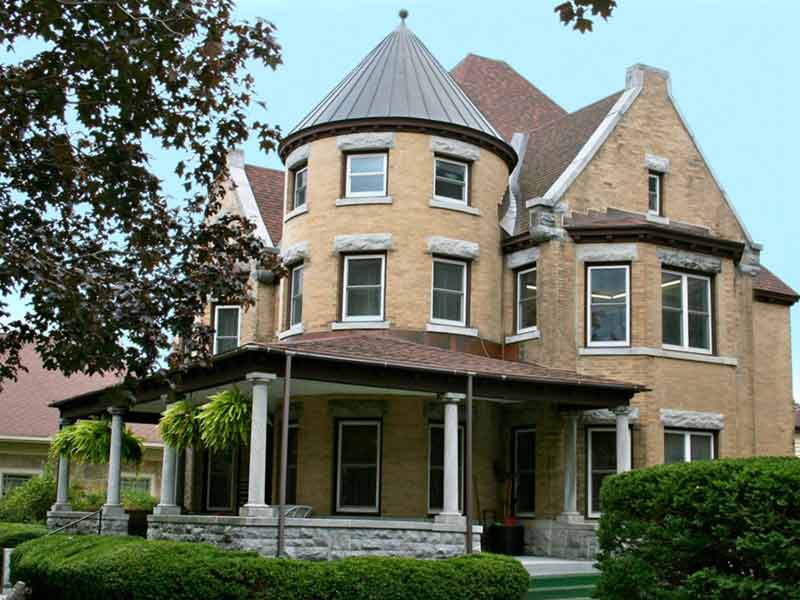 In 1974, the Gouverneur Historical Association purchased this former Presbyterian Manse with plans to turn it into a museum. Gouverneur Museum opened in 1976 and houses three floors of artifacts, antiques and other curiosities donated by town residents.
Notable exhibits from the thousands of unique items on display include the original deed to Gouverneur Township, a model of the Oswegatchie steamer, a wreath of human hair, and a giant pack of pep-o-mint LifeSavers®. These exhibits and many items in the museum's collection come with intriguing back stories and histories which you can learn about on their website.
Explore the treasures throughout the museum's eight rooms every Wednesday and Saturday from 1pm to 3pm. Want to visit another time? Individual and group tour appointments are available by request. Admission is free.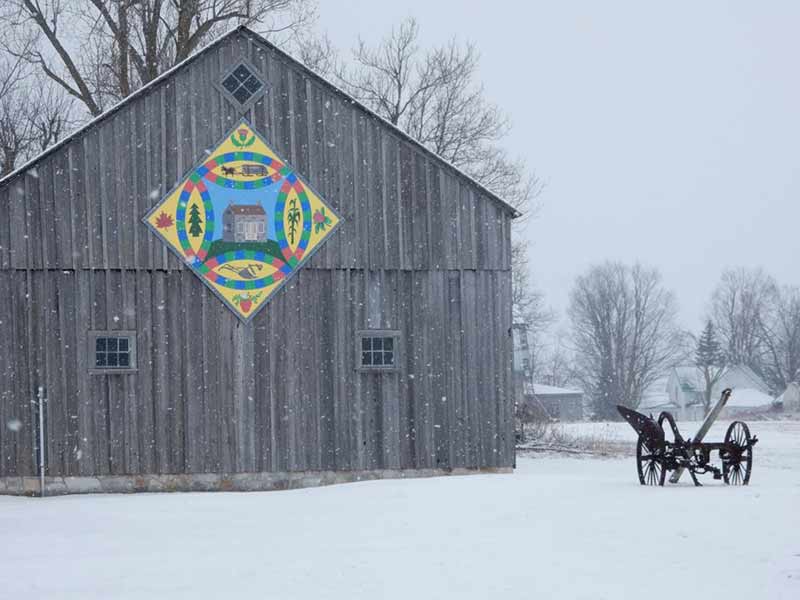 Craving a scenic drive through the country? Take it to the next level by driving along the Hammond Barn Quilt Trail. Started by county residents in 2014, the trail stretches across Hammond and features more than 30 beautifully painted barn quilts.
The barn quilt trail movement grew out of Adams County, Ohio after Donna Sue Grove started one in honor of her mother, a talented quilter. In communities like Hammond, you'll find these brightly painted panels affixed to local businesses, private residences and even street signs. No two barn quilts are the same, as the artists infuse them with personal touches like their favorite animals and colors.
Take a self-guided driving tour through Hammond anytime of the year and set your gaze on these charming pops of color in the landscape.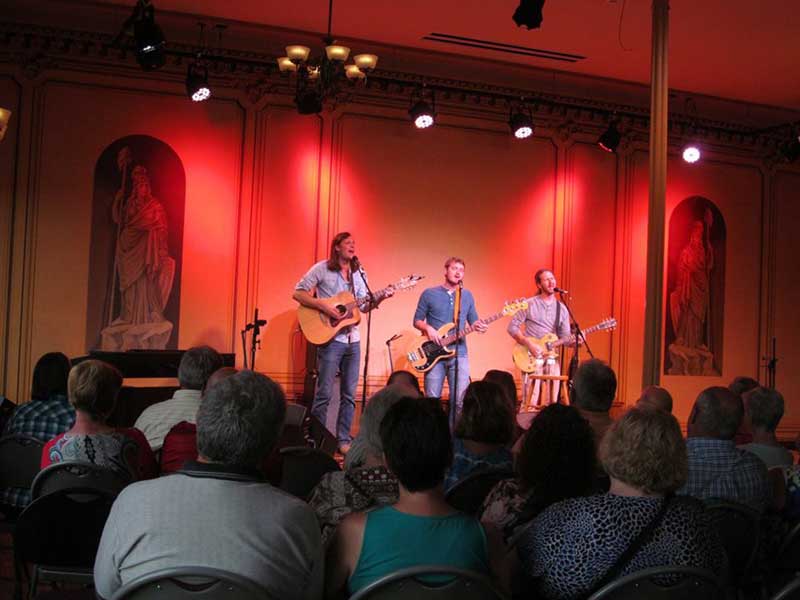 In 1858, Irish immigrant John Pickens opened the Pickens Stone Block - commonly referred to as Pickens Hall, in Heuvelton. The three-story building was home to Pickens Mercantile Store and the third floor Opera House. At its peak, the Opera House saw a large variety of acts grace its stage during the height of vaudeville performances, a theatre genre similar to variety acts. After Pickens' death, the building remained in the family but fell into disrepair.
Fast forward to 2004, when Pickens Hall & General Store was saved from impending demolition. The Heuvelton Historical Association, formed in 2001 with the goal of saving the building, purchased the building and began the preservation and restoration process. After fifteen years of renovations, Pickens Hall is once again a cornerstone in the community. Patrons can see live entertainment and shop Amish wears and homemade goods such as cheese curds at the General Store.
Visit Pickens Hall & General Store Monday-Saturday from 9am to 5pm. Check their events calendar for information on upcoming classes like tai chi, cider pressings, and concerts.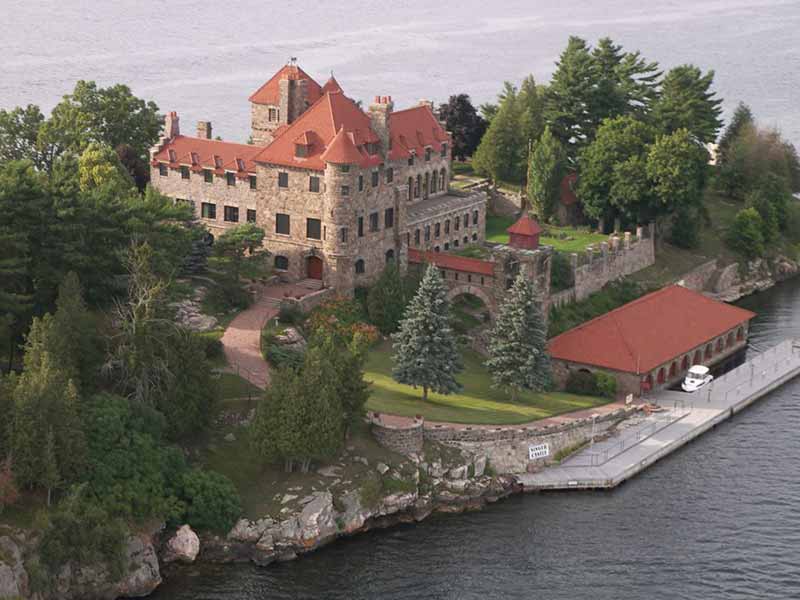 Discover a piece of American history located on the St. Lawrence River's Dark Island, Singer Castle. It is the last remaining castle that was built, furnished, and lived in during the height of New York industrialists & builders.
Built in 1905, Singer Castle's granite stone was quarried from nearby Oak Island. The stone traveled over water and ice before being used to build the castle walls.
Visit Dark Island and take a guided walking tour of the castle from May-October. Tours begin at 10am and the last tour of the day departs at 4pm. Admission is $14.25 for adults and $6.25 for children ages 4 and up.
Dark Island is accessible by private boat or shuttle service. The Schermerhorn Harbor Shuttle from Hammond is available May through September. Admission to Singer Castle is included in the shuttle ticket cost. Check their schedule for more information.
The next time you are looking for arts and entertainment, head to St. Lawrence County for a live show or gallery exhibition, and learn all about the local culture.
Find Family Friendly Fun in St. Lawrence County »
Explore the Great Outdoors in St. Lawrence County »