Hit the Road and Visit the Covered Bridges of Washington County
The Adirondack Park is an amazing place to visit when you're looking to escape the hustle of everyday life, but did you know one of the most relaxing and scenic drives is right outside the Blue Line in Washington County? This beautiful corner of the North Country is home to rolling hills, farmlands, and multiple covered bridges that stand as architectural marvels. Plan a fun-filled road trip to these charming structures, discover their history, and explore the picturesque region.
Cross the Covered Bridge in the Colored Slate Capital of the World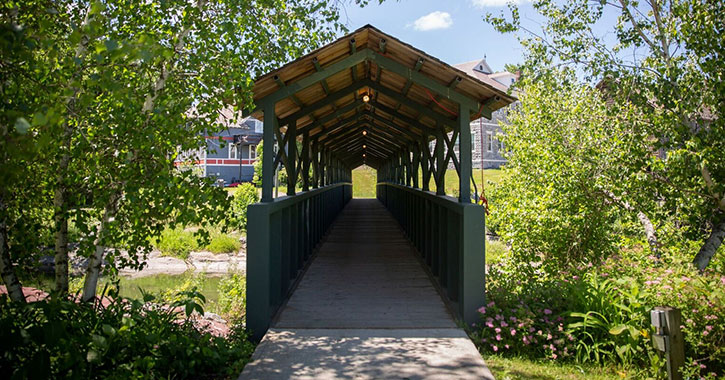 Nestled in the foothills of the Eastern Adirondacks, Granville is a small town that has been nicknamed the Colored Slate Capital of the World thanks to its unique red slate quarries. The major role that the slate industry played in the community's development is celebrated at the Slate Valley Museum, which is where you'll find the Slate Covered Bridge.
The Slate Covered Bridge is a long pedestrian bridge that crosses over the Mettawee River and connects the museum to Rathbun Avenue. As its name suggests, the bridge's roof is made of slate while the rest of it is a prefabricated steel superstructure. Built in 2000, this 120-foot long covered bridge is a local landmark that allows visitors to look up and down the waterway.
While you're in town, explore the Slate Valley Museum, get a bite to eat, and relax before continuing your drive.
Whether you want to grab and go or sit down for a late lunch or dinner, Edwards Market has it all. The market/deli offers sandwiches and home-roasted meats, pastries, prepared salads, and more. The on-site West Main Grille features a full-service bar and mouthwatering entrees.
Love hot dogs or hamburgers? Visit What's Up Dawg's and chow down on some exceptional food. Their massive menu has a wide variety of hot dogs, hamburgers, sandwiches, and wraps, and you can eat in or take out.
Opened in September 2018, Slate Town Brewing Company is a NY State farm brewery and taproom that is dedicated to producing small batches of handcrafted beers. Try some new brews at their building and have fun at the vintage pool table and indoor corn hole. Guests are welcome to bring their own food with them.
Before you leave Granville, pick up a souvenir at The Gold Trout on West Main Street. This unique gift shop carries products that are locally-sourced, made in the USA, organic, and eco-friendly. Their inventory includes books, garden essentials, gifts, teas, soaps, and more.
Explore the Rexleigh Covered Bridge in Southern Salem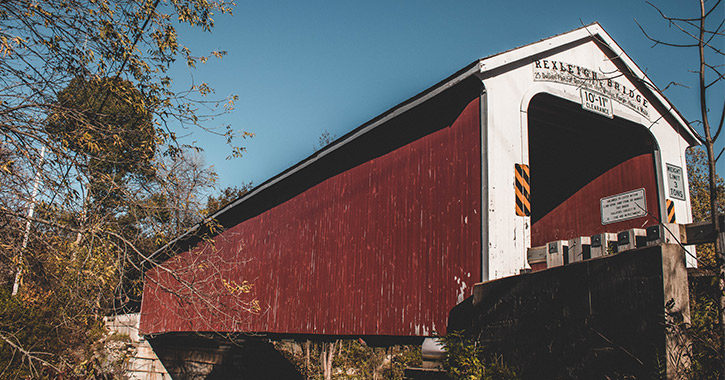 The Rexleigh Covered Bridge is one of the four historic covered bridges in Washington County, and it is located over the Battenkill River in Salem. Visitors can drive over this covered bridge by following Rexleigh Road, and if you'd like a photo, you can park by the side near the picnic tables.
Built in 1857 by Reubin Comins and George Wadsworth, this historic covered bridge features a Howe Truss design and is 107 feet in length. It was actually prefabricated in Troy, transported to Salem, and then pieced together at the current site. Over the years, the bridge has been repainted and repaired multiple times, and it is now owned and managed by Washington County.
An easy way to reach the bridge is by driving through Salem along NY-22 from the north. Plus, the community has a few different places where you can eat, drink, or walk for a short break.
Enjoy a stroll down Main Street in the heart of Salem and stop at Steininger's for flavorful soups, sandwiches served on freshly baked croissants, and delectable desserts and chocolates. This family-run cafe is the ideal lunch spot while you're in the Salem area.
Subs, wings, burgers, pizza, and tons of Italian dishes are on the menu at Brooklynn Marie's Italian Corner, located a few buildings down from Steininger's. All of the food is made to order, and they are open seven days a week for lunch and dinner.
When you're visiting the Rexleigh Covered Bridge, you may want to consider driving along the backcountry roads in northern Salem. Not only will you pass by scenic forests and farmland, but R.S. Taylor & Sons Brewery on County Route 30 is a fun place to stop at for beer tastings. Guests can sip ales, tour the site, and eat fresh tavern food.
Salem Art Works is a local art hotspot in Salem that features an arts center and a fascinating outdoor sculpture park that is open to the public year round from dawn to dusk. The Cary Hill Sculpture Park hosts a rotating roster of sculptures by a wide range of artists. Follow the trails and check out these magnificent works of art!
A Bridge Too Far? Not in Shushan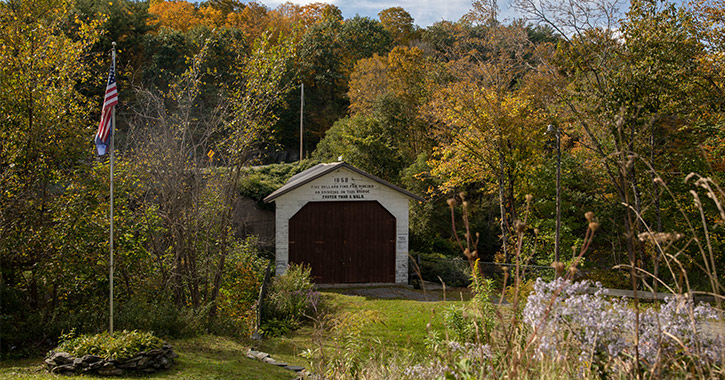 Shushan is a hamlet located on the Battenkill River between Salem to the north and the Eldridge Swamp State Forest to the south. Although the community is small, it actually contains two historic covered bridges, located just 2.3 miles away from each other.
The Shushan Covered Bridge is right in the heart of Shushan, and while it isn't open to vehicular traffic, the Shushan Covered Bridge Association, Inc has converted it into a museum. This 161-foot long bridge features a Town Lattice Truss structure, and it was built by the Stevens Bros. in 1858.
The Eagleville Covered Bridge, pictured above, is located 2.3 miles east of the Shushan Covered Bridge. To reach it, all you have to do is follow County Road 61 from Shushan to Eagleville Road. The 101-foot long Eagleville Covered Bridge was built in 1858 by Ephraim W. Clapp, and it is open to vehicular traffic.
If you get hungry during your trip to these two bridges, you can stop in Salem or Cambridge, or the local supermarket in Shushan.
Step right up to the deli counter at Yushak's Supermarket and get a couple subs and sandwiches to bring with you on your scenic drive through the region. You can also browse the shelves in the grocery store for drinks and snacks too. It's the perfect little rest stop before continuing on your way.
Voyage to the Bridge Between Two Counties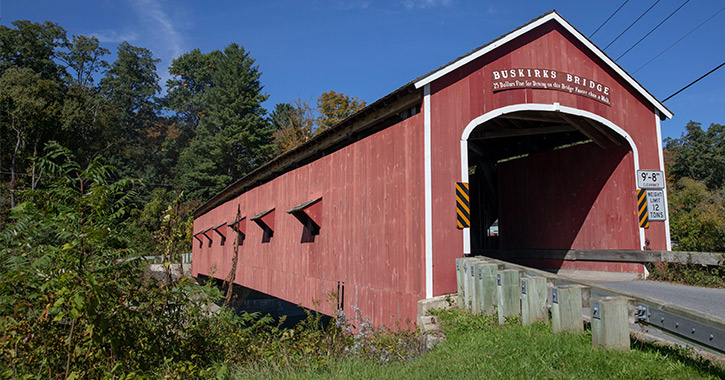 The historic Buskirk Covered Bridge is unique because it is located over the Hoosick River between both Washington County and Rensselaer County. Featuring a Howe Truss design, the covered bridge is 152 feet in length and open for vehicular traffic. This bridge was built in 1857, making it one of the earliest Howe Truss bridges still standing in New York State.
Planning to visit the bridge from the north? Try driving through Greenwich along the way and stop at one of these three places where you can eat or shop.
For tasty homemade food and sweet desserts and baked goods, the Village Cafe is a must-visit place in Greenwich. Enjoy pancakes, waffles, and farm fresh eggs for breakfast, and then check out their selection of specialty sandwiches, wraps, burgers, and soups for lunch.
Take a seat inside Lynn's Country Cafe in Greenwich and see what catches your eye on the menu. Not only will you find all your coffee shop favorites, such as french toast with homefries and grilled sandwiches, but they offer daily specials that are sure to whet your appetite.
All kinds of gifts are for sale at The Country Peddler Shoppes in Greenwich, from specialty foods and kitchen utensils to tasty fudge and souvenirs. There is truly something for everyone among their fine collection.
Ready to see the magnificent covered bridges of Washington County? Map your route through the region and experience a memorable drive from bridge to bridge.