Get your camera ready because the Adirondack fall foliage report is here for 2012! Residents throughout the Adirondacks this fall report seeing earlier-than-usual fall colors as well as some premature falling from the trees in some areas of the Adirondacks. Fall colors are expected to be more vibrant than last fall, however, so you can expect to see bright yellows, reds, oranges and purples amidst rich green evergreens this season.

The Adirondacks provide such excellent fall foliage viewing because the deciduous tree population is dominated by only a few species, which all turn color more or less in unison. This provides excellent all-over color at peak that is rare in other parts of the world. See our Adirondack fall foliage map below for typical peak foliage viewing in different parts of the Adirondacks.
Adirondack Peak Fall Foliage Map - The Best Time To Go
Please note: The foliage map below is the typical schedule for peak Adirondack fall foliage viewing by region. From year to year, there might be slight variations, but this can be consulted as a general guide for typical peak fall foliage in the Adirondacks.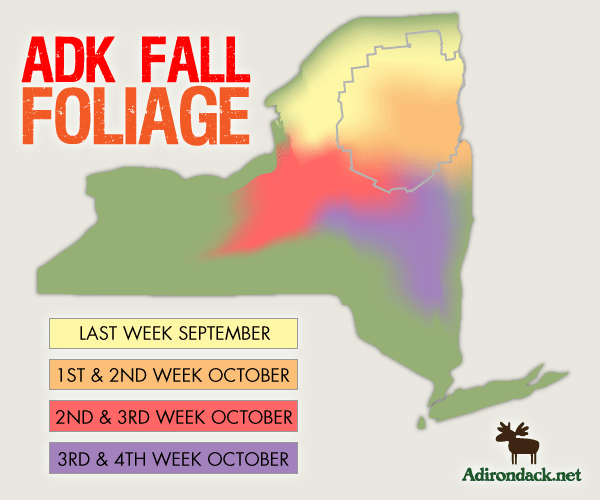 Adirondack fall foliage is always difficult to report or predict with 100% accuracy because the region is so vast and there are so many factors.

Experts are saying that despite the unusual warm and dry temperatures earlier in the year, followed by a cold snap, plus droughts in some communities, the Adirondack fall foliage will not be shortened this season. Sunlight and the length of days are responsible for when trees show their yellows, oranges and reds. The frosts and cold snaps determine the intensity of the deep reds and purples. We may see slightly earlier Adirondack fall foliage for 2012, but the colors are expected to be present for the average amount of time, three weeks (providing there are no strong winds, heavy rainfalls or droughts to upset this tentative report).

Looking for a great way to see the fall foliage? The Adirondacks offer hiking and biking opportunities to suit every skill level, and for the less adventurous, the Adirondack Scenic Railroad's Fall Foliage Train is another great option! The Fall Foliage Train runs from early September through mid-October between Lake Placid and Saranac Lake -- two picturesque locations with glimpses of rivers, wildlife and of course brilliant fall foliage along the way!
Whether for romance, family adventure or just to escape by yourself, an Adirondack fall getaway is the perfect vacation for anyone. From cozy cabins to luxury resorts, browse lodging options in the Adirondacks.
See all lodging options in the Adirondacks here>>

Check out all lodging deals and specials here>>

Want to get a sneak peek at what the Adirondacks look like ablaze with fall color?
View Carl Heilman II's gallery of leaf peeping photos >>
<< Back to the Adirondack Fall Guide