Adirondack Fall Foliage: Map & Predictions
Get your camera or smartphone ready because the Adirondack fall foliage is some of the best in the country. The deciduous tree population is dominated by only a few species, which all change color more or less in unison. This provides all-over color at one peak time, which is rare in other parts of the world.
Adirondack Peak Fall Foliage Map - The Best Time To Go
Please note: The foliage map below is the typical schedule for peak Adirondack fall foliage viewing by region. From year to year, there might be slight variations, but this can be consulted as a general guide for typical peak fall foliage in the Adirondacks.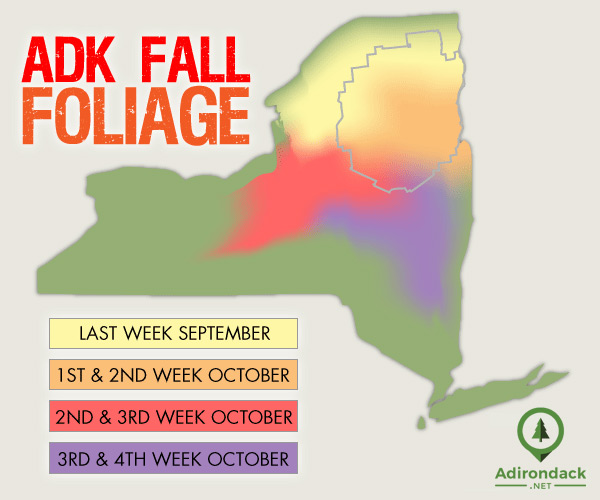 Adirondack fall foliage is always difficult to report or predict with 100% accuracy because the region is vast and there are so many factors. Sunlight and the length of days are responsible for when trees show their yellows, oranges, and reds. The frosts and cold snaps determine the intensity of the deep reds and purples.
View the current foliage report from I Love NY here: https://www.iloveny.com/things-to-do/fall/foliage-report/