Come join us on June 19th for an opening reception at the Lake Placid Center for the Arts (LPCA) to kick-off the Kevin Raines' 75 piece exhibit! The reception is free and open to the public.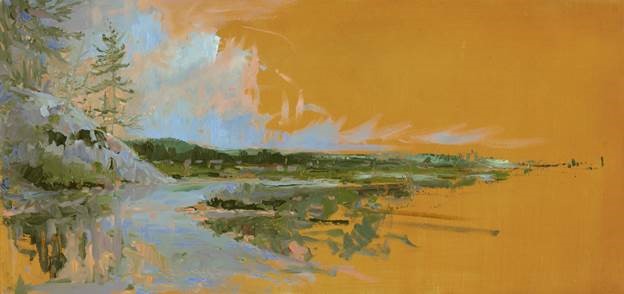 Red Sky, Oswegatchie River
Kevin Raines, an artist who wonderfully captures the balance of ecology and community in the Adirondack Park, will display his unique work for all to see. Kevin's bold and expressive pieces capture the scenic landscapes of America's most beautiful park, combined with the people who live, work and play in the Adirondacks. From mountaintops and lakeshores, to science studies in the forest, or even the flicker of an Adirondack fireside, this upcoming exhibit is a visually pleasing reminder of how lucky we all are to experience this Park as a national treasure.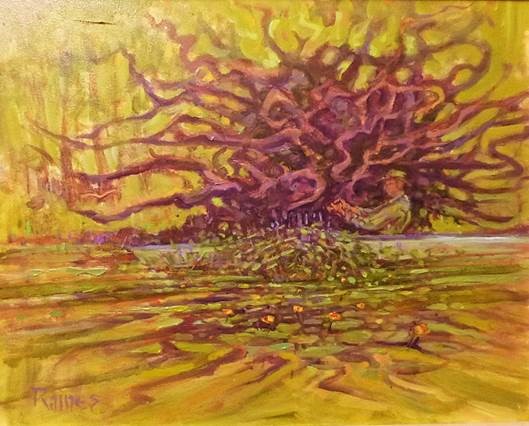 Photographer, scientist, conservationist, Larry Master hard at work
Kevin's paintings tell the story of Adirondack conservation and its importance. He captures the role humans play as stewards in protecting the environment, culture and history of the Park and its communities. Due to his deep love of nature and strong commitment to conservation, Kevin has fused his art with conservation science by working with a variety of organizations including the Adirondack Council, The Nature Conservancy, UNESCO, Audubon Society, and Champlain Area Trails. We at the Council are thrilled to be working with Kevin for this exhibit. One look at his paintings and you will agree that his ability to capture the important balance of ecology, conservation, people and community of the Park is astounding.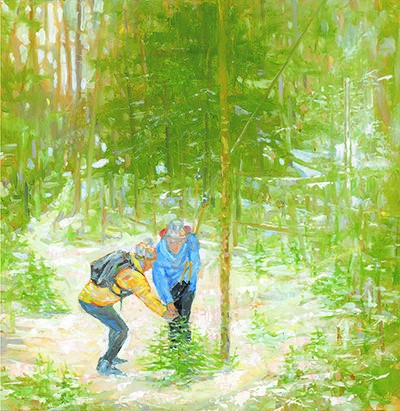 Spruce Fir
If you can't make it to Lake Placid before July 19, or would prefer to see it on the other side of the Adirondacks, check out the exhibit at the View in Old Forge – opening reception July 24th! The exhibit will remain in Old Forge throughout the summer until October 11th.
We hope to see you at the Lake Placid reception soon, but if not, be sure to check out this must-see exhibit! And after you visit, be sure to tell us what you think!
Until next time,
AC