Born Helen Margarette Lansing in 1891, Marjorie seemed destined to be involved in Adirondack publishing. Her family had owned the Plattsburgh Sentinel since 1861, and she spent much of her time as a child exploring the press room. Marjorie L. Porter grew up to be a prolific contributor to newspapers as a historian of local Adirondack life. When she discovered a SoundScriber in the 1940s, however, she began to capture her community heritage in a new way and set out to carve her legacy in the Adirondack folk music scene.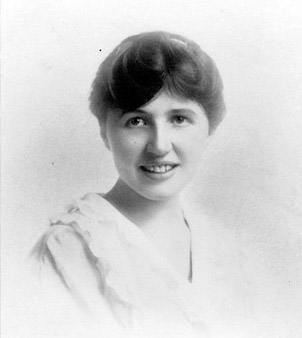 From 1942 to the early 1950s, Porter dedicated herself to interviewing and recording local performers. Her goal was to document all living performers within any musical family. She collected anything that expressed life in the North Country on her plastic discs, – from lumber camp rhymes, to laments of the mines, to fun folk standards. Porter did not get paid for her sound recording; she would travel and haul equipment through black fly infested woods because of a deep passion for conserving the beautiful culture of the Adirondacks.
Among her most notable recordings are the 450 or so interviews and nearly 100 songs of Lily "Grandma" Delorme. She also interviewed and recorded fiddler and singer Lawrence Older, surveyor and conservationist Lem Merrill, a comedy performance by "hermit" Noah John Rondeau, and the vivacious storyteller and singer "Yankee" John Galusha. Later in life, Porter met Pete Seeger at a folk festival and the politically active folk singer drew from her collection for his record Champlain valley Songs.
Porter's final collecting was in 1967. Until her dying days in 1973, Porter's energy continued to light up lecture halls and the faces of people she talked to. Marjorie L. Porter is truly a gem of Adirondack history!
(Photo: Lake George Mirror Magazine)