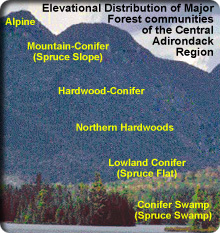 (Photo: esf.edu)
The "tree line" of a mountain refers to the edge of the area where trees are capable of growing. When climbing an Adirondack High Peak, one gets to experience a multitude of forest ecosystems both below and above tree line.
At ground level, Conifer Swamps, otherwise known as spruce swamps, a range of tree densities can exist. These low areas are associated with bogs and species that grow well in wet conditions, such as black spruce, tamarack, and sphagnum moss.
As one ascends into the Lowland Conifer, also known as the spruce flat, balsam fir and red spruce become very frequent. Mosses and seeds of other shade-tolerant tree species, primarily white pine and paper birch, scatter the forest floor. Next one enters the Hardwood-Conifer, or mixed woods forest, which is characterized by progressively deeper, yet still rocky and moist, soils. Red maple and yellow birch become more common, while Eastern white pine becomes more sporadic. Vegetation beneath the main canopy of the forest includes witch hobble, honeysuckles, and American beech.
The Northern Hardwood area is the most common in the Adirondacks, occurring at elevations up to 2,500 feet and compromising over 50% of the forested land. Sugar maple, American beech, and yellow birch are the most common here. Understory vegetation includes many tree and shrub species.
Above the Northern Hardwood is the Upper Slope Hardwood Conifer area, a transition before the Mountain Conifer forest. Here, red spruce, eastern hemlock, sugar maple, yellow birch, and American beech are the dominant species. The Mountain Conifer, also known as "spruce slope" or the mountain boreal forest, is found at elevations above 2,800-3,000 feet. As elevation increases, black spruce and balsam fir trees form a contorted area known as the "Krummholz". Hardwood species become less common. The floor beneath the shade of conifers is cold, damp, and covered with conifer needles, moss, and lichens.
11 of the Adirondack's High Peaks are home to non-forest alpine plant communities, which only exist above tree line. Even though trees cannot tolerate the environmental conditions at alpine elevations, a variety of rare plants, moss, and lichens can only be found at the top of some High Peaks. The Adirondack Park is home to a total of 85 acres classified above tree line, of which only 42 acres are vegetated with alpine species.
It is important to be respectful of endangered alpine species when hiking. Always stay on the trail and walk primarily on rocks. It can be hard to tell the difference between alpine species and plants that grow below tree line. For example, although Deer's Hair Sedge looks similar to common grass, its unassuming appearance does not make it okay for hikers to walk or sit on! If a Summit Steward is present, don't hesitate to ask him or her about the special alpine plants, and enjoy their beauty!