Eastern Adirondack Biking Trails, Paths & Routes
Below are trails that are partially or entirely located in the eastern region of the Adirondacks. This includes towns such as Brant Lake, Crown Point, Elizabethtown, Essex, Hague, the High Peaks Region, Indian Lake, Keene, Long Lake, Minerva, Newcomb, North Hudson, Pottersville, Schroon Lake, Ticonderoga, Westport, and Willsboro.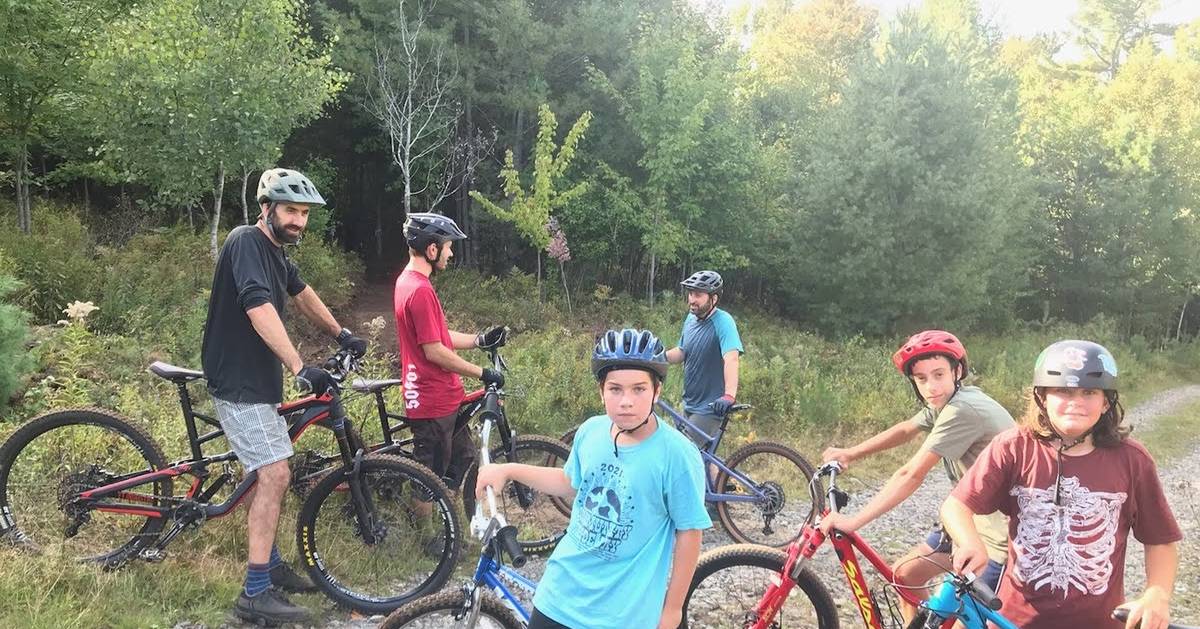 Please note, this list is not exhaustive and is only meant to be a starting point for your Adirondack biking adventures!
Mountain Biking
Mt. Sabattis Recreation Area
Mt. Sabattis Recreation Area in Long Lake unveiled 2k of newly built mountain bike/shared use trails in October of 2021. The trails go through wooden terrain and along a meadow, and overlook Long Lake.
This is just phase one of this project. Enjoy the short loops, build up your skills, and stay tuned for expert mountain biking trails and more in the future!
Access/Directions: Mt. Sabattis Recreation Area is located on Deerland Road, across from the post office.
Johnson Pond/Paradox
There is a 22 mile scenic loop that starts on Johnson Pond Road in North Hudson.
Access/Directions:
Near the North Hudson Town Court is the start of the 22 mile loop on Johnson Pond Road
Bike along Johnson Pond Road for about 5 miles, and then turn left onto Old Furnace Road
Continue biking, and you will pass Paradox Creek, Bald Pate and Moose Mountain to the north
The road will take you into Ironville
Take County Route 2/Creek Road south along the western shore of Penfield Pond
After about 2 miles, turn right onto Stony Lonesome Road
After another 5 miles, you will pedal past Fleming Pond on your left
Keep going and then turn right onto Letsonville Road
After a few more miles, turn left and you'll return to Johnson Pond Road (the intersection where you turned onto Old Furnace Road earlier)
Moose River Plains
This network offers 27 miles of free-access bike trails at one of two gates.
Access: Route 28, Indian Lake
Crane Pond Road
Two maintained dirt roads turn into non-maintained roads on this 3 mile, moderately hilly route that leads to Crane Pond and Pharaoh Mountain.
Access: Crane Pond Road, Schroon Lake
Cycling
Lake Champlain Bikeways
This 350 mile route around Lake Champlain can be shortened into a number of shorter loops appropriate for all riders.
Access: Crown Point
Brant Lake Loop
Circle Brant Lake on this 15.3 mile scenic ride. Watch out for traffic on Route 8.
Access: Exit 24 of I-87
Coon Mountain Circuit
This 18.5 mile intermediate loop offers great views, and the possibility to combine a hike with your bike.
Access: Main Street, Essex
Ensign Pond Road
Accessed through the Hammond Pond Wilderness, this route is 9 miles one-way and can lead to Trout Pond, Round Pond, East Mill Flow, Moose Mountain Pond and Bass Lake.
Access: Ensign Pond Road, Moriah
Fort to Fort
See Fort Ticonderoga and Fort Crown Point on this flat, scenic tour route.
Access: 814 Bridge Road, Crown Point
Iron to Iron
This route is very hilly, and it is recommended that you ride a bike that can travel on brief sections of unpaved roads.
Access: 34 Park Place, Port Henry
Rolling Reber Ramble
See a stone octagonal schoolhouse, as well as woods, houses, and farm fields on this 18.6 mile loop.
Access: Route 22, Willsboro
Hoffman Loop
This 25 mile ride features scenic views of Bullet, Muller, Bigsby, and Oliver Ponds.
Access: Schroon Lake, NY
Elizabethtown - Westport Loop
This 19.5 mile loop travels from Elizabethtown to Westport along the shore of Lake Champlain, and then back to Elizabethtown. Start from Route 9 in Elizabethtown and take it to County Highway 8, or Elizabethtown-Wadhams Road, toward Wadhams. Then take Route 22 to Westport. You can then bike west on 9N back to where you started.
Access: Elizabethtown, NY
« Back to the Adirondack Biking Guide
Sources:http://www.lakechamplainregion.com/recreation/outdoors/bikinghttp://warrencountyny.gov/GIS/pdf/BikingMaps/MAP%2010_Brant%20Lake%20Loop.pdf