Independence Day Weekend at Fort Ticonderoga!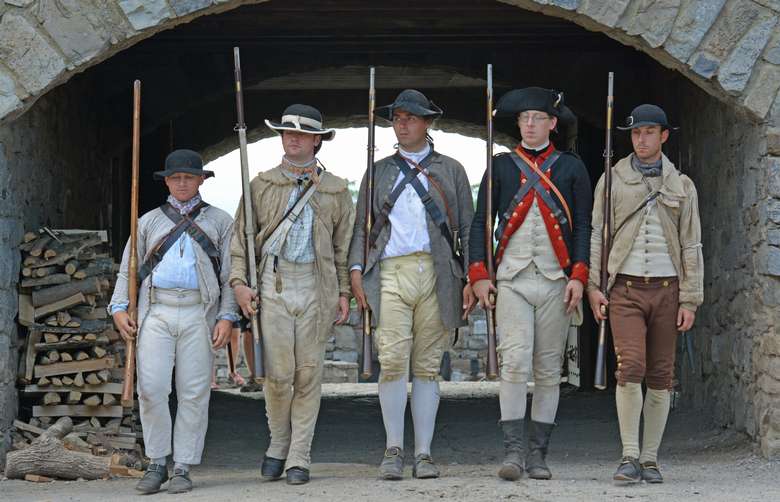 When:
Friday, Jul 3, 2020 until Sunday, Jul 5, 2020
9:30 AM to 5:00 PM
---
These daily activities during Independence Day extended weekend are included with admission:
Search for Liberty: A Family Adventure!
This fun hands-on activity tasks the whole family with finding the tools and materials that equipped Continental Soldiers at Fort Ticonderoga. Whether helping tend the garden greens that kept soldiers well or examining the shoe leather that protected soldier's feet on a long march, young and old can explore the details of daily life for soldiers together. Continental Dollars and the Quartermaster's stamp await those who complete these vital tasks to secure liberty.
Key to the Continent Tours
Could Ticonderoga have been held by the Continental Army in 1777? Was its loss a disaster or a prudent retreat? Create your own answers to questions that have enthralled officers and armchair generals alike for 242 years. Explore how two decades of military occupation culminated with rich cultures and characters at Ticonderoga in 1777.
Musket Demonstrations
American soldiers, behind a wall of earth, steeled their nerves to hold their ground as the British Army landed to attack in 1777. See how an army of farmers and tradesmen used their muskets & bayonets to hold back British & German soldiers.
Garden Marches
Follow the Fifes & Drums of Fort Ticonderoga down to the King's Garden. Enjoy your favorite 18th-century tunes and marches with this group as your musical guide.
Guided Tours of the Fort Ticonderoga Museum
Exhibitions staff will lead you on a guided tour of this remarkable museum's highlights. Begun more than a century ago, the Fort Ticonderoga museum has North America's largest and most important collection of 18th-century military material and cultural objects. Get the scoop on the most significant, rare, and interesting pieces in the collection.
Breaking Ground: A Tour of the Historic Gardens
From military garrison gardens to a secluded colonial revival commemorative spectacle of color and light, explore one of the oldest cultivated landscapes in America. Discover the layers of horticultural history of the Ticonderoga peninsula.
Fife and Drum Concerts
From the earliest patriotic songs which inspired a nation, to the everyday duties and marches that regulated army life, listen to the fifes and drums of the American defenders of Ticonderoga. See the massed fifers and drummers of the many regiments who were charged with holding the British Army at bay.
"A Return of Arms"
As the British Army's siege tightened around American-held Ticonderoga, brand new muskets delivered to the Americans fresh from France were too valuable to leave crated up inside the fort. See these vital arms from a secret ally exchanged for the worn-out arms brought by American soldiers to Ticonderoga.
Cannon Demonstrations
Watch a cannon and its crew in their element, holding the British Army back with shot, fired from the earthen walls of a redoubt. Explore how the science of gunnery and field fortification were applied in the defense of Ticonderoga in July, 1777.
Mount Defiance: Witness to History Tours
Oh, the stories this graceful hill overlooking Fort Ticonderoga could tell! As Fort Ticonderoga relives 1777, discover the unique tactical role of Mount Defiance in the story of this decisive campaign fought for our independence.
The following programs require advance reservations and are available for purchase online. These programs will sell out:
Special Event: Ticonderoga Guns by Night, July 4 Only!
Gates open at 7:30pm Tour begins at 8:00pm at the Log House Welcome Center.
Experience the flash of musketry and roar of cannon fire by night in this unique 90-minute tour and demonstration of 18th-century guns, big and small! Explore the workings of the firelocks and cannons that armed the many garrisons of Fort Ticonderoga and influenced and shaped the importance of this strategic citadel. Learn how these great guns were used to attack and defend Fort Ticonderoga during the French & Indian War and made it such an important prize in the American Revolution. The tour concludes with a dramatic nighttime demonstration of weapons that you will not see anywhere else!
Special Event: Carillon Boat Cruises
Get a front row seat for the siege of Ticonderoga during this week-long Independence Day celebration! Between floating bridges, flotillas of bateaux, and a whole British naval fleet, the fight for Ticonderoga played out on Lake Champlain and across the hills that surround it. Don't miss this unparalleled chance to get a new perspective on the fight for independence on one of the most historic waterways in America.
---
Incorrect info on this event listing or page? -- please email
Event times and information subject to change and not guaranteed.