Wet Trails & High Temperatures for Hiking in the Adirondacks This Weekend
Hiking Conditions for May 20 - 22, 2022
Certain public access roads have been opened for the season and there's more to know for hiking in the Adirondacks this (hot!) weekend.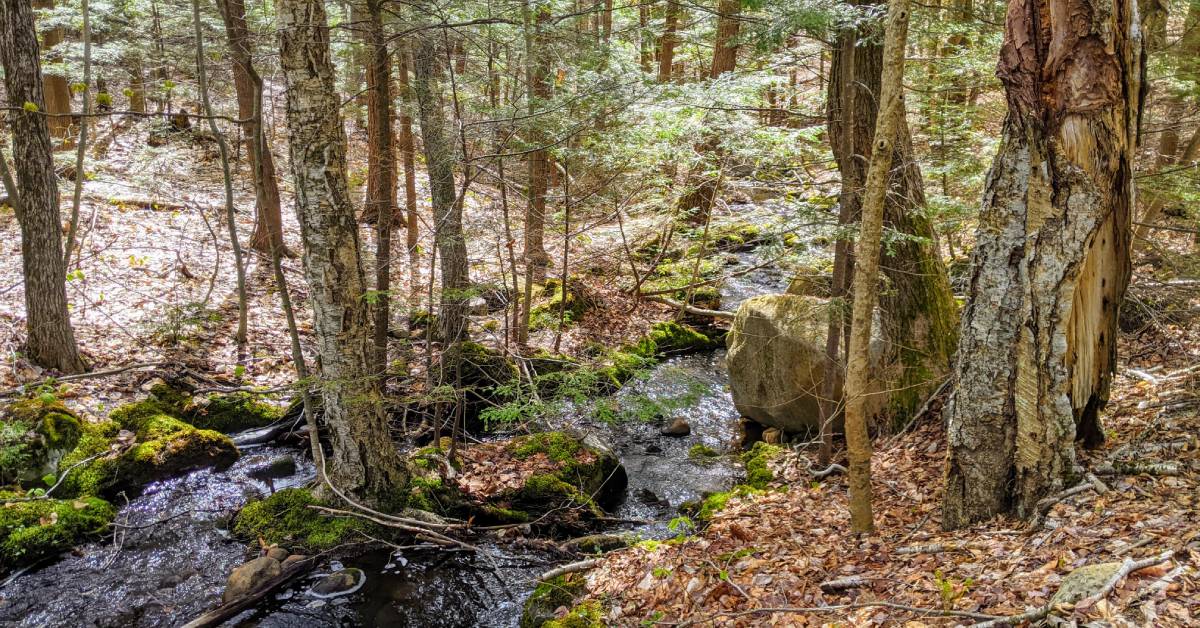 This page was updated on 05/20/22
Here's the Weather Report (05/20/22 - 05/22/22)
Here are forecasts in the ADK at a glance:
Crown Point: Fri 82° and partly cloudy, Sat 95° and partly cloudy, Sun 90° and scattered thunderstorms
Indian Lake: Fri 76° and partly cloudy, Sat 86° and partly cloudy, Sun 82° and scattered thunderstorms
Keene: Fri 81° and partly cloudy, Sat 90° and partly cloudy, Sun 85° and thunderstorm
Lake George: Fri 82° and partly cloudy, Sat 96° and partly cloudy, Sun 93° and scattered thunderstorms
Lake Placid: Fri 76° and partly cloudy, Sat 84° and partly cloudy, Sun 80° and thunderstorm
Long Lake: Fri 76° and partly cloudy, Sat 86° and partly cloudy, Sun 81° and thunderstorm
North Creek: Fri 79° and partly cloudy, Sat 91° and partly cloudy, Sun 87° and scattered thunderstorms
Old Forge: Fri 76° and scattered showers, Sat 85° and isolated thunderstorms, Sun 78° and thunderstorm
Saranac Lake: Fri 78° and partly cloudy, Sat 84° and partly cloudy, Sun 80° and thunderstorm
Ticonderoga: Fri 81° and partly cloudy, Sat 93 ° and partly cloudy, Sun 88° and scattered thunderstorms
Tupper Lake: Fri 79° and partly cloudy, Sat 84° and partly cloudy, Sun 80° and thunderstorm
The DEC recommends checking daytime and nighttime temperatures, and to keep in mind that temperatures will drop as you gain elevation. Check wind chill temperatures for cold, windy summits.
Check the Weather Again Before You Head Out
Find the forecast for your specific destination - you can see select summit forecasts at the links below. Check for both daytime and nighttime temperatures.
See the National Weather Service for the Northern Adirondacks >>
View the National Weather Service for the Southern Adirondacks >>
Snow Report & Conditions for the High Peaks Wilderness as of 05/20/22
Conditions are a mix of rotten snow and lots of mud. Dress in layers and bring extra so you can keep yourself dry. Ice may be present above 4,000 feet, but the Muddy Trail Advisory is still in effect, so please avoid all trails above 2,500 feet.
Find more data on snowfall and snow depth >>
New Notices to Check This Week
Public access to the lock between Middle and Lower Saranac Lakes in Saranac Lake Wild Forest is closed while work is done on the lock. It's expected to be complete in mid-June. In the meantime, there is no boat access here. Canoes and kayaks can carry around the locks.
D&H Road and Piney Ridge Road gates in the Sable Highlands Easement have been open for the season for access by cars and trucks. Please note that public ATVs and UTVs are prohibited on the property with the exception of Wolf Pond Road, which is a Town road.
Water has been turned on at the Otter Creek Assembly Area and all mud gates have been opened in the Independence River Wild Forest.
The Lake Lila Access Road is now open for public use in the William C. Whitney Wilderness.
The DEC anticipates opening the Moose River Plains gates in the Moose River Plains Complex the week prior to Memorial Day weekend.
Public access roads are now open for public vehicles in the Santa Clara Conservation Easement. This includes the Madawaska Road. Drivers should exercise caution on backcountry roads due to varying surface conditions.
Also in the Santa Clara Conservation Easement, a logging operation is occurring on the portion of the property south of Lake Ozonia (accessed by the Brown Track Road). Users accessing the easement should reduce speed and exercise caution both on the Brown Track Road and on the easement roads in that area. Anglers are advised not to use the northern of the two fishing sites on the CP3 route as trucks will soon be crossing that bridge regularly.
High clearance vehicles are recommended for Jessup River Road in the Speculator Tree Farm and Perkins Clearing. Mud Lake Road is now open.
O'Neil Flow and Barker Pond Road in Township 19 are now open to the public.
All seasonal access roads on conservation easement and forest preserve lands in the following areas are open now or will be opened in the near future.
Grass River Wild Forest
Raquette Boreal Complex
White Hill Wild Forest
Bog River Complex
Cranberry Lake Wild Forest
Please be aware of the recreational rights allowed on each individual property or at each area.
Notices From Last Week
The gate on Corey's Road is now open in the High Peaks Wilderness.
The gate at Clear Pond, on the Elk Lake Conservation Easement, is now open for the season. The public is allowed to drive to the Elk Lake parking lot and trailhead to park for access to the Slide Brook Trail and the Elk Lake Marcy Trail. Parking is limited to the capacity of the parking lot. No parking is permitted along the Elk Lake Road or in any other pull-offs. If the parking lot is full, hikers must park at the Upper Elk Lake Road parking lot on the west side of the Elk Lake Road approximately 2.3 miles south of the Elk Lake parking lot and trailhead. Please respect the parking rules to help ensure this access is maintained and there are no impacts to fire and rescue access.
Roads are currently closed for mud season in the Perkins Clearing/Speculator Tree Farm Conservation Easements. The bridge at Old Route 8 by Christine Falls will be closed for repairs starting on May 16. Roads that will consequently close because of this are Fly Creek Road and Robbs Creek Road.
Jabe Pond Road is open in Lake George Wild Forest. The Shelving Rock Brook trail bridges (all 3) are not safe for equestrian use. Please use Shelving Rock Mountain Trail to access the trail system. Shortway Trail bridges (3) are now open to equestrian use.
Muddy Trails Advisory Is in Effect
The DEC has issued a Muddy Trail Advisory for Adirondack trails, especially those over 2,500 feet in elevation. Please avoid the following high elevation trails until conditions have dried and hardened:
High Peaks Wilderness: all trails above 2,500 feet, specifically Algonquin, Colden, Feldspar, Gothics, Indian Pass, Lake Arnold Cross-Over, Marcy, Marcy Dam - Avalanche - Lake Colden (which is extremely wet), Phelps Trail above Johns Brook Lodge, Range Trail, Skylight, Wright, all "trail-less" peaks, and all trails above Elk Lake and Round Pond in the former Dix Mountain Area
Giant Mountain Wilderness: all trails above Giant's Washbowl, "the Cobbles," and Owl Head Lookout
McKenzie Mountain Wilderness: all trails above 2,500 feet, specifically Whiteface, Esther, Moose, and McKenzie Mountains
Sentinel Range Wilderness: all trails above 2,500 feet, specifically Pitchoff Mountain
Jay Mountain Wilderness: specifically Jay Mountain
Remember to walk straight through that mud instead of around it, to protect trailside vegetation and avoid trail widening. Please opt for low elevation trails until the high elevation trails have time to dry and harden.
Waters Are Still Cold & Levels Are Mostly Average
Despite warm air temperatures water temperatures may still be extremely cold. Water levels throughout the Adirondacks are mostly average for this time of year - up from mostly below average last week. PDFs are still strongly recommended to be worn.
Where bridges aren't available, do not attempt to cross streams during periods of high, fast-moving water.
Fire Danger Is Low
Fire danger has gone from high last week to low at the moment Park.
Wildfires are common at this time of year, and it's recommended to use extreme caution with campfires this weekend.
A Note on Hiking With Dogs
Every season the DEC receives calls about distressed dogs, particularly on hot days. It's easier than we think for pet owners to overestimate how physically fit their dog is, how much water they will need, or how it feels to walk on scalding hot rocks.
The DEC actually recommends not hiking with dogs in the summer (and we are looking at some summer-like temperatures this weekend). The animals are at too high of a risk for heat exhaustion and even death.
If you are out with your canine friend and they collapse, quickly move to create shade for the dog and cool their feet and stomach.
Parking Reservation System Now in Place at AMR
The AMR's parking reservation system is back in place as of May 1. Parking reservations are required for all visitors to access trails.
See more info on AMR parking >>
Make reservations through the AMR website >>
Ticks Are Out & About
Ticks have been active. Wear light-colored clothing with a tight weave to spot ticks easily. Wear enclosed shoes, long pants, and a long-sleeved shirt. Tuck pant legs into socks or boots and shirt into pants. Check clothes and any exposed skin frequently for ticks while outdoors. Consider using insect repellent. Stay on clear, well-traveled trails. Avoid dense woods and busy areas.
Bring Bear Canisters When Camping
The DEC requires the use of bear-resistant canisters by overnight users in the Eastern High Peaks Wilderness between April 1 and November 30; they're highly encouraged elsewhere.
Bear canisters should be used to store all food, food garbage, toiletries, and items with a scent. They should be stored at least 100 feet away from tents, lean-tos, and cooking sites, and kept closed when they're not being accessed.
For the Rock Climbers: Closures to Know About
The DEC closes certain rock climbing routes in the Adirondacks to protect nesting peregrine falcons. Once the nest sites are determined, climbing routes that won't disturb them will be reopened. The others will stay closed until the young have fledged. The DEC appreciates the climbing community's cooperation.
See the list of rock climbing route closures >>
Report Backcountry Emergencies to This Number
Report emergencies like lost or injured hikers and wildland fires to the DEC Ray Brook Dispatch at 518.891.0235.
On Twitter? Follow This DEC Account
Hikers and other outdoor enthusiasts can follow @NYSDECAlerts on Twitter for real-time updates to help you better prepare for your outing. This account provides updates for DEC-managed lands throughout the state, including the Adirondacks.
This page was updated on 05/20/22.
View more current notices from the DEC >>
Make sure you Leave No Trace >>
See this week's news and events in the latest roundup >>