Hike Your Way Into an Awesome October in the Adirondacks
Hiking Conditions for September 29 - October 1
The fall foliage is changing quickly in the Adirondack region as we head into October! Check the latest report below, and get everything else you need to know for hiking this weekend.
This page was updated on 09/29/29.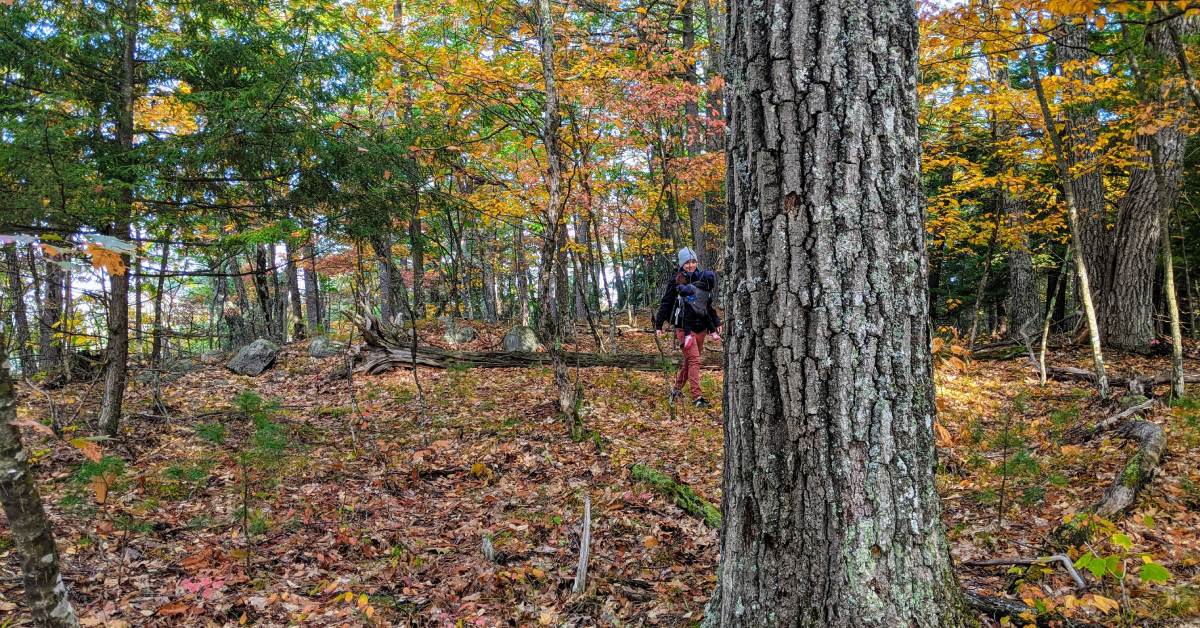 I Love NY Foliage Report
Here's the latest on the color change:
Crown Point
Up to 15% color change with a few small, sparse areas of russet, yellows, and golds, with some oranges and reds
Lake George
20% color change
Hints of yellow and orange, occasional pops of red
Lake Placid/Whiteface Mountain Ski Area
About midpoint of change, around 45%
Mix of bright red, purple, yellow, orange, and green
Lake Pleasant
About midpoint of change, around 50%
Emerging average to bright red and orange
Long Lake
About midpoint of change, around 50%
Emerging average to bright red and orange
Lowville
A little more than 15% color change
Touches of yellow and orange
Malone
Approaching midpoint of change, around 40%
Green, yellow, orange, and red
Newcomb
About 35% color change
Muted average shades of red and orange, and some darker shades of red and purple
Old Forge
Near peak foliage, at about 60% change
Red and orange of average brilliance
Plattsburgh
Up to 40% color change
Red with average brilliance
Queensbury
More than 25% color change
Mix of muted fall colors
Saranac Lake
Around midpoint to near-peak foliage, at least 50% color change
Yellow, orange, red, green, with some purple
Ticonderoga
Just over 5% color change
Some muted orange and brown hues
Tupper Lake/Mt. Arab Lake
About 75% to 80% color change
Shades of maize, banana, daffodil, clementine, mustard, yam, burnt sienna, ginger, beet, rhubarb, raspberry, paprika, and pimento
Wilmington/Jay/Upper Jay/Au Sable Forks
Up to 85% color change
Mix of average and bright deep purples, reds, and golds, with splashes of bright reds, yellows, and oranges
See the full fall foliage report >>
Trail Conditions Right Now
Trails are still very wet and muddy. Muddy conditions on steep slopes can be unstable and slippery. The consistent wet weather has made rocks, boulders, and roots extremely slippery. Hikers should use caution on wet trails.
Weather Predictions for the Weekend
Temperatures in the valleys are expected to reach highs in the low 60s, dropping to lows in the 50s overnight.
Remember that thunderstorms can pop up even when they're not in the forecast. Watch for darkening skies, increased winds, lightning flashes, and the rumble of thunder. Avoid summits and other open areas during thunderstorms.
See the National Weather Service for the Northern Adirondacks >>
View the National Weather Service for the Southern Adirondacks >>
Sunrise/Sunset Times
Sunrise is at 6:51am and sunset is at 6:38pm. Pack at least one headlamp, and other items for an unexpected overnight just in case.
This Week's Trail Notices
No new trail notices this week.
Recent Trail Notices
The free Route 73 Hiker Shuttle resumed on September 23. This shuttle will operate from 7am to 7pm on Saturdays and Sundays through October 8, plus Monday, October 9.
The Croghan Tract Conservation Easement Main Haul Road in Watson's East Triangle Wild Forest has been reopened; however, the road remains blocked just east of Eagle Falls Canyon Road. Users should access the Main Haul Road from Fish Creek Road, or Prentice Road, depending on the destination.
The tread on Dragline Trail in the Independence River Wild Forest has been washed away near the Independence River. The trail is passable but has a 100-foot section of exposed cobbles and requires climbing a steep slope to access Bailey Road.
Hiker Information Stations
Here's where the environmental educators will be stationed this weekend:
Mobile Education Field Station - Marcy Field, Keene Valley
Friday, September 29, 7am to 3pm
Saturday, September 30, 7am to 3pm
Sunday, October 1, 7am to 3pm

Mount Van Hoevenberg Olympic Sports Complex
Friday, September 29, 7am to 3pm
Saturday, September 30, 7am to 3pm
Sunday, October 1, 7am to 3pm
Monday, October 3, 7am to 3pm
Cascade Mountain Trailhead
Monday, October 2, 7am to 3pm
Adirondack Mountain Reserve
Parking reservations are required at the Adirondack Mountain Reserve through October 31. This is for single-day and overnight access to the parking lot, trailheads, and trails on this privately owned property.
Learn more about AMR reservations >>
Current Fire Danger
Fire danger is currently low throughout all of New York State. Continue to be safe with campfires.
Check the frequently updated fire danger map >>
Mount Colden Trapdike Reminder
The trapdike is considered a technical climb. It's not a hike. Climbers who take this on need to be prepared with helmets, ropes, and climbing gear to ascend the route.
Hikers looking to summit Mount Colden should do so via the hiking routes. Attempting to climb the trapdike unprepared can result in a rescue operation, serious injury, or death.
Beware of Ticks
Ticks are still out. Wear light-colored clothing with a tight weave to spot the insects easily. Wear enclosed shoes, long pants, and a long-sleeved shirt. Tuck pant legs into socks or boots and shirt into pants.
Check clothes and any exposed skin frequently for ticks while outdoors. Consider using insect repellent. Stay on clear, well-traveled trails and walk in the center of the trails, avoiding dense woods and busy areas.
Water Levels & Water Crossings
Water levels are now slightly below average for this time of year. PDFs are strongly recommended.
No Overnight Camping at Trailheads
Just a reminder, there is no overnight camping at trailheads or at other roadside locations where a camping disc is not present. This includes car/van/RV camping. Campers should seek out designated roadside campsites marked with a "camp here" disc, or a campground.
When camping, always carry out what you carry in and dispose of trash properly. Use designated bathroom facilities, or pack out human and pet waste, or dig a cat hole.
Bear Canisters Required
Bear canisters are required by overnight users in the Eastern High Peaks Wilderness between April 1 and November 30. They're highly encouraged elsewhere in the park.
Bear canisters should be used to store all food, food garbage, toiletries, and other items with a scent. Canisters should be stored a minimum of 100 feet from tents, lean-tos, and cooking sites, and be kept closed whenever they're not being accessed.
Report Backcountry Emergencies to This Number
Report emergencies like lost or injured hikers and wildland fires to the DEC Ray Brook Dispatch at 518.891.0235.
On Twitter? Follow This DEC Account
Hikers and other outdoor enthusiasts can follow @NYSDECAlerts on Twitter (X) for real-time updates to help you better prepare for your outing. This account provides updates for DEC-managed lands throughout the state, including the Adirondacks.
This page was updated on 09/29/23.
View more current notices from the DEC >>
Make sure you Leave No Trace >>