Have a Great ADK Hike Over St. Patrick's Day Weekend & Stay Safe
Hiking Conditions for March 17 - 19, 2023
If your idea of celebrating St. Patrick's Day is to bundle up and head out to the trails, check out the latest conditions in the Adirondacks below. (And find St. Patrick's Day events here.)
This page was updated on 03/16/23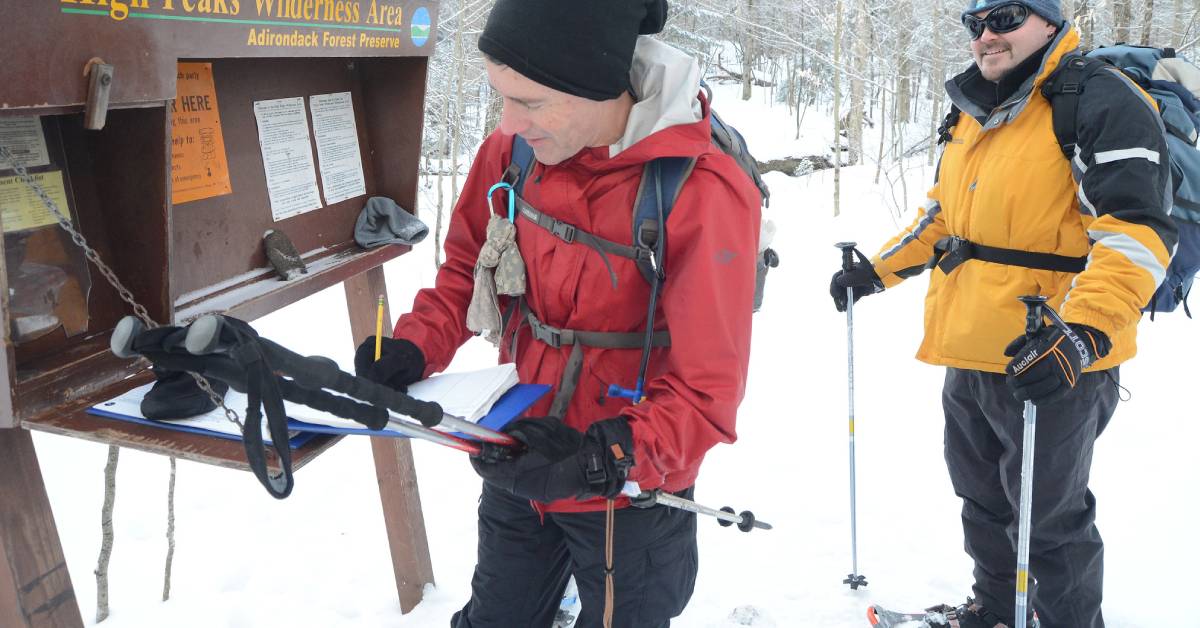 The Weather Report
Here's the latest:
Crown Point: Fri 46° and showers, Sat 44° and mostly sunny, Sun 31° and partly cloudy
Indian Lake: Fri 43° and showers, Sat 33° and mostly cloudy, Sun 21° and snow showers
Keene: Fri 47° and showers, Sat 39° and partly cloudy, Sun 25° and cloudy
Lake George: Fri 48° and showers, Sat 44° and partly cloudy, Sun 33° and partly cloudy
Lake Placid: Fri 41° and showers, Sat 31° and mostly cloudy, Sun 18° and snow showers
Long Lake: Fri 42° and showers, Sat 34° and cloudy, Sun 21° and snow showers
North Creek: Fri 43° and rain, Sat 37° and partly cloudy, Sun 24° and mostly cloudy
Old Forge: Fri 42° and rain, Sat 31° and snow showers, Sun 20° and snow showers
Saranac Lake: Fri 44° and showers, Sat 34° and mostly cloudy, Sun 22° and snow showers
Ticonderoga: Fri 44° and showers, Sat 42° and mostly cloudy, Sun 30° and partly cloudy
Tupper Lake: Fri 44° and rain, Sat 32° and cloudy, Sun 22° and snow showers
As we can see, the forecast is predicting widely variable weather this weekend, with rain, snow, and clouds all in the mix.
As a reminder, these are forecast temperatures for the base elevations. Conditions will be more severe at the summits and at higher elevations.
Carry extra layers, cold weather gear, and be prepared to adapt to changing conditions. Bring microspikes or crampons and snowshoes. If you find yourself unprepared for the current conditions, or if the weather gets worse, turn back to the trailhead.
See the National Weather Service for the Northern Adirondacks >>
View the National Weather Service for the Southern Adirondacks >>
High Peaks Wilderness Snow Report
As of March 16, there is 56.7 inches (4.7 feet) of snow at the Colden Caretaker Cabin, and as much as 7 feet at the higher elevations.
There is considerable unconsolidated snow, especially off trail in wind deposited areas. Snowshoes or skis are required to be worn throughout the Eastern High Peaks Wilderness, beginning immediately at trailheads.
Snowshoes are required to be worn in the Eastern High Peaks when snow accumulations reaches 8 inches; they're recommended everywhere in the region. Many trails, especially in the Colden area, are not broken out - be prepared to break trail and account for the additional time and energy that will require. Microspikes and crampons are needed for traction on ice. Be prepared to turn around if conditions are too difficult to complete your hike.
Avalanche Lake and Lake Colden are frozen, but use caution in areas of moving water such as inlets, outlets, and streams.
Sunrise/Sunset Times
Don't forget to take into account the time change when making your timeline and plans. The sunrise is at 7am and sunset at 7:05pm. The temperature can drop dramatically once the sun sets.
Make a timeline and stick to it, packing a headlamp and extra layers, even if you expect to finish before the sun goes down.
Be Safe in Avalanche Terrain
The DEC is still reminding us that anyone who is traversing slides or steep open terrain should be aware of and prepare for avalanche conditions. If you're planning a trip to avalanche-prone territory, research the route ahead of time and contact a local DEC forest ranger for specific safety and conditions information, or contact a local guide.
Before going out into backcountry, be equipped with avalanche safety tools and knowledge, such as participation in an avalanche safety course.
This Week's Trail Notices
Shelving Rock Road in Lake George Wild Forest is closed for spring mud season. On March 17 the Town of Fort Ann will close the mud gate on Shelving Rock Road, just north of the Hogtown Road intersection.
More Recent Notices
Ice conditions in the Town of Long Lake continue to be variable and unreliable. Snowmobilers are advised to stay off the ice. More snowmobiles have broken through the ice in recent days and weeks.
For Snowmobilers
All snowmobilers should check with local snowmobile clubs, look at the NYSSA snowmobile web map, and check other resources/sources before heading out on the trails.
Seasonal Roads
Many seasonal roads are now closed for the season. Check for closure announcements and be prepared to turn around and take an alternate route.
Water Crossings & Conditions
Water levels throughout the Adirondacks range from average to above average for this time of year. PDFs/life jackets are strongly recommended.
Report Backcountry Emergencies to This Number
Report emergencies like lost or injured hikers and wildland fires to the DEC Ray Brook Dispatch at 518.891.0235.
On Twitter? Follow This DEC Account
Hikers and other outdoor enthusiasts can follow @NYSDECAlerts on Twitter for real-time updates to help you better prepare for your outing. This account provides updates for DEC-managed lands throughout the state, including the Adirondacks.
This page was updated on 03/17/23.
View more current notices from the DEC >>
Make sure you Leave No Trace >>