What to Know for Hiking & Recreating in the Adirondacks This Weekend
Hiking Conditions for January 21 - 23, 2022
There are some updates on snowmobile trails, and more to know before heading out this weekend. Stay warm and safe!
This page was updated on 01/21/22.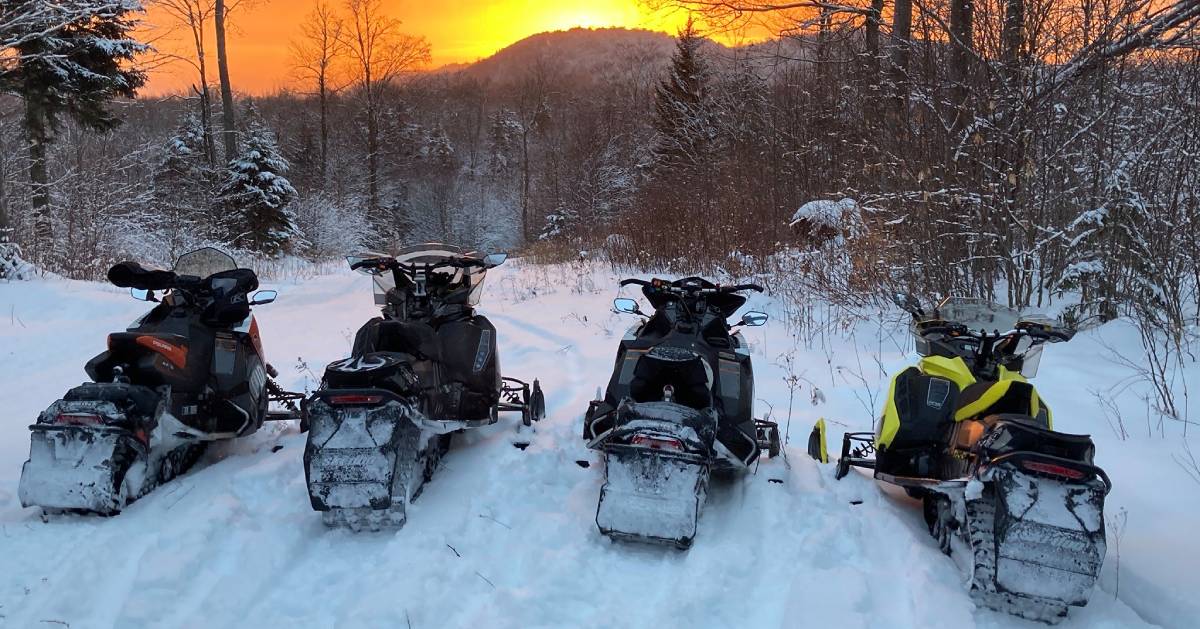 Here's the Weather Report (01/14/22)
Although we're not seeing the extreme wind chills and weather warnings of last week, it's still pretty brutal out there:
Crown Point: Fri 9° and mostly sunny, Sat 20° and mostly sunny, Sun 23° and partly cloudy
Indian Lake: Fri 12° and sunny, Sat 18° and partly cloudy, Sun 16° and partly cloudy
Keene: Fri 11 and mostly sunny, Sat 22° and partly cloudy, Sun 20° and partly cloudy
Lake George: Fri 16° and sunny, Sat 22° and mostly sunny, Sun 26° and partly cloudy
Lake Placid: Fri 9° and sunny, Sat 19° and partly cloudy, Sun 15° and snow showers
Long Lake: Fri 11° and sunny, Sat 18° and partly cloudy, Sun 16° and partly cloudy
North Creek: Fri 13° and sunny, Sat 19° and mostly sunny, Sun 19° and partly cloudy
Old Forge: Fri 11° and sunny, Sat 18° and partly cloudy, Sun 15° and snow showers
Saranac Lake: Fri 9° and sunny, Sat 20° and partly cloudy, Sun 22°
Ticonderoga: Fri 25° and partly cloudy, Sat 5° and sunny, Sun 16° and snow showers
Tupper Lake: Fri 8° and sunny, Sat 19° and partly cloudy, Sun 15° and mostly cloudy
Check the forecast for your destination and pack and plan accordingly. You can see select summit forecasts at the links below. Check for both daytime and nighttime temperatures, and remember that temperatures will drop as you gain elevation.
See the National Weather Service for the Northern Adirondacks >>
View the National Weather Service for the Southern Adirondacks >>
Prepare for winter conditions, as snow and ice are now present throughout the region. Wear warm, waterproof layers, extra layers, and proper gear for snow and ice, including snowshoes, microspikes, and crampons.
Remember that conditions will change as you gain elevation, and cool, wet weather poses a significant risk of hypothermia.
Just for Fun: Animal Tracks in the Snow
If you want a little something fun to focus on while you're out and about, or maybe to check out with your kids - the DEC is reminding us that now is a great time to search for winter tracks and other signs of animals.
Become a Wildlife Detective >>
See a Winter Tracks graphic >>
Snow Report for the High Peaks Wilderness
As of January 20, 2022, The Van Ho and South Meadows trails to Marcy Dam are skiable. Both Avalanche Lake and Lake Colden are frozen, through there are soft spots on Lake Colden. There is approximately 25 inches of snow at the Lake Colden Outpost, and 3 to 4 feet of snow a higher elevations like Algonquin and Colden.
Snowshoes or skis are required to be worn as snow depths do exceed 8 inches.
Note, conditions may have changed since this was last recorded.
Some Seasonal Roads Are Open, Some Are Not
Although some seasonal access roads are open, the use of four-wheel drive vehicles is strongly recommended. Many seasonal access roads have transitioned to snowmobile use. Visitors are advised to plan ahead and check with local club, county, and State webpages and resources, including the NYSSA Snowmobile web map, for up-to-date snowmobile trail information.
Thoroughly Research Your Hike Every Time
Research a variety of hikes and pick one that is appropriate for the physical abilities and experience of every person in y our group. Estimate how long the trip will take and make a realistic timeline. Remember that hikes take longer when going through snow and winter conditions, than they otherwise would at the same location in summer weather.
Research the route using reliable sources. Share your plans with a reliable friend or family member who can report you missing if you do not return on time.
Mange Your Time, Bring a Headlamp
Look up the sunrise and sunset times and plan for your hike accordingly. Start long hikes early to maximize sunlight hours, and always bring a headlamp. Set a turnaround time and stick to it.
Bring extra batteries or a backup headlamp or alternative source of light. Even if you plan to be done before sunset, bring a headlamp in case of emergencies or unexpected delays. Don't rely on your phone's flashlight, which can drain the batter quickly, leaving you without a way to call for help.
Share the Trails, Please
Many multi-use trails are being enjoyed by a variety of users in the winter. Please be respectful of other outdoor recreationists and follow winter trail etiquette.
Wear snowshoes to prevent postholing and keep ski and snowshoe tracks separate when you can. Let faster users pass and yield to downhill skiers as they have built up momentum. Move to the side of the trail to let snowmobiles pass, and snowmobilers slow down when passing skiers and snowshoers.
Please pick up after yourself and your pets.
What's New With Trail Notices From the DEC
As of 01/21/22
For the Snowmobilers:
Grass River Wild Forest and Cranberry Lake Wild Forest
The recent snow event of January 16 resulted in enough snow to establish a base for grooming snowmobile trails in St. Lawrence County. Snow coverage is minimal in some areas, and not all trails are suitable for riding at this point. Please check with local snowmobile clubs for the latest conditions and trail closures before heading out to ride.
Franklin County
The C7B and C8 snowmobile trails are now open.
Sargent Ponds Wild Forest
Snowmobile trail C7B through Grange Park is closed. Use Lake Eaton Campground/backside of Lake Eaton S86.
As of 01/14/22
Highlands Conservation Easement
The gate to Barnes Pond Tract is closed for the season to all vehicle traffic. Hiking, snowshoeing, and skiing in are allowed.
Silver Lake Wilderness
West River Road, which provides access to the Northville-Placid Trail in the Town of Wells, will remain unplowed and unmaintained for the duration of the winter. Seasonal access will reopen after spring mud season, usually in late May.
Ferris Lake Wild Forest
Powley Road is closed to all motor vehicles except snowmobiles for the duration of the winter. The road will re-open for motor vehicle access after spring mud season.
Saranac Lakes Wild Forest & Debar Mountain Wild Forest
The C-7 Trail (known locally as the Pole Line) is open from Lake Clear to Mountain View.
Moose River Plains Complex
Snowmobiling gates are open, though conditions are marginal.
Vanderwhacker Mountain Wild Forest
The Campsite Road gate providing access to the Santanoni to Lake Harris snowmobile trail is now open with 5 to 7 inches of hard pack snow.
All other gates in the unit will remain closed until conditions improve.
The gate on Newcomb Lake Road is closed.
As of 01/07/22
Boreas Ponds Tract
Work on three bridges along Gulf Brook Road is now complete. Due to weather conditions, the road is closed for the winter season to motor vehicles, but skiing and snowshoeing is allowed. The road will be open to public motor vehicles as far as the Fly Pond Parking Area after the spring mud season, generally in late May.
Washington County Grasslands (Fort Edward)
Parking is limited in the winter at the Washington County Grasslands. Avoid parking along roadways, parking in a way that blocks the roadway, and parking in private driveways. Visitors can park in the designated area off Blackhouse Road.
Archer Vly/Lake Desolation Road Tract
Motor vehicle access is not open to passenger vehicles as there is snow and ice on the road. Snowmobile season will open in this area when sufficient snowpack accumulates.
Speculator Tree Farm/Perkins Clearing
Roads are closed to passenger vehicles as limited snowmobiling is now open.
Upper Hudson Woodlands Conservation Easement, Dennie Road Tract
Winter use ski and snowshoe trails are now open. There is limited snow and no grooming at this time.
Report Backcountry Emergencies to This Number
Report emergencies like lost or injured hikers and wildland fires to the DEC Ray Brook Dispatch at 518.891.0235.
On Twitter? Follow This DEC Account
Hikers and other outdoor enthusiasts can follow @NYSDECAlerts on Twitter for real-time updates to help you better prepare for your outing. This account provides updates for DEC-managed lands throughout the state, including the Adirondacks.
This page was updated on 01/21/22.
View more current notices from the DEC >>
Make sure you Leave No Trace >>
See this week's news and events in the latest roundup >>