Adirondack Hiking Conditions, Trails Notices & More to Know
Hiking Conditions for October 22 - 24, 2021
There is still some foliage to be enjoyed out there, however, winter conditions are starting to appear in some areas, so layer up before you head out hiking in the Adirondacks this weekend.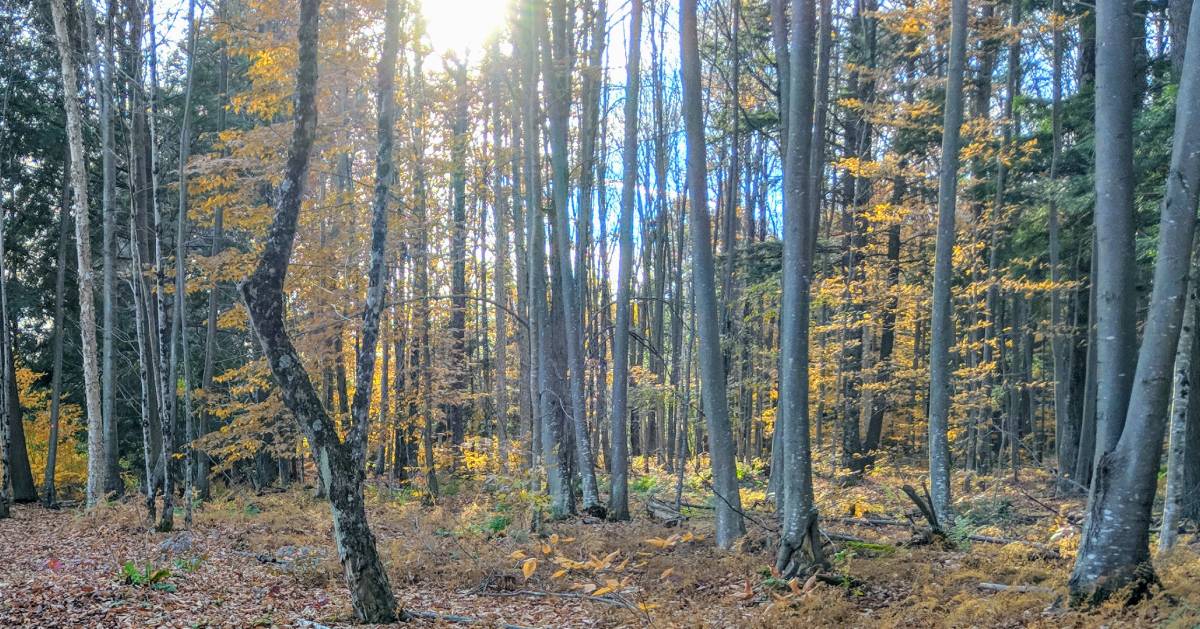 The Latest Foliage Report From I Love NY
Here's the latest:
Crown Point: near-peak to peak foliage with 60 to 75% color change and muted to average shades of gold along with some rusts, greens, and occasional splashes of orange and red
Lake George: just-past-peak conditions with muted colors
Lake Pleasant: just-past-peak conditions with yellow and orange leaves of average brilliance
Old Forge: just-past-peak conditions with nearly complete leaf change, shades of gold and orange with some yellows, reds, and light greens; significant droppage
Queensbury: peak conditions with rapidly transitioning leaves more than 95% changed with brilliant shades of red, orange, and yellow
South Colton: past-peak with 80% color change and bright yellow leaves
Ticonderoga: 75% color change with just-past-peak vivid yellows and oranges
Wilmington/Whiteface Mountain: 90% color change with orange and yellow leaves
View the full report: https://www.iloveny.com/things-to-do/fall/foliage-report/
Watch the Weather (10/22/21 - 10/24/21)
We're looking at significantly cooler temperatures than last week, but doable for hiking, and dry!
Crown Point: Fri 61° and mostly cloudy, Sat 51° and partly cloudy, Sun 57° and mostly sunny
Indian Lake: Fri 52° and cloudy, Sat 48° and partly cloudy, Sun 51° and partly cloudy
Keene: Fri 49° and mostly cloudy, Sat 47° and partly cloudy, Sun 50° and partly cloudy
Lake George: Fri 63° and mostly cloudy, Sat 57° and mostly cloudy, Sun 60° and mostly sunny
Lake Placid: Fri 46° and cloudy, Sat 46° and mostly cloudy, Sun 50° and partly cloudy
Long Lake: Fri 49° and cloudy, Sat 48° and mostly cloudy, Sun 51° and partly cloudy
North Creek: Fri 55° and mostly cloudy, Sat 50° and partly cloudy, Sun 53° and partly cloudy
Old Forge: Fri 46° and cloudy, Sat 46° and mostly cloudy, Sun 51° and mostly cloudy
Saranac Lake: Fri 47° and cloudy, Sat 46° and mostly cloudy, Sun 50° and partly cloudy
Ticonderoga: Fri 62° and mostly cloudy, Sat 51° and partly cloudy, Sun 61° and mostly cloudy
Tupper Lake: Fri 45° and cloudy, Sat 47° and mostly cloudy, Sun 51° and partly cloudy
Winter conditions are starting to appear on some of the tallest Adirondack summits. If you're hiking in the High Peak Peaks, be prepared for the cold with warm, waterproof layers, extra layers, and proper gear for snow and ice, including microspikes and crampons.
Check the weather again before you head out:
View the National Weather Service for the Northern Adirondacks >>
See the National Weather Service for the Southern Adirondacks >>
The AMR Pilot Reservation Systems Runs Through the End of the Month
The no-cost pilot reservation system is now in effect at the Adirondack Mountain Reserve (AMR). Reservations are required through October 31 for parking, daily access, and overnight access to trails through the AMR gate and the Noonmark and Round Mountain trailheads that are accessed through the AMR property. Here's the Hiker Parking Reservation Portal: https://www.hikeamr.org/
What's New With Trail Notices From the DEC
As of 10/21/21
In the High Peaks Wilderness:
The bridge at the start of the Klondike Trail is currently unsafe. A reroute has been marked that starts on the South Meadows Trail, goes to the Mr. Van Ski Trail, and then reconnects with the Klondike Trail. The reroute will add approximately a half-mile each way.
Per the conversation easement agreement with Elk Lake Lodge, from the evening of October 22 until the morning of December 6, no hikers may enter the Elk Lake Conservation Easement.
In the Independence River Wild Forest:
The Stillwater Mountain Fire Tower Trail is closed until December 20. This closure is due to terms of the conservation easement on which the fire tower is located.
The Hinchings Pond Trail will be closed until October 22 while a trail crew constructs new bridges.
As of 10/14/21
In the Grass River Wild Forest:
The Pleasant Lake Access Road on the Grass River Conservation Easement closed for the season as of October 10.
As of 10/07/21
In the Essex Chain Lakes Complex:
Camp Six Road, a seasonal access road, is now open.
As of 09/30/21
In the High Peaks Wilderness:
The trail from Lake Arnold to Feldspar Brook is experiencing extensive flooding. Crossing flooded areas on floating logs and old pieces of bridging is dangerous and should be avoided when possible. Seek alternative routes.
The Gate at Clear Pond will be closed to public motor vehicles as of October 12, and will not open until after mud season in May of 2022. Hikers will need to park at the Upper Elk Lake road Parking Lot on the west side of the Elk Lake Road, approximately 2.3 miles south of the Elk Lake Parking Lot and trailhead. From the evening of October 22 until the morning of December 6, no hikers may enter the Elk Lake Conservation Easement.
In the Black River Wild Forest:
The boat launch, parking area, and adjacent boat launch campsites on South Lake Reservoir are temporarily closed through November 30 to allow the New York State Canal Corporation to perform maintenance work on South Lake Dam.
Canoers and kayakers may still launch their boats off the shore alongside South Lake Road, but should not block travel lanes, shoulders, or park within the vicinity of the construction area. You can also find alternative paddling opportunities at nearby North Lake, two miles before reaching South Lake.
In the Boreas Ponds Tract:
Gulf Brook Road is now closed to pedestrians while culvert repair work is underway. The road is expected to reopen to pedestrians by the end of November 2021. The road has been closed to motor vehicles since the 2019 Halloween storm.
Trails are Wet & Muddy
Wear waterproof shoes and walk through mud, not around it, to protect trailside vegetation and to avoid widening trails. Gaiters and trekking poles are also recommended.
Mountain bikers should avoid riding in muddy or wet conditions. As with hiking, if you do ride, please do so in the center of the trail.
Water Conditions in the Park: Very High
Water levels throughout the Adirondacks range from average to significantly above average. There is an exception of the Oswegatchie River in Oswegatchie, and the Saranac River in Plattsburgh.
Personal flotation devices/life jackets are still highly recommended to be worn by all anglers, paddlers, and boaters. If a bridge is not available, do not attempt stream crossings during periods of high, fast-moving water.
Please Share the Woods
Many hunting and trapping seasons are open or are opening soon. Hikers, hunters, and other outdoor recreationists have a responsibility to share the woods and keep each other safe during hunting seasons. Consider dressing in bright colors such as hunter orange, and put bright colors on pets as well.
Hunter accidents involving hikers are extremely rare. Interfering with hunters and trappers isn't just disrespectful, it's illegal.
Check the Current Fire Danger
Fire danger is currently low in the Adirondack Park. Continue to be safe with campfires.
Annual Arbor Day Poster Contest
The DEC's yearly Arbor Day Poster Contest is now underway, so get out there and capture those fall foliage photos for a chance to have your work featured on the 2022 Arbor Day Poster. Drawings and paintings are also accepted.
Entries must feature trees within New York State, and participants are limited to three submissions. Model consent forms are required for any people in submitted photos.
Submit original artwork or photographs by December 31, 2021 to arborday@dec.ny.gov, and include your name, address, and if it's a photo, where the photo was taken.
Be Prepared for Ticks (And Bears)
Ticks are still out. Wear light-colored clothing with a tight weave to spot ticks easily. Wear enclosed shoes, long pants, and a long-sleeve shirt. Tuck pant legs into socks or boots and shirt into pants. Check clothes and any exposed skin frequently for ticks while outdoors. Bring insect repellent. Staying on clear, well-traveled trails also helps; avoid bushy, dense areas.
If you're camping, bear canisters are required in the Eastern High Peaks Wilderness through November 30, and are highly recommended elsewhere in the Park. Please don't camp at trailheads.
Take Care With Trap Dike on Mount Colden
The Trap Dike route up Mount Colden in the High Peaks Region is not an official hiking trail; it's classified as a rock-climbing route. Please avoid if you do not have proper rock climbing experience and equipment, as hiker rescues in this area (which have increased recently), are complicated and dangerous.
Do Not Camp at Trailheads
Please know that overnight camping is not permitted at trailheads or other roadside locations where a camping disc is not present. This includes car/van/trailer camping.
On Twitter? Follow This DEC Account
Hikers and other outdoor enthusiasts can follow @NYSDECAlerts on Twitter for real-time updates to help you better prepare for your outing. This account provides updates for DEC-managed lands throughout the state, including the Adirondacks.
This page was updated on 10/22/21.
View more current notices from the DEC >>
Make sure you Leave No Trace >>
Find upcoming ADK happenings in the latest What's New/Events roundup >>