Adirondack Hiking Conditions, Trail Notices & More to Know
Hiking Conditions for Dec. 3 - 5, 2021
Early winter conditions are spreading throughout the Adirondacks with snow falling in different parts of the region each week. Check out the latest weather and trail updates below as you prepare for your weekend hike!
This page was updated on 12/3/21.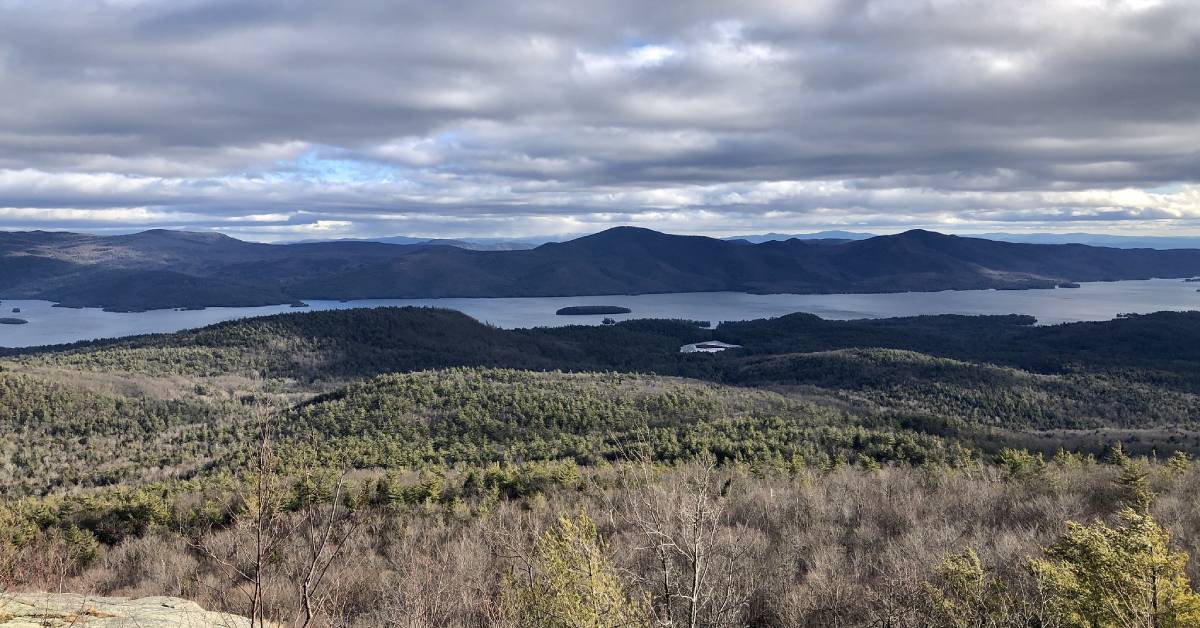 Here's the Weather Report (12/3/21 - 12/5/21)
Here's the current forecast for the Adirondack region:
Crown Point: Fri 35° and snow showers, Sat 37° and PM snow showers, Sun 35° and partly cloudy
Indian Lake: Fri 26° and snow showers, Sat 33° and PM snow showers, Sun 30° and mostly cloudy
Keene: Fri 26° and mix of sun and clouds, Sat 33° and PM snow, Sun 30° and mostly cloudy
Lake George: Fri 34° and partly cloudy, Sat 36° and PM snow showers, Sun 35° and partly cloudy
Lake Placid: Fri 22° and sunshine, Sat 30° and PM snow, Sun 27° and mostly cloudy
Long Lake: Fri 26° and snow showers, Sat 33° and PM snow showers, Sun 30° and mostly cloudy
North Creek: Fri 31° and sunny, Sat 35° and PM snow showers, Sun 33° and mostly cloudy
Old Forge: Fri 26° and light snow, Sat 33° and snow, Sun 31° and mostly cloudy
Saranac Lake: Fri 23° and partly cloudy, Sat 31° and PM snow, Sun 28° and mostly cloudy
Ticonderoga: Fri 36° and partly cloudy, Sat 37° and mostly cloudy, Sun 35° and partly cloudy
Tupper Lake: Fri 27° and mostly sunny, Sat 32° and PM snow showers, Sun 30° and mostly cloudy
The DEC reminds us it's that time of year when the weather shifts from sun to rain to snow every few days - what some refer to as, "shoulder season," or transition season.
Prepare accordingly, and check the weather again before you head out:
See the National Weather Service for the Northern Adirondacks >>
View the National Weather Service for the Southern Adirondacks >>
Trails Are Wet, Winter Conditions Are Present
Winter conditions are here in the Adirondacks, so come prepared with warm, waterproof layers, extra layers, and proper gear. Snow and ice are present on most summits, and while not all trails are covered in snow yet, some are wet and muddy.
Wear waterproof shoes and walk through mud, not around it. Gaiters help keep feet dry, and trekking poles provide added stability.
Mountain bikers are encouraged to avoid riding in muddy and wet conditions, because this significantly contributes to erosion and trail widening. As with hiking, ride through the center of the trail to avoid impacting trailside soils and plants.
Seek Lower-Elevation Trails
At this time it's also advised to seek out trails on lower elevations, where you'll find drier, less severe conditions.
The DEC recommends Clements Pond, Moose Pond Trail, Lampson Falls Trail, Tirrell Pond Trail, Pharaoh Lake Loop Trail, or the Independence River Area Trail Network, although there are certainly many others.
The Sun Sets Earlier Now
Due to the end of Daylight Saving Time and the associated earlier sunset, it's easier than you'd think to get caught out after dark. Always bring a headlamp, a flashlight, and extra batteries. Adequate light is essential for navigating the words safely and successfully. Remember that your phone flashlight is not good enough, and will drain your battery quickly.
Check sunrise and sunset times before your hike to best maximize daylight. This can also help you determine a "turnaround time," a point when you know you'll need to head back to the trailhead, even if you haven't yet reached your destination.
What's New With Trail Notices From the DEC
As of 12/3/2021
In the High Peaks & Giant Mountain Wilderness:
Expect snow and ice where the elevation is above 2,500 feet, and very wet and muddy trail conditions below 2,500 feet. Some river crossings may be hazardous or impossible. Microspikes and/or crampons are necessary for travel above 2,500 feet. Expect full winter conditions at higher elevations.
In the Moose River Plains Complex:
The entrance gates to Moose River Plains will be closed after Big Game Hunting Season in the Northern Zone (December 13). The gates will re-open to snowmobile traffic when there is adequate snow.
In the High Peaks Wilderness:
The Flowed Lands lean-to (on the west side of Flowed Lands) will be unavailable until further notice. The closure is expected to last several months. Lean2Rescue is rehabilitating the lean-to, and it should be reassembled this winter. The Calamity and Griffin lean-tos north and south of this location are available.
Adirondack Mountain Reserve Conservation Easement Tract (AMR/Ausable Club):
The 2021 season of the Pilot Parking Reservation System at AMR has concluded, and parking is now available on a first come, first served basis.
Please Share the Woods
Many hunting and trapping seasons are underway. Hikers, hunters, and other outdoor recreationists have a responsibility to share the woods and keep each other safe during hunting seasons. Consider dressing in bright colors such as hunter orange, and put bright colors on pets as well.
Hunting accidents involving hikers are extremely rare. Interfering with hunters and trappers isn't just disrespectful, it's illegal.
Annual Arbor Day Poster Contest
The DEC's yearly Arbor Day Poster Contest is now underway! You have a chance to have your work featured on the 2022 Arbor Day Poster. Drawings and paintings are also accepted.
Entries must feature trees within New York State, and participants are limited to three submissions. Model consent forms are required for any people in submitted photos.
Submit original artwork or photographs by December 31, 2021 to arborday@dec.ny.gov, and include your name, address, and if it's a photo, where the photo was taken.
Ticks May Still Be Out Despite Cold Temperatures
Wear light-colored clothing with a tight weave to spot ticks easily. Tuck pant legs into socks or boots and shirt into pants. Check clothes and any exposed skin frequently for ticks while outdoors.
Do Not Camp at Trailheads
Please know that overnight camping is not permitted at trailheads or other roadside locations where a camping disc is not present. This includes car/van/trailer camping.
Save This Number to Your Phone
If you get lost or injured, keep calm and stay put. If you have cell service, call 911 or the DEC Forest Ranger Dispatch at 833.697.7264.
On Twitter? Follow This DEC Account
Hikers and other outdoor enthusiasts can follow @NYSDECAlerts on Twitter for real-time updates to help you better prepare for your outing. This account provides updates for DEC-managed lands throughout the state, including the Adirondacks.
This page was updated on 12/3/21.
View more current notices from the DEC >>
Make sure you Leave No Trace >>
See this week's news and events in the latest roundup >>