Expect Cooler Temperatures for Hiking in the Adirondacks This Weekend
Hiking Conditions for June 2 - 4, 2023
After some hot weather on Friday, temps will cool down on Saturday and Sunday, which could make for a pleasant hike in the Adirondacks. Get more details below, and check out new trail notices.
This page was updated on 06/02/23.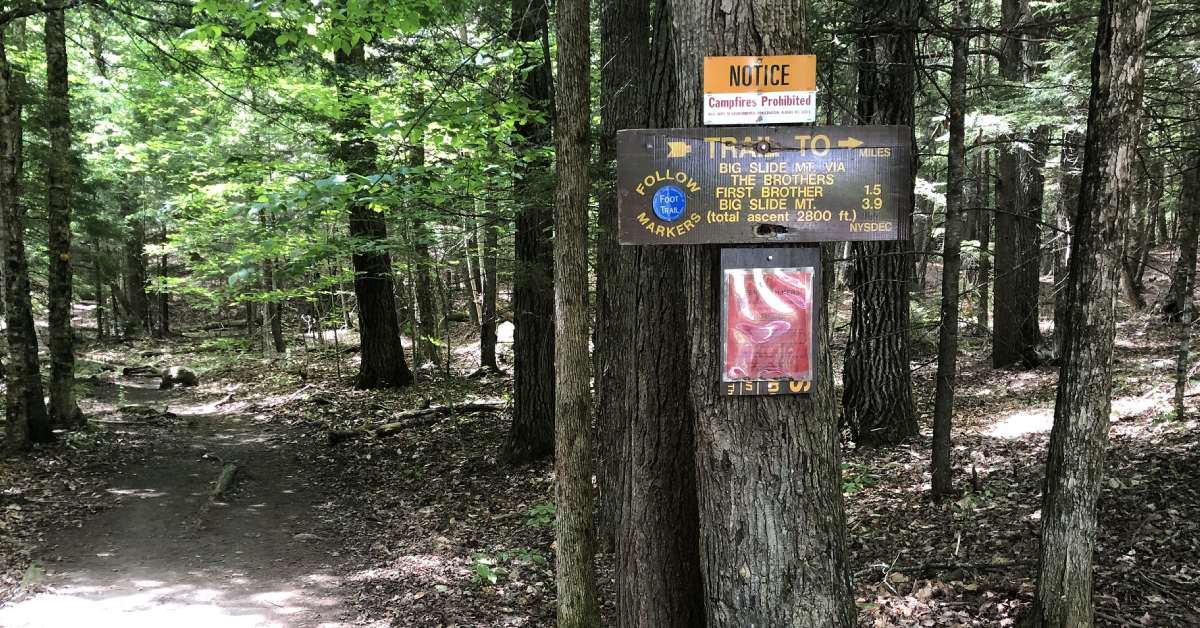 Weather Predictions & Trail Conditions
Friday will see temperatures in the mid-80s, but then we cool down for the weekend with temps in the low 60s. Nighttime lows have been in the high 40s. Anticipate colder temperatures near freezing at higher elevations, and pack appropriate layers and gear.
High elevation trails continue to be a mix of mud and snow, with even some ice. Hikers should expect rotten snow with areas of deep snow above 3,200 feet in elevation, especially on north-facing trails. Snowshoes and microspikes are still needed for many 4,000 feet peaks.
See the National Weather Service for the Northern Adirondacks >>
View the National Weather Service for the Southern Adirondacks >>
Sunrise/Sunset Times
Don't forget to take into account the time change when making your timeline and plans. The sunrise is at 5:13am and sunset at 8:33pm. Pack a headlamp and other items for an unexpected overnight just in case.
This Week's Trail Notices
The Gulf Brook Road in the Boreas Ponds Tract is open to the Four-Corners Parking Area.
Lake Lila Road in the Whitney Wilderness Area is open to public motor vehicle use. This road is a rough dirt road, and anyone using this road should drive with caution. The public parking area is the only location where vehicles may be parked. If there is no room in the parking lot for your vehicle, you'll need to return to Sabattis Road and go to a different destination.
The Redd Road gate and Mud Pond Road on Terry Mountain SF in the Taylor Pond Wild Forest are now open.
Last Week's Trail Notices
Per the conservation easement agreement with Elk Lake Lodge, the Gate at Clear Pond is now open to public motor vehicles, and will remain open until the start of big game season in October. Parking at the Elk Lake Parking Lot Trailhead is limited and no parking is allowed along the roadway. When the trailhead parking fills up, hikers can park at the Upper Elk Lake Road Parking Lot on the west side of Elk Lake Road, approximately 2.3 miles south of the Elk Lake Parking Lot Trailhead. While driving on Elk Lake Road, please respect posted lower speed limits.
The Moose Pond Horse Trail has extensive blowdown, and has grown in considerably north of Shaw Pond. Saddle horse use north of Shaw Pond to the Cold River Horse Trail Junction may be very difficult to navigate. The Moose Pond Horse Trail, which leaves the Newcomb Lake Road north of the Camp Santanoni Farm Complex, provides access into the High Peaks Wilderness, the areas west of the Santanoni Mountain Range, and the Cold River Horse Trail Network.
Multiple lean-tos in the Flowed Lands area and Marcy Brook are being repaired this season. During the spring fly-in window, with the help of New York State Police Aviation, the DEC has moved materials into the backcountry to support these projects. As volunteers and staff prepare for this work, the materials are moved and stored along the trail system or near lean-tos. Please respect these materials and avoid disturbing or moving any you may find during your hike.
The gate on Corey's Road by the Raquette Falls trailhead is open for the season. In addition to providing access to the Blueberry Trailhead and Assembly Area, there are 10 designated roadside campsites along the Corey's Road. Please drive appropriately on this narrow gravel road, and do not travel past the Blueberry Trailhead or block the roadway.
The Boreas Ponds lean-to offers the only designated camping location on Boreas Ponds at this time. Two additional campsites will be constructed, prior to this, primitive camping must be done at least 150 feet from the shoreline. Signage is installed, at impacted sites within 150 feet of the shoreline, to remind campers not to use these areas.
Debar Meadows Road is now open in the Debar Mountain Wild Forest
A section of the canoe carry between Floodwood Road, near Floodwood Pond, and the Long Pond is flooded in the St. Regis Canoe area. Visitors may need to paddle across the flooded section.
Connery Pond Road is now open in Saranac Lake Wild Forest.
More Recent Trail Notices
The section of the Adirondack Rail Trail between Lake Placid and Lake Saranac is currently closed for construction. Use of this corridor during the construction period is prohibited.
Perkings Clearing Road, Military Road, and Jessup River Road in Jessup River Wild Forest have been opened for the season; this includes access to the Pillsbury Mountain Trailhead.
Cedar River Road in the Blue Ridge Wilderness is open, allowing access to Wakely Fire Tower parking and trailhead.
The waterway access to South Inlet and Raquette Lake from the Route 28 pull off, also in the Blue Ridge Wilderness, may be limited due to bridge construction.
Township 19 Road in the O'Neil Flow Easement in Blue Mountain Wild Forest is open for the season.
Connery Pond Road and the road to Saint German and Meadow Ponds are now open in the Saranac Lake Wild Forest.
More Recent Trail Notices
Dacy Clearing Gate in Shelving Rock is open, as are Jabe Pond Road and Lily Pond Road mud gates in Lake George Wild Forest.
In Grass River Wild Forest, access to Allen Pond via the Allen Pond Road on the Tooley Pond Conservation Easement is open for the season. Access to Long Pond Conservation Easement via the Main Haul/Granshue Road is open for the season. And access to the Forest Preserve River Corridor along the South Brand of the Grass River via the Windfall or Buckhorn Roads is open for the season.
Chain of Lakes Road South from Indian Lake is open to the former Outer Gooley Club Site in the Pine Lake Primitive Area.
Loop Road is now open in Black River Wild Forest.
Adirondack Mountain Reserve
Parking reservations will once again be required at the Adirondack Mountain Reserve, starting on May 1 and lasting through October 31. This is for single-day and overnight access to the parking lot, trailheads, and trails on this privately owned property.
Learn more about AMR reservations >>
Current Fire Danger
Fire danger is currently high throughout all of New York State. Continue to be safe with campfires.
Check the latest fire danger map >>
Ticks Are Out
Ticks are out. Wear light-colored clothing with a tight weave to spot the insects easily. Wear enclosed shoes, long pants, and a long-sleeved shirt. Tuck pant legs into socks or boots and shirt into pants.
Check clothes and any exposed skin frequently for ticks while outdoors. Consider using insect repellent. Stay on clear, well-traveled trails and walk in the center of the trails, avoiding dense woods and busy areas.
Rock Climbing Closures
It's that time of year when the DEC starts closing certain rock climbing routes in the Adirondacks to protect nesting peregrine falcons. Once the nest sites are determined, climbing routes that will not disturb nesting will be reopened. Routes that remain closed with reopen after the young have fledged.
See a list of rock climbing closures >>
Water Levels, Crossings & Cold Water Advisory
Water levels are much lower than average for this time of year.
Water temperatures are still freezing, and falling in can lead to immediate hypothermia. Use caution when hiking or paddling, and never attempt to cross high, fast-moving water, especially following rain or significant snowmelt.
If there is precipitation forecast during the day, be mindful of how water crossings might swell between your first crossing and your return trip. Use extreme caution in areas of moving water, such as inlets, outlets, and streams. Banks will be icy and currents are swift.
No Overnight Camping at Trailheads
Just a reminder, there is no overnight camping at trailheads or at other roadside locations where a camping disc is not present. This includes car/van/RV camping. Campers should seek out designated roadside campsites marked with a "camp here" disc, or a campground.
When camping, always carry out what you carry in and dispose of trash properly. Use designated bathroom facilities, or pack out human and pet waste, or dig a cat hole.
Bear Canisters Required
Bear canisters are required by overnight users in the Eastern High Peaks Wilderness between April 1 and November 30. They're highly encouraged elsewhere in the park.
Bear canisters should be used to store all food, food garbage, toiletries, and other items with a scent. Canisters should be stored a minimum of 100 feet from tents, lean-tos, and cooking sites, and be kept closed whenever they're not being accessed.
Seasonal Roads
A lot of seasonal access roads are now closed for mud season. Be prepared to turn around and take an alternate route.
Report Backcountry Emergencies to This Number
Report emergencies like lost or injured hikers and wildland fires to the DEC Ray Brook Dispatch at 518.891.0235.
On Twitter? Follow This DEC Account
Hikers and other outdoor enthusiasts can follow @NYSDECAlerts on Twitter for real-time updates to help you better prepare for your outing. This account provides updates for DEC-managed lands throughout the state, including the Adirondacks.
This page was updated on 06/02/23.
View more current notices from the DEC >>
Make sure you Leave No Trace >>