Beware the Mud! Learn About Spring Hiking & Mud Season in the Adirondacks
Mud season: a boot-sucking, slippery mess. Many look forward to mud season as a sign spring has arrived, but it can also be an inconvenience and a hazard when hiking the trails.
While there is no official start or end date, the Adirondack mud season usually runs from the first of April until the middle of May. This is a time when snow is melting off the mountains, creating large amounts of mud and erosion.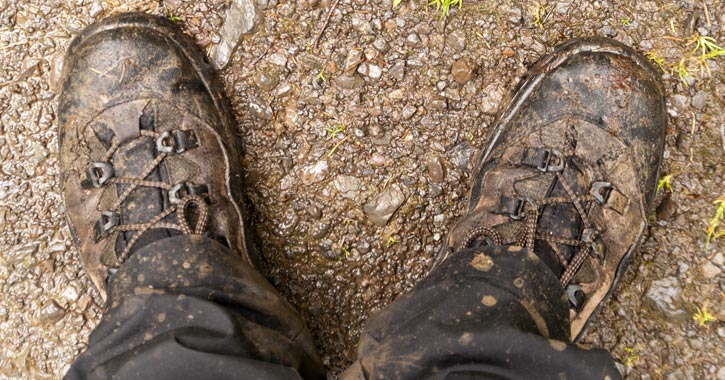 When mud season is at its worst, New York State often asks hikers to stay off some trails. In fact, hikers are encouraged to postpone their spring hikes on any trails that are above 3,000 feet until about mid-June to allow the trails to fully dry and harden.
While hiking in the mud can pose a danger to hikers, it can also cause damage to the environment. One of the biggest issues with mud season is that hikers can destroy trails and damage vegetation. When hiking, we see mud and immediately think - how can I avoid this? This leads to hiking off-trail.
When hikers travel off the marked trails, particularly in the High Peaks, it puts plants in danger of being trampled and destroyed. A typical lawn can be stepped on up to 500 times before damage becomes visible, but delicate alpine plants can be damaged after only 5 steps! Therefore, vegetation found on alpine areas of the Adirondacks become threatened during the mud season. And while the alpine summits are the most vulnerable areas to vegetation destruction, hikers need to be aware of this issue on the lower elevations as well. Your best bet is to always walk in the middle of the trail, even when it's muddy and messy.
Ready to take on an Adirondack hiking trail this spring? Check out the best trails to try, and the ones to avoid below:
Trails to Try During Mud Season
High Peaks Region
The Brothers
Porter Mountain from Cascade (stay off other approaches)
The Crows
Hurricane Mountain from Route 9N
Haystack Mountain (next to McKenzie, not the Haystack next to Marcy)
Giant Ridge Trail
Marcy Dam Truck Trail
Indian Pass Trail to Rocky Falls
Noonmark Mountain
Roostercomb Mountain via Keene Valley
Little Porter Mountain from the Cascade Mountain trailhead
Bald Peak
Northville-Placid Trail from Averyville Road
Owl Head Lookout from Route 9
Outside the High Peaks
Azure Mountain
DeBar Mountain
Pharaoh Mountain
Treadway Mountain
Poke-O-Moonshine Mountain
Silver Lake Mountain
Blue Mountain
Paul Smith's College VIC Trails
Panther Mountain near Saranac Lake
Discover seven hiking trails that are recommended during mud season »
Trails to Avoid During Mud Season
Phelps Trail above Johns Brook Lodge to Mt. Marcy
Van Hoevenberg Trail from Adirondack Loj to Mt. Marcy
Hurricane Mountain from the Northern and Eastern approaches
Feldspar Brook Trail
Marcy Dam - Avalanche Lake - Lake Colden Trail
Lake Arnold Crossover Trail
Indian Pass Trail beyond Rocky Falls
Range Trail from Johns Brook to Gothics
All trails in the Dix Mountain Wilderness above Elk Lake and Round Pond
All trails in the Giant Mountain Wilderness above Giant's Washbowl, the Cobbles, and Owl's Head
Upper elevations of all High Peaks (above 3,000 feet), including trail-less peaks
*If you're determined to hike the High Peaks during the spring, don't forget to check out the latest High Peaks trail conditions before heading out the door, and be prepared to stay on the trail and in the mud.
« Back to the Adirondack Hiking Guide
Source Information:
http://blog.timesunion.com/explore/outdoors-hitting-the-trails-in-mud-season/609/
http://visitadirondacks.com/recreation/hiking/hiking-during-mud-season