7 Great Trails To Try During Spring Mud Season
Did you know spring can be a great time to go hiking in the Adirondacks? The days are longer, the weather is warmer, and trout lilies, trilliums and spring beauties are emerging from the forest floor. As an added bonus, if you hike in early spring, the black flies are still gone.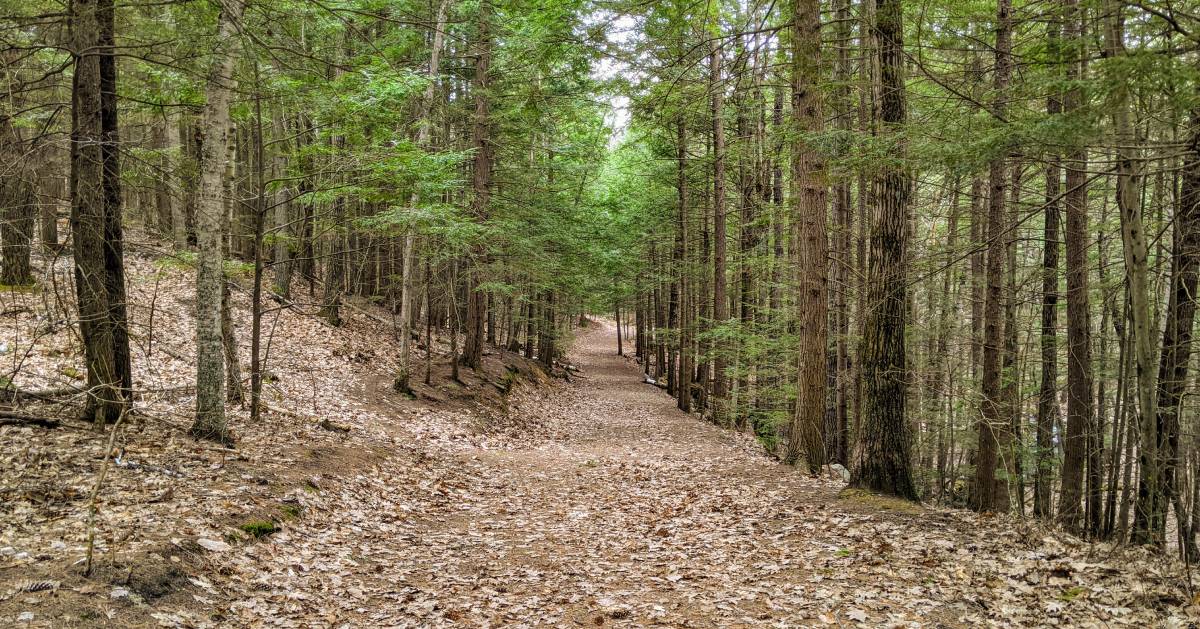 As winter turns to spring and snow melts off the mountains, what you will find, however, is mud. During this season, choosing trails with harder ground at lower elevations can help minimize the amount of mud you encounter. Remember, it's important to stay on the trail to protect vegetation and reduce trail erosion, so no matter where you hike, you should prepare to get those boots a little muddy.
Wondering where to go to minimize the mud? Take a spring hike on one of these 7 great trails in the Adirondacks.
1. Panther Mountain
For beginner hikers, Panther Mountain is a fantastic mud season hike to try in the Tri-Lakes Region of the Adirondack Park. Since Panther Mountain is a small peak with an elevation of 2,236 feet, you shouldn't expect very much mud on the trail. Round trip, the trail is just 1.2 miles long, making it great for families. It ascends quickly and some sections are covered in exposed roots. The partially open summit offers views of the Seward Range and Panther Pond.
Trailhead Directions: In Tupper Lake, NY, start from the intersection of Route 3 and Route 30. Follow Routes 3/30 toward Saranac Lake, and when the road splits, follow Route 3. About 1.6 miles down the road, you'll reach the trailhead.
2. Poke-O-Moonshine Mountain
Over in Essex County, Poke-O-Moonshine Mountain offers a hike similar to that of Panther Mountain. The oldest route, known as the Ranger Trail, is steep, rocky, and about 1.2 miles long. Thanks to recent trail work, you'll find more stone steps and fairly good footing along the Ranger Trail.
The second trail up Poke-O-Moonshine Mountain is called the Observer's Trail. Overall, this trail is less steep and in much better condition because it is newer. Much of it follows an old logging trail, and the length is roughly 2 miles one way.
Trailhead Directions: To reach the Ranger Trail trailhead, head toward the Poke-O-Moonshine State Campground and you'll find it in the southern section. If you follow Route 9 south for another mile, you'll reach the Observer's Trail trailhead instead.
Baker Mountain in Saranac Lake, NY is a relatively easy hike that is a great trail for family mud season adventures. Although the trail is slightly steep, it's just 1.8 miles round trip.
The trail begins at the north end of Moody Pond and offers great views as you ascend the summit. Before you reach the halfway point, you'll encounter an intersection. Both trails lead to the top, but the left trail is much easier to hike on.
Trailhead Directions: The easiest route is to follow Route 86 from Lake Placid toward Saranac Lake. After reaching Ray Brook, NY, turn onto McKenzie Pond Road. Then, after 3 miles, turn onto East Pine Street and follow it until you reach the Baker Mountain trailhead.
4. Blue Mountain
In the small Adirondack community of Blue Mountain Lake, Blue Mountain overlooks the lake and the surrounding region. This peak is one of the most popular in Hamilton County and offers a moderate challenge for hikers.
The trail itself is about 2 miles long and features a mixture of easy terrain to rocky and steep sections as it gains in elevation. You shouldn't have to trudge through much mud on this trail, but it's recommended to take your time.
Trailhead Directions: Starting from the intersection of Routes 30 and 28 in Blue Mountain Lake, take Route 30 toward Long Lake. After about 1.5 miles, you'll spot the trailhead and parking area for the Blue Mountain hike.
For a more challenging mud season hike, try Big Slide Mountain near Keene Valley, NY. The popular trail to the summit of Big Slide Mountain will bring you along The Brothers (three mountains grouped together).
If you decide to summit Big Slide Mountain, you'll travel through a forest as well as solid, rocky terrain. Round trip, the hike is 8-10.5 miles long, depending on your route.
Trailhead Directions: From Keene, NY, head toward Keene Valley and take the right turn after the Ausable Inn. This road will bring you to the Garden Parking Area and the Big Slide Mountain trailhead. This trailhead has paid parking.
Near Keene, NY, Porter Mountain is recognized as the 38th High Peak of the Adirondacks. Featuring mixed terrain on its main trail, more experienced hikers take on both Porter and the adjacent Cascade Mountain on the same day. The summit of Porter Mountain is usually less crowded than Cascade.
On your trip up Porter Mountain from the primary trailhead, you'll travel along moderately steep ground for about 2.8 miles to the summit. Just before you reach the top, there is a junction that will bring you to the summit of Cascade Mountain.
Trailhead Directions: From Lake Placid, travel on Route 73 toward Keene. Before you arrive at Upper Cascade Lake, you'll find the trailhead and parking area for Porter/Cascade.
Commonly paired with Porter Mountain, Cascade is recognized as one of the easier high peaks. With an ascent of 1,940 feet and a 2.4-mile long trail, Cascade Mountain is a great hike during mud season.
The trail is very well marked and only moderately steep, so you shouldn't have to walk off to the side and damage vegetation. The summit offers a memorable 360 degree view of the surrounding region.
Trailhead Directions: From Lake Placid, travel on Route 73 toward Keene. Before you arrive at Upper Cascade Lake, you'll find the trailhead and parking area for Porter/Cascade.