Hotel Ampersand
Erected: 1888
Located in Lower Saranac Lake, Hotel Ampersand is commonly named among the most significant Adirondack resort hotels. It provided an unparalleled view of Ampersand Mountain, and sat on the opposite side of the bay from Saranac Lake House.
One of the highlights of this Queen Anne-style structure was the glass that enclosed its piazzas in the winter. As it was initially conceived and marketed as a winter retreat, the glass allowed guests to enjoy views of the outdoors, even during periods of cold weather.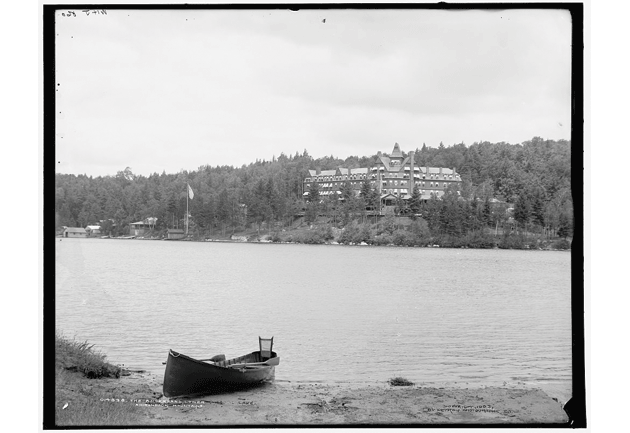 The complex was expanded in 1891 to include a larger dining room, separate rooms for ladies', men's, and children's activities, a barbershop, a reading room, a post office, and a general store. More than 50 of the bedrooms had their own fireplaces, and the property featured 350 acres and a variety of activities.
The nearby Ampersand Farm provided the unique amenity of fresh fruits, vegetables, and dairy products to the hotel's kitchen. Chefs used these ingredients to cook up the most popular urban delicacies of the time so that guests would feel right at home at the Ampersand.
As was unfortunately common with resort hotels, Hotel Ampersand burned down in September 1907 and was never rebuilt.
Learn about other Adirondack resort hotels »
Photo:
The Ampersand, Lower Saranac Lake, Adirondack Mountains
Credit - Detroit Publishing Co. via Library of Congress
Source:
Tolles, Jr., Bryant F. "Resort Hotels of the Adirondacks: The Architecture of a Summer Paradise, 1850-1950"