About Lake Placid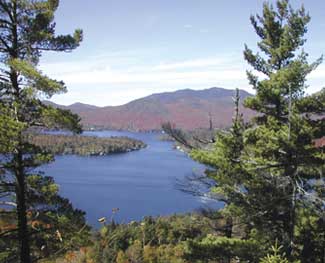 Lake Placid is located at the Northern Part of the Village of Lake Placid. The lake itself covers approximately 2,170 acres and averages about 50ft in depth. Maintaining the lake's water quality is a high priority for the village, as the lake is the main source of drinking water for residents. The body of water is fed by mountain streams and connects to East Lake and West Lake.
Many people live on the shores of Lake Placid. In fact, there are almost 300 seasonal and year-round homes on the lake. Two of the lake's islands - Buck and Moose - are also home to many camps and estates.
Lake Placid provides an abundance of outdoor recreational opportunities. Both residents and visitors love Lake Placid's abundant fishing, as the lake is filled with trout. Boating on Lake Placid is also common as homes on the islands can only be accessed by boat.