Mirror Lake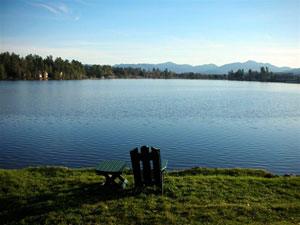 The Village of Lake Placid overlooks beautiful Mirror Lake, known for its cleanliness and serenity.
The lake's name comes from its calm ambience and resemblance to a mirror. When looking at the lake you'll easily be able to see a reflection of the quaint Lake Placid Village surrounding it. No motorized boats are allowed on Mirror Lake but you will find paddle boats, canoes & kayaks!
Enjoy a leisurely 2.7 mile walk around the lake and tour Lake Placid. While walking around Mirror Lake, you'll pass the Winter Toboggan Chute as well as a public beach that marks the start of the swimming portion of the USA Ironman Triathlon.
Mirror Lake provides some of the most unique recreational offerings in the region. Lake Placid is a haven for skiing, but during the winter, Lake Placid residents use Mirror Lake for ice skating and dogsled rides. The Lake Placid Toboggan Chute, which empties sledders onto the ice of Mirror Lake, is a thrilling activity for anyone.
In need of pampering? Check into the famous Mirror Lake Inn and Spa for a day of relaxation.
Find other Lake Placid hotel options if you are planning a visit to the area!