Great Adirondack Days 2011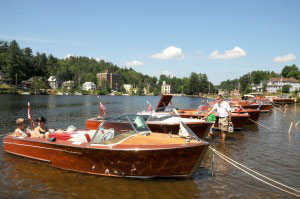 Saranac Lake, NY - This summer Saranac Lake will be hosting the annual Great Adirondack days, a celebration of community and the town's beautiful surroundings. The events scheduled are sure to be enjoyed by town residents and visitors alike.
For the past four years Saranac Lake has hosted Great Adirondack Days. The 2011 events will kick off 4th of July weekend and will include a parade, antique boat show, rugby tournament, and an art festival.
Great Adirondack Days began as a weekend-long celebration, but has grown to include events throughout the summer months. These events are fun for all ages and include a broad range of activities. You are sure to have a good time at the Great Adirondack Days 2011!
For more information call The Saranac Lake Area Chamber Of Commerce at
(518) 891-1990.
Great Adirondack Days Events
4th of July Celebration:
7/3 - Farmers Market & Craft Show and 4th of July Kiddie Parade: 10-11am
7/4 - Hammer Guidboat Races, Boat Parade, Craft show and Fireworks (Riverside Park and Lake Flower): 9:30pm
7/9 - The 4th Annual Runabout Rendezvous: 10am -3pm