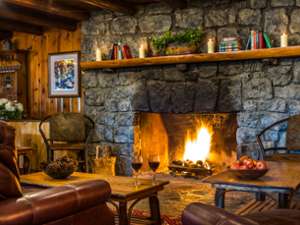 North River, NY
Garnet Hill Lodge in North River is a four-season, rustic Adirondack lodge overlooking the pristine Thirteenth Lake. Reminiscent o...
[+More]
North Creek, NY
Gore Mountain Lodge is minutes from Gore Mountain, has the fantastic becks TAVERN on-site, and is open year round. Make this your ...
[+More]
North Creek, NY
Stay at the charming Goose Pond Inn, just one mile from Gore Mountain in the Adirondacks. You'll find plenty of recreational activ...
[+More]
Johnsburg, NY
Orenda is an all-inclusive outdoor retreat nestled in the Adirondacks and provides a perfect getaway for outdoor enthusiasts of al...
[+More]
North Creek, NY
Black Mountain Lodge in North Creek, NY, is perfectly located just down the road from Gore Mountain. Enjoy the sights and sounds o...
[+More]
North Creek, NY
Make the Alpine Lodge your Adirondack Base Camp. You'll be close to Gore Mountain, within walking distance of shops and restaurant...
[+More]
North Creek, NY
Phoenix Inn Resort is an Adirondack hotel in North Creek, NY, that is known for its luxurious amenities and proximity to local att...
[+More]