Pickleball: What It Is & Where to Play It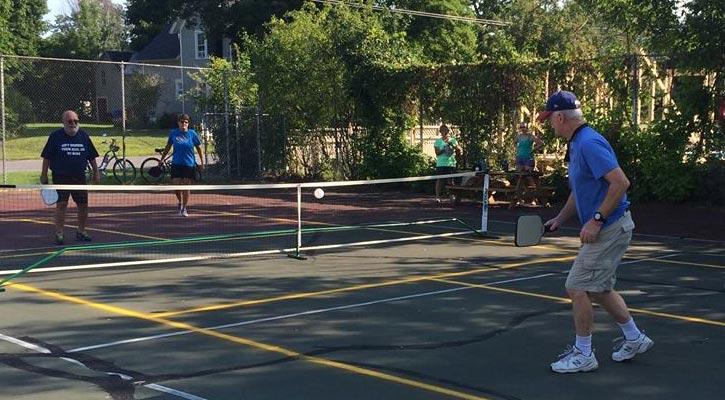 Photo provided by the Peru Pickleball group
Pickleball - The Fastest Growing Sport in America
Elements of tennis, badminton, and ping pong come together to form the fastest growing sport in our country: pickleball! One of the reasons why pickleball is so popular is because individuals of all ages and skill levels can play it. The courts are small, so there isn't too much running around.
The ball must bounce once on each side before volleys are allowed, so some of the power of the serve is taken away; you can be a great pickleball player even if you don't have a killer serve. The game is played with a paddle and a plastic ball with holes and can be played as doubles or singles.
Note: It's safest to call ahead to individual locations before heading out to play pickleball. Many of the following only offer pickleball at certain times or during particular times of the year, some may charge a fee, or you might have to be a member of the facility or be staying at the facility to participate.
Places to Play Pickleball in the Adirondacks
Cliff Haven Park
16 Cliff Haven Park Road, Plattsburgh, NY 12903
518.562.6860
Elizabeth-Lewis Central School
7530 Court Street, Elizabethtown, NY 12932
Arin Burdo: 518.873.6408
Elizabethtown Social Center
7626 US Route 9, Elizabethtown, NY 12932
Arin Burdo: 518.873.6408
Indian Lake Central School
6345 NY Route 28, Indian Lake, NY 12842
Josselyn Bennett: 518.648.5828
Hamilton County Office
108 South Shore Road, Lake Pleasant, NY 12108
Art Brown: 518.635.0556
Moriah Pickleball Court
2570 Moriah Road, Moriah, NY 12960
Gail/George Pilger: 518.572.7840
Picketts Corner Park
198 Bowden Road, Saranac, NY 12981
Duke Ducatte: 518.563.4196
Plattsburgh City Gym
52 US Oval, Plattsburgh, NY 12901
Duke Ducatte: 518.563.4196
Plattsburgh United Methodist Church
127 Beekman Street, Plattsburgh, NY 12901
Duke Ducatte: 518.563.4196
Schroon Lake Town Tennis Courts
Fairfield Avenue, Schroon Lake, NY 12870
Cathy Moses: 518.532.7737
Schuyler Falls Town Hall
997 Mason Street, Morrisonville, NY 12962
Sam Campbell: 518.563.1129
Senior Citizens Council
5139 North Catherine Street, Plattsburgh, NY 12901
Wayne Ducatte: 518.534.8834
South Acres Park
51 Flynn Avenue, Plattsburgh, NY 12901
Duke Ducatte: 518.563.4196
Ticonderoga Area Senior Center
123 Champlain Avenue, Ticonderoga, NY 12883
518.585.6050
Treadwells Mills Park
1403 Military Turnpike, Plattsburgh, NY 12901
Melanie Defayette: 518.562.6860
Find where to play pickleball in Lake George >>
Find where to play pickleball in Glens Falls >>