Pickleball: What It Is & Where to Play It in the ADK
Come find out about pickleball, one of the fastest-growing sports in the country, and where you can play it in the Adirondack Park.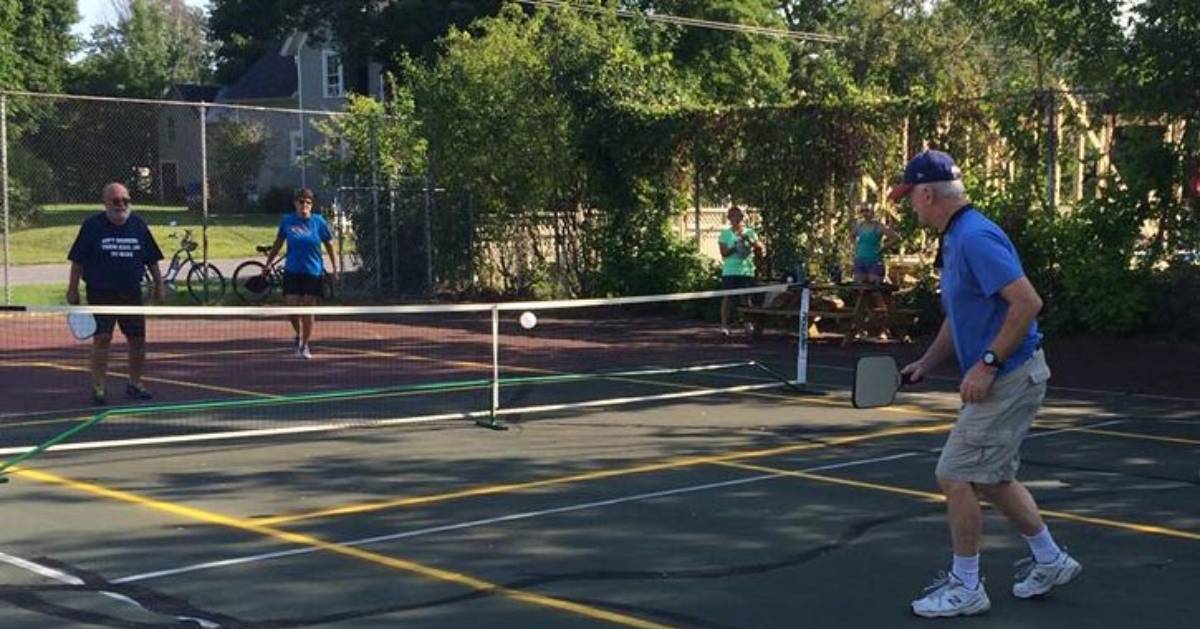 Pickleball: Get the Basics
Elements of tennis, badminton, and ping pong come together to form the fastest growing sport in our country: pickleball! One of the reasons why pickleball is so popular is because individuals of all ages and skill levels can play it. The courts are small, so there isn't too much running around.
The ball must bounce once on each side before volleys are allowed, so some of the power of the serve is taken away; you can be a great pickleball player even if you don't have a killer serve. The game is played with a paddle and a plastic ball with holes and can be played as doubles or singles.
Note: It's safest to call ahead to individual locations before heading out to play pickleball. Many of the following only offer pickleball at certain times or during particular times of the year, some may charge a fee, or you might have to be a member of the facility or be staying at the facility to participate.
Places to Play Pickleball in the Adirondacks
Chestertown Municipal Courts (Chestertown)
6307 State Route 9, Chestertown, NY 12817
Visit the pickleball courts at Chestertown Municipal from June to September to get your game on! There are four tennis courts that double as pickleball courts adjacent to Town Hall. For more information, contact Al Muench at 518-494-4898.
Cliff Haven Park (Plattsburgh)
16 Cliff Haven Park Road, Plattsburgh, NY 12901
**For more information, contact the Recreation Dept. at 518-562-6860.
Elizabethtown Social Center (Elizabethtown)
7626 US Route 9, Lawrence Way, Elizabethtown, NY 12932
The Elizabethtown Social Center is open for all of your pickleball playing desires from spring blossoms to late fall frost. Though the courts are free to use, it is suggested that you make a small donation in order to maintain the courts each year. The Social Center also organizes indoor pickleball during the winter; contact Arin Burdo at 518-873-6408 for more information.
39 Garnet Hill Road, North River, NY 12856
Garnet Hill Lodge in North River now has a pickleball court that is open to all guests of the lodge. For more information, contact the Garnet Hill Outdoor Center at 518-251-2444.
Hamilton County Office (Lake Pleasant)
108 South Shore Road, Route 8, Lake Pleasant, NY 12108
At the Hamilton County Office, one pickleboard is all set for you to bring your paddles and start playing! However, the other two courts on site require portable pickleball nets that are not able to be supplied. Open pickleball runs from mid-July through September 1. For more information, contact Art Brown at 518-635-0556.
Moriah Pickleball Court (Moriah)
2570 Moriah Road, Windy Hill Road, Tarbell Hill Road, Moriah, NY 12960
The pickleball courts in Moriah are open everyday from 8 AM to sundown so no matter what daily commitments you have, you'll have plenty of time to hit up the pickleball courts. The courts have two permanent nets. For more information, contact Gail or George Pilger at 518-572-7840.
Picketts Corner Park (Saranac)
198 Bowden Road, Saranac, NY 12981
**For more information contact Duke Ducatte at 518-563-4196.
Priest Field (Canton)
Canton Judson St & Court St, Canton, NY 13617
On Tuesdays and Thursdays from May to September, visit the pickleball courts at Priest Field. **For more information, contact Heidi Todd at 315-854-4305.
Rouses Point Recreation Center (Rouses Point)
39 Lake Street, Rouses Point, NY 12979
Stop by Rouses Point Recreation Center for some pickleball! New courts were built in the fall of 2017. For more information, contact Jan Letourneau at 518-569-9181.
Schroon Lake Town Tennis Courts (Schroon Lake)
Fairfield Avenue, Schroon Lake, NY 12870
Schroon Lake offers two tennis courts that double as pickleball courts. Equipment such as balls and rackets are available in the public library adjacent to the courts. For more information, contact Cathy Moses at 518-532-7737.
Schuyler Falls Town Hall (Morrisonville)
997 Mason Street, Morrisonville, NY 12962
**For more information, contact Sam Campbell at 518-563-1129.
Senior Citizens Council (Plattsburgh)
5139 Catherine Street, Plattsburgh, NY 12901
Pickleball here costs $5 a day or $250 per year. Call the Senior Citizens Council for more information at 518-563-6180.
South Acres Park (Plattsburgh)
51 Flynn Avenue (near the Red Barn), Plattsburgh, NY 12901
**For more information call the park at 518-563-7702.
The Y on the Oval (Plattsburgh)
52 US Oval, Plattsburgh, NY 12903
This Y on the Oval has an indoor pickleball court with removable nets. **For more information contact the gym at 518-536-7463.
Treadwells Mills Park (Plattsburgh)
1403 Military Turnpike, Plattsburgh, NY 12901
Treadwells Mills Park hosts four outdoor courts with permanent nets. Rackets and balls are available at no cost through the recreation center. For more information contact Parks & Rec at 518-562-6860.
Wanakena Backcountry Pickleball (Wanakena)
South Shore Road, Wanakena, NY 13695
**For more information, contact Forest Green at 315-848-1234.
Sources:
Ultra Pickleball: https://www.ultrapickleball.com/pages/new-york-pickleball-court-locations
Places to Play: https://www.places2play.org/state/new-york?q=&p=50&order=city