See New York's North Country: Malone, NY
Malone is home to Titus Mountain, one of many ski destinations in Upstate New York, as well as Lake Titus, a beatiful attraction year-round, with ice fishing opportunities in the winter and swimming, boating and fishing in the warmer months.
These and other attractions, as well as an abundance of great bed and breakfasts, lodges and motels in Malone as well as in nearby hamlets such as North Bangor, makes this area of the Northen Adirondacks the perfect place to stay when visiting the region.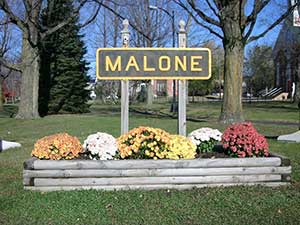 Visiting in the summer? The Franklin County Fair takes place in Malone each year, and attendees can enjoy local food, culture and fun in an inviting atmosphere.
You will also discover the boyhood home of Almanzo Wilder, subject of the novel Farmer Boy by Laura Ingalls Wilder.
Take a drive to Malone to enjoy the landscape and witness this important part of American literary history.
Photo by Doug Kerr CC BY-SA 2.0
North Bangor, NY Listings
Thank you for visiting Adirondack.net.
Do you have a suggestion for a local business that could be included here? Submit their information to be reviewed for inclusion.
Own a business you would like to advertise for as little as $50 a year? Contact one of our digital marketing experts for assistance.