See New York's North Country: Malone, NY
Malone is home to Titus Mountain, one of many ski destinations in Upstate New York. The town's close proximity to many attractions and abundance of great lodges and motels makes it the perfect place to stay when visiting the region.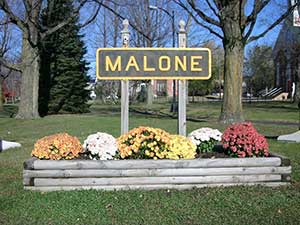 Lake Titus is a beautiful attraction year-round, with ice fishing opportunities in the winter and swimming, boating and fishing in the warmer months.
The Franklin County Fair takes place in Malone each summer, and attendees can enjoy local food, culture and fun in an inviting atmosphere.
Just east of town you'll find the boyhood home of Almanzo Wilder, subject of the novel Farmer Boy by Laura Ingalls Wilder.
Take a drive to Malone to enjoy the landscape and witness this important part of American literary history.
Photo by Doug Kerr CC BY-SA 2.0