Escape From the Cold After a Day of Winter Recreation at These 11 Cozy Adirondack Bars
Editor's Note: The Pinnacle, mentioned under Frederick's Restaurant, is closed as of April 8, 2020. Please follow the DEC and CDC guidelines to adhere to social distancing when recreating outdoors, and stick close to home. Read more from the DEC »
After a long day of winter recreation in the Adirondacks what better way to warm up than at a cozy bar? Check out 11 Adirondack bars below that are perfect for combining with a day of skiing, snowmobiling, or snowshoeing.
Big Moose Inn & Restaurant (Eagle Bay, NY)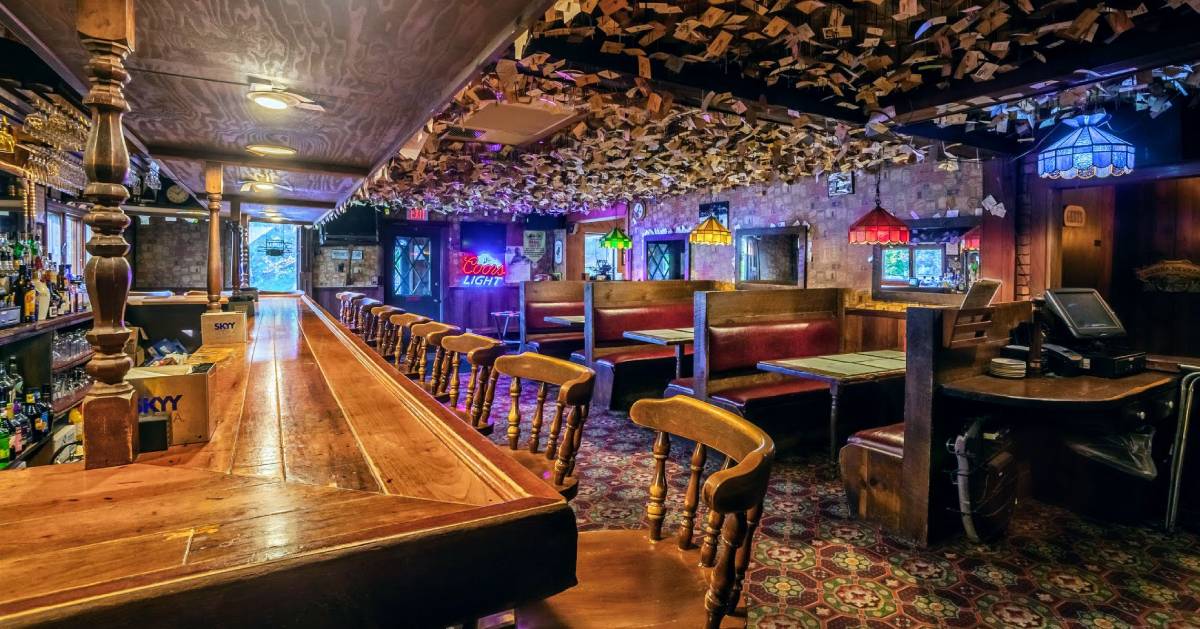 Photo provided
Located along the shores of Big Moose Lake in Eagle Bay, the Big Moose Inn & Restaurant's tavern features a beautifully crafted wooden bar, and there's a large fireplace that keeps the building warm during winter. Try their blackened prime rib sandwich or one of their many soups along with your beverage!
You'll want to pop into this bar after a day of snowshoeing, as there are several snowshoeing trails close by. Number four at the link below is closest to the Big Moose Inn:
Garnet Hill Lodge (North River, NY)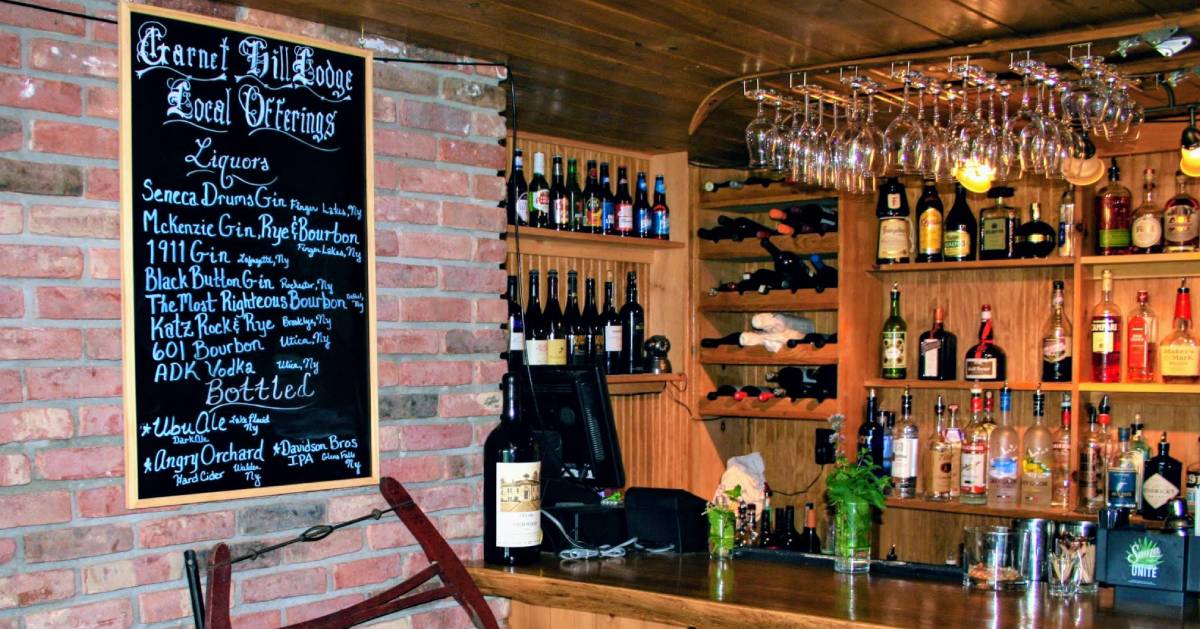 Over at Garnet Hill Lodge's Log House Restaurant, there's a small and cozy bar area just steps away from one of the building's fireplaces. Once you've had a specialty cocktail at the bar, you can also check out the dining area and Lodge Room, which are just as cozy.
Garnet Hill Lodge has an outdoor center with cross-country skiing, snowshoeing, and fat tire biking. In fact, they often host snowshoeing tours that end at the Log House for snacks and a hot drink!
Taste Bistro & Bar (Lake Placid, NY)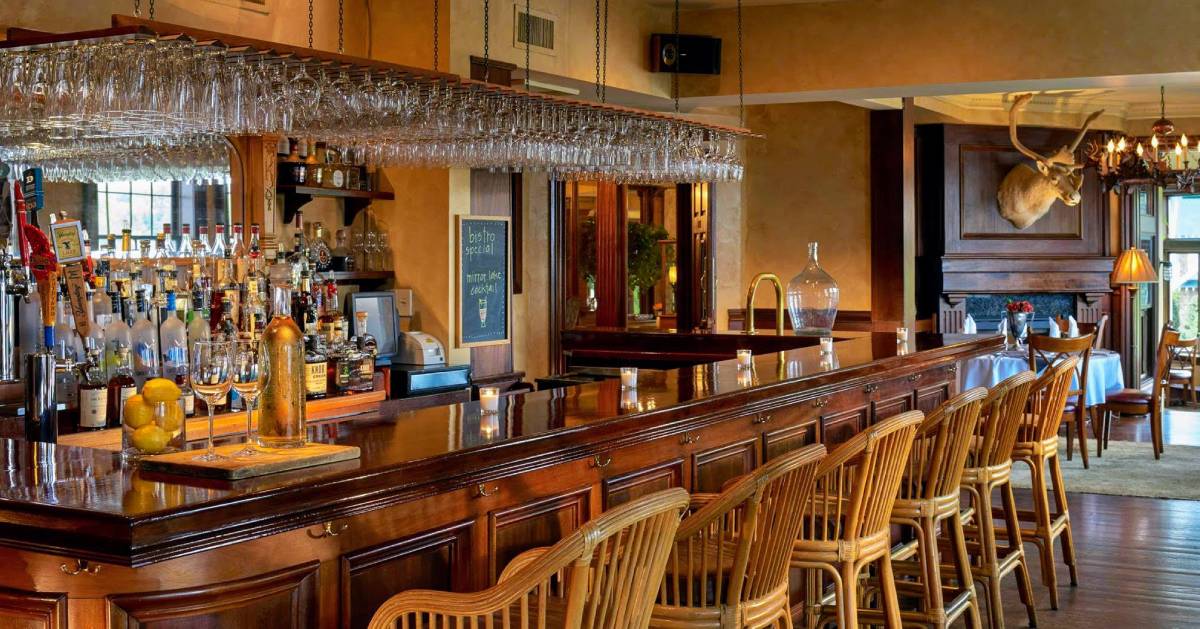 Photo provided
If you like a little winter comfort food as you warm up in a cozy bar than this is the place for you. Taste Bistro & Bar at Mirror Lake Inn Resort and Spa in Lake Placid offers five different kinds of mac and cheese and other upscale pub fare.
Visit this bistro after a day of skiing at Whiteface Mountain, or, for a more unique winter activity, check out Adirondack Sleigh Rides - they're based out of Country Dreams Farm in Plattsburgh but offer sleigh rides in Lake Placid just 10 minutes from Taste Bistro.
The Long Horn Restaurant & Pub (Lake Luzerne, NY)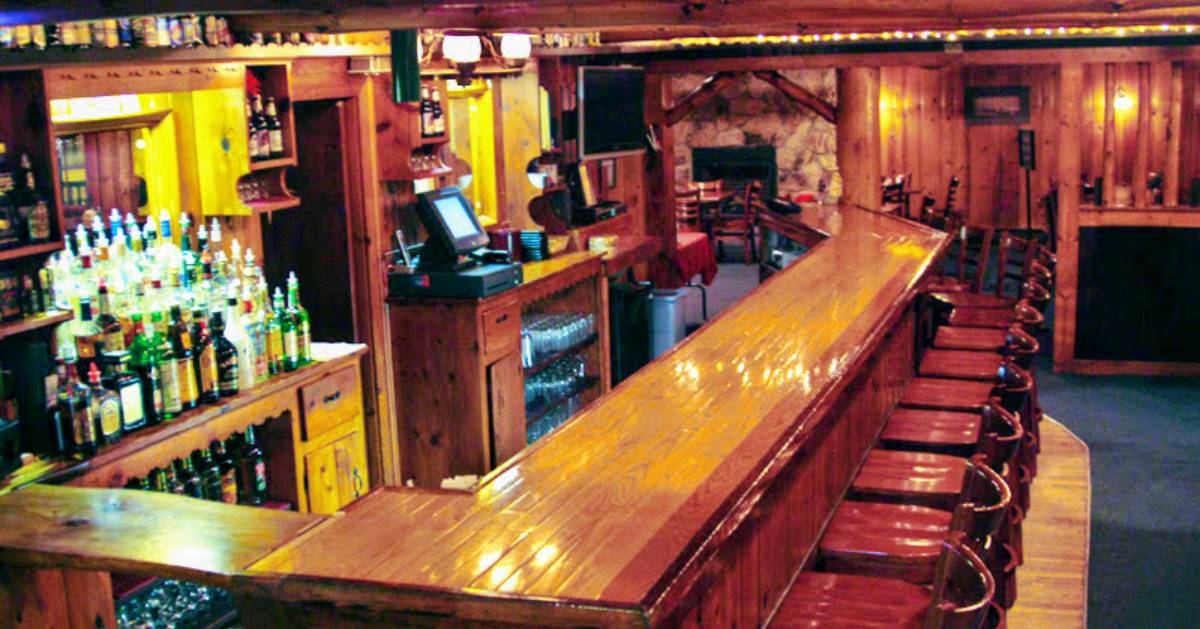 Mouthwatering wings and warm vibes are what you'll find at the Long Horn Restaurant & Pub in Lake Luzerne, where they have a 50-cent wing night each Wednesday and a roaring fireplace every winter.
This is considered a "snowmobile-friendly" bar; the South Warren Snowmobile Club has been known to meet here, and Lake Vanare Snowmobile Tours is within walking distance!
The Log Jam Restaurant (Lake George, NY)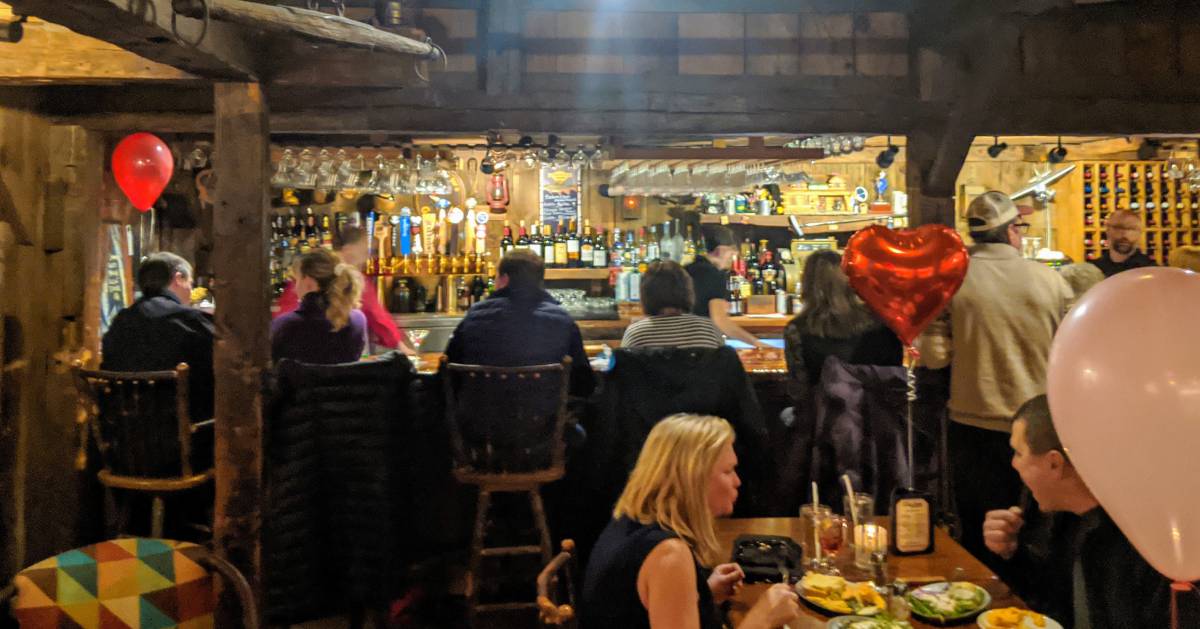 Like its name suggests, the Log Jam Restaurant in Lake George looks similar to a log cabin on both the inside and the outside. There are three massive stone fireplaces in the large restaurant in addition to a cozy bar area. If you are staying for a meal, be sure to warm up with their French onion soup or crabmeat stuffed mushrooms!
The Log Jam is five minutes away from the Gurney Lane Recreation Area, which has trails for cross-country skiing and snowshoeing.
The Inn at Erlowest (Lake George, NY)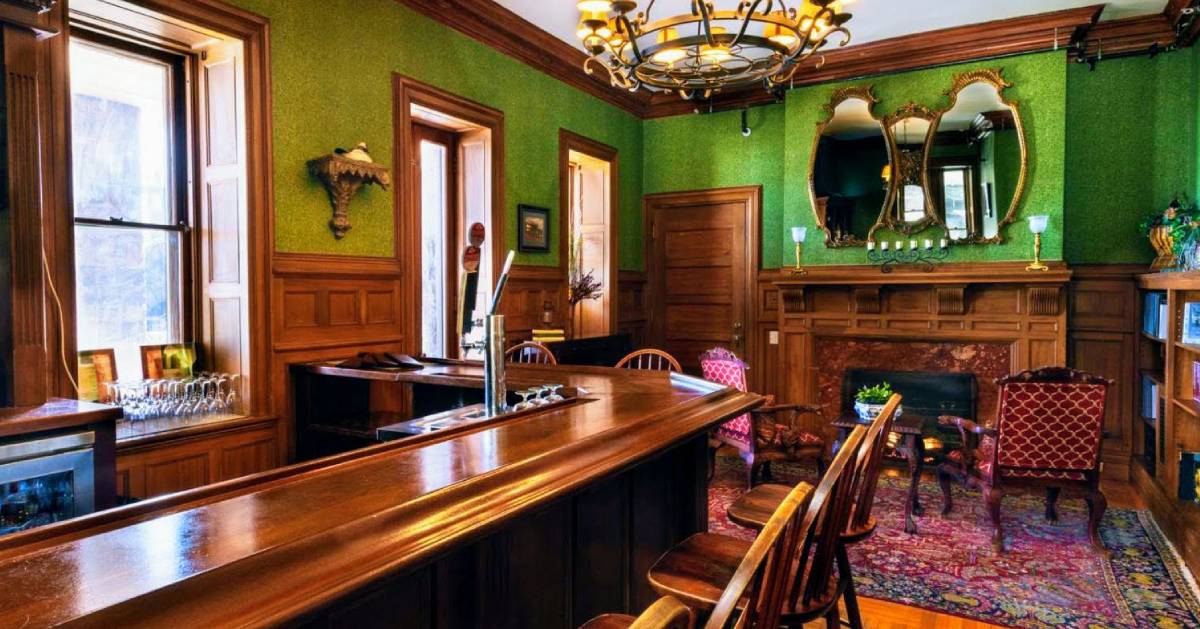 The Inn at Erlowest is a turn-of-the-century castle in Lake George with a unique Library Bar that makes you want to curl up with a good book - and drink. This small bar area features a signature cocktail list, light fare, and a roaring fireplace.
The Inn at Erlowest is in northern Lake George, just minutes from Diamond Point where Rod Bender Charters is based. They offer guided ice fishing tours with all equipment provided, so if you've been meaning to cross that winter activity off your bucket list here's your chance. You'll definitely deserve a cocktail at the exquisite Inn at Erlowest after a day out on the frozen lake!
Morgan & Co. Restaurant (Glens Falls, NY)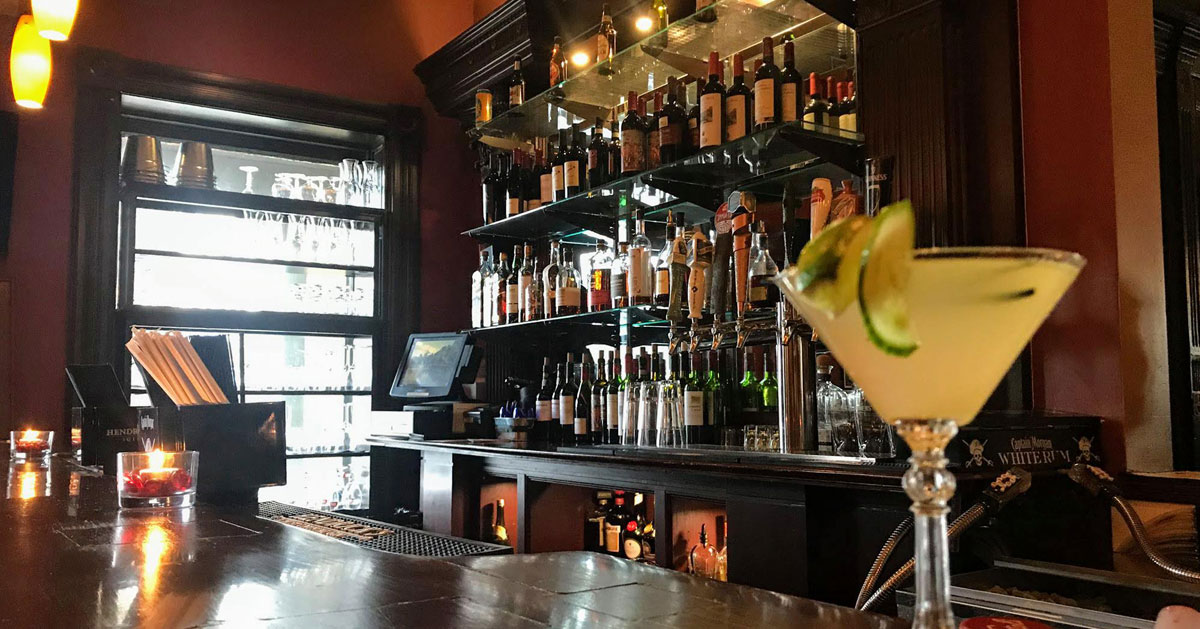 While this restaurant is technically just outside of the Adirondack park, it's definitely worth the visit. Morgan & Co. in Glens Falls has a fine dining menu and an impressive drink list. Try their "Sex on a Snowbank" with Malibu rum and coconut milk for a cocktail with a wintry twist! There's a fireplace in the dining room, close to the bar area for extra ambience.
Morgan & Co is less than 15 minutes from West Mountain Ski Resort in Queensbury, where they offer downhill skiing, cross-country skiing, and snow tubing.
Lisa G's (Lake Placid, NY)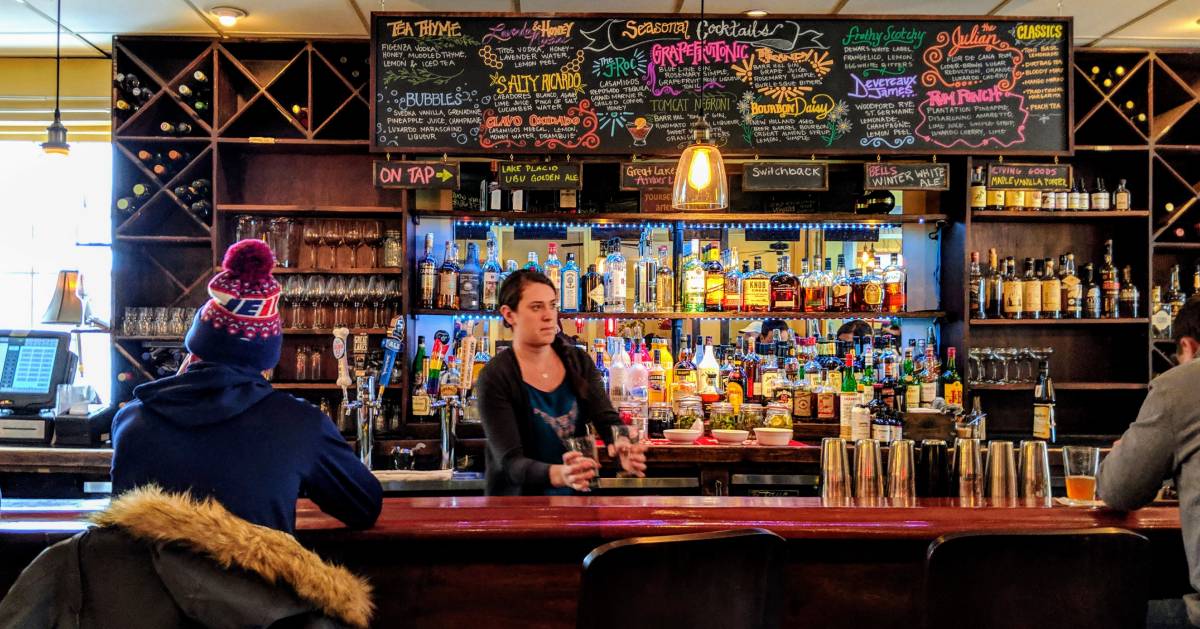 Lisa G's in Lake Placid is the place to go for locals and visitors to enjoy comfort food, great beer, and creative cocktails. While they don't have a fireplace, they do have homemade meatballs and some of the best calamari in the Adirondacks, along with a cozy seating area towards the front of the restaurant with oversized chairs and a couch.
This cozy Adirondack bar is minutes away from Mirror Lake, which is always a hotspot of activity during the winter with ice skating and ice hockey (just a note: ice fishing is not allowed on this lake).
Frederick's Restaurant & Lounge (Bolton Landing, NY)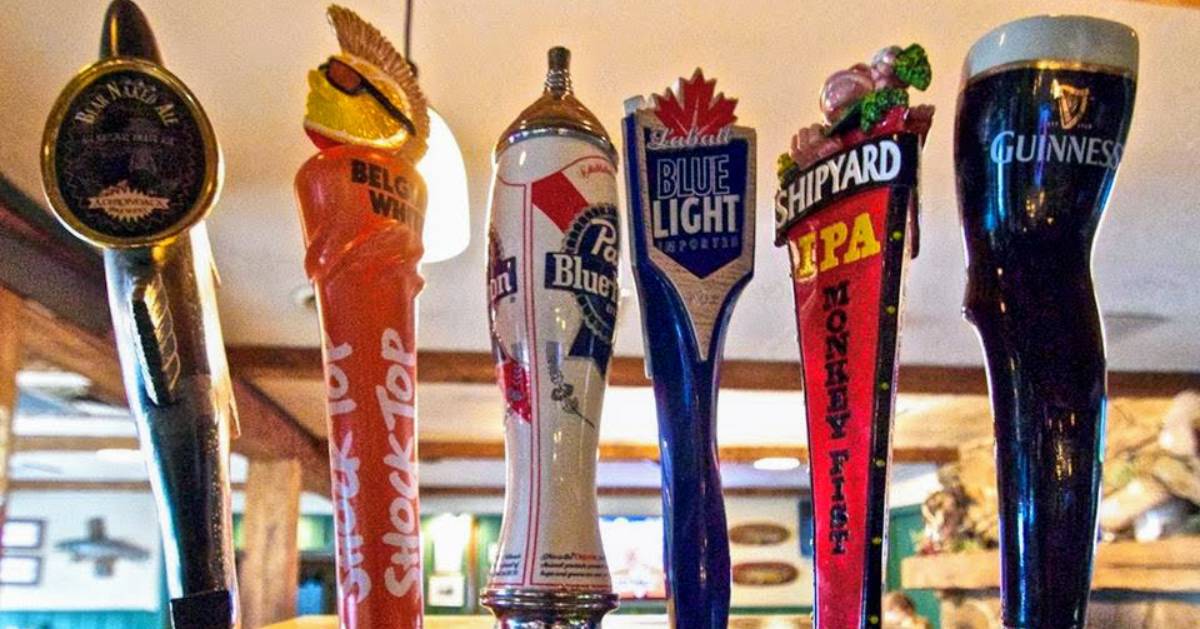 Frederick's Restaurant & Lounge is known for their raw bar and live music on the patio in the summers, but did you know they have more than one fireplace inside, and serve complementary soup during the winter? Additionally, the menu is filled with great winter comfort food options like chicken parmesan or a hot turkey sandwich.
The Pinnacle is a five-minute drive from Frederick's and has 1.5-mile trail that's accessible year-round. The short trail includes some steep climbs and a rewarding view at the top. Stop by Frederick's for your favorite beer or a hot meal after a vigorous winter hike or snowshoeing expedition!
O.P. Frederick's (Chestertown, NY)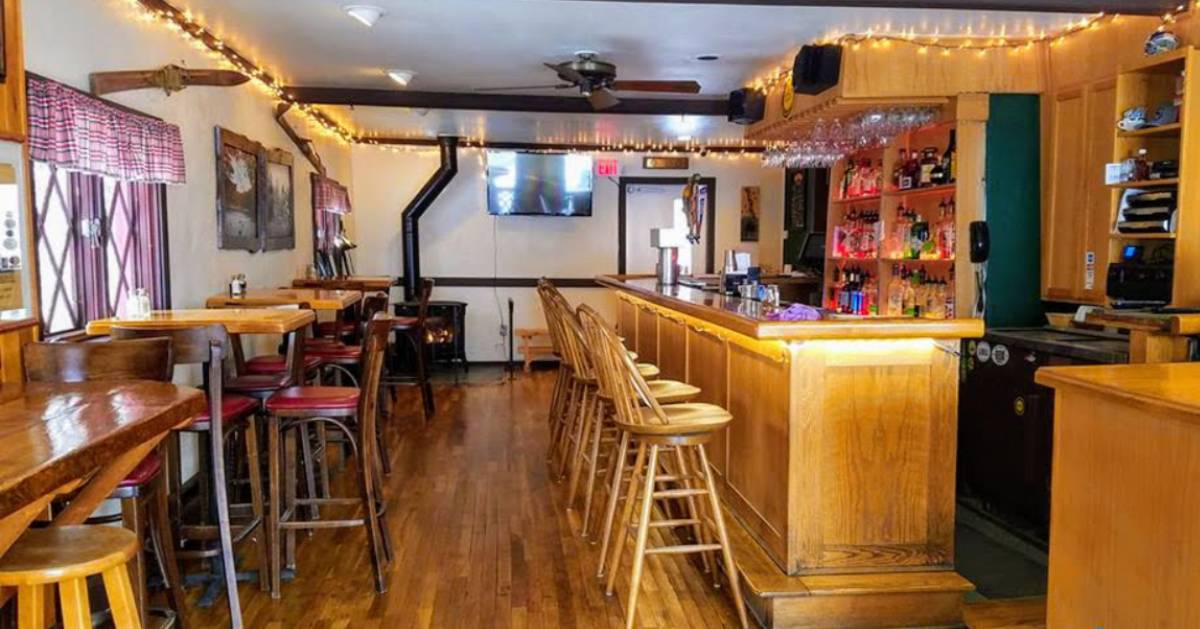 Photo provided
If you're a seafood lover, this is the cozy bar for you. Patrons love the Mediterranean scallops, pub battered fried haddock, and maple glazed salmon at O.P. Frederick's (although they have much more than seafood). Their bar area features a toasty wood stove, and their dining room has a fireplace. Fun fact: this restaurant was featured in the Showtime series Escape at Dannemora.
O.P. Frederick's is located right on Loon Lake in Chestertown, which happens to be where C+C Adirondack Snowmobile Tours take groups, or they go through nearby Adirondack woods.
The Toboggan Inn (Eagle Bay, NY)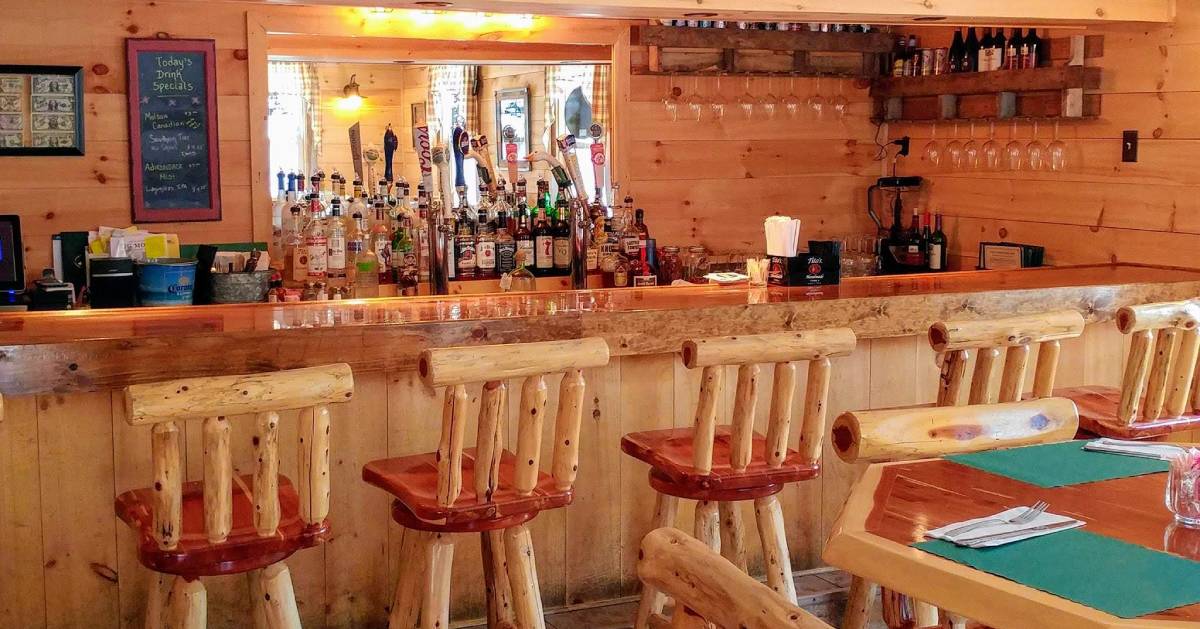 Photo provided
Pull up a chair and stay awhile at the inviting Toboggan Inn in Eagle Bay, where you know it's a winterific bar to visit just by the name alone! Refuel here with a hearty steak or juicy burger - guests also love their fish fry, and they have a full bar.
Cascade Lake Trail is less than five minutes from this cozy bar, which offers snowshoeing and cross-country skiing in the winter. Although the 5.5-mile trail is not professionally groomed it's used enough that you can often find tracks, and there's a plowed parking area close by.