Hear it From a Veteran Hiker: What an Experienced 46er Has in His Winter Hiking Pack
Winter in the Adirondacks can be unpredictable, especially if you're hiking in the backcountry! To help you plan for an outdoor winter adventure, we asked local 46er Sam Perkins what he wears on a trip and includes in his personal winter hiking pack.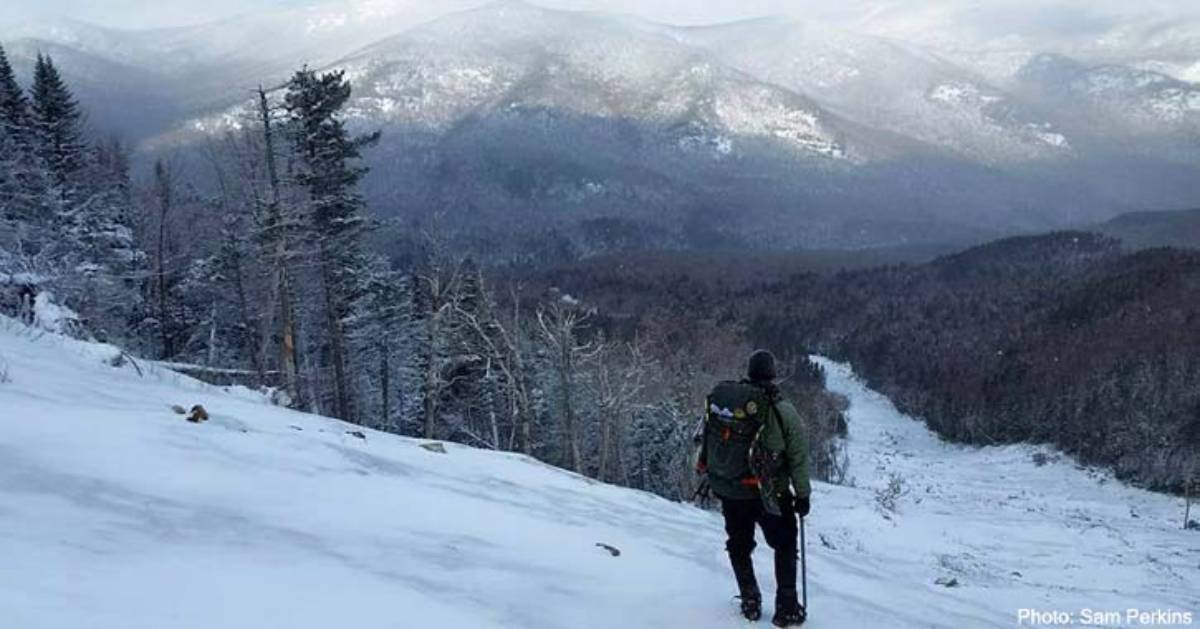 What Does An Experienced 46er Wear?
EMS Base Layer - Top and Bottom
EMS Winter Hat
Mountain Hardwear Midweight Active Pant
Mountain Hardwear Pullover Fleece Shirt
Mountain Hardwear Midweight Active Jacket
Mountain Hardwear Waterproof Shell (orange)
Mountain Hardwear Liner Gloves
UA Underwear
Darn Tough Socks
Smartwool Liner Socks
Vasque Snowburban 400g Boots
Crocodile Gaiters (optional)
What's Inside His Winter Hiking Pack?
Clothing:
EMS Heavyweight Base Layer
EMS Base Layer - Top and Bottom
Mountain Hardwear Synthetic Down Pant
Mountain Hardwear Waterproof Shell Pant
Mountain Hardwear Hooded Windproof Down Jacket (orange)
EMS Liner Gloves - 2 Pairs
EMS Waterproof Gloves
Gore-Tex Mittens
EMS Balaclava
Darn Tough Socks
Smartwool Liner Socks
Gear:
Delorme InReach Explorer (Life Insurance!)
Map and Compass
Gregory Targhee 45L Pack (orange)
2L Sea to Summit Dry Sack
30L Sea to Summit Dry Sack
Atlas Endeavor Snowshoes
2-Person Emergency Bivvy
Black Diamond Crampons
Black Diamond Ice Axe
Kahtoola MICROspikes
40 Below Water Bottle Parka
Nalgene Water Bottles - 2
Petzl Headlamp
Black Diamond Headlamp
Pocket Knife
Metal Mirror
Foam Butt Pad
Plastic Butt Sled (makes a great shovel)
Hand Warmers - 3 Packs
Clotting Sponge
Splint
Bandages, Gauze, and Tape
Allergy and Pain Medication
Toilet Paper
Sunscreen and Chapstick
Flint, Lighter, and Matches
Cotton Balls, Vaseline, and Fastfire Blocks
Shoe Laces
Nylon Webbing
Zip Ties
2/3 Days Worth of Food
In addition, other experienced winter hikers would recommend bringing paracord and a Jetboil or WhisperLite.
Although it sounds like a lot to bring on a winter hike, Perkins told us, "I would rather carry it and not need it than need it and not have it!"
While you don't need each specific item included in the lists above, Perkins' winter hiking pack will help you determine what you have and don't have, and what types of clothing and gear an experienced 46er brings on a hike.
« Back to the Winter Hiking Guide