Do Kids Who Ski Become Smarter and Healthier Adults?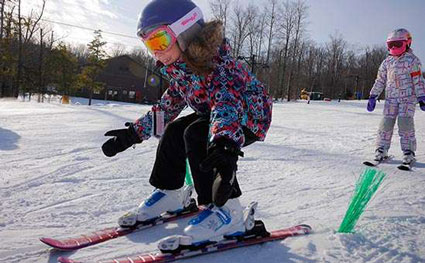 If you've wondered recently whether it would be a good idea to take your kid out of school for a ski day at Gore Mountain (or plan to spend February break on the slopes at West Mountain), research just may support your instinct that a ski day is as valuable to your kid as sitting in class.
Of course, physical activity is important to overall health and wellness for people of all ages, but many recent studies have focused specifically on linking physical activity, cognitive improvement, and long-lasting health effects. In winter, skiing is one of the best physical activities for kids and adults. Skiing combines the physical (strength, agility, and cardiovascular exercise) with the mental for the perfect day of exercise and learning.
Movement and Improved Cognition in Children
A 2013 study in Finland found that children in first through third grade with poor motor skills also have poor reading and arithmetic skills. The study also found that children who performed better in motor-skills tests scored higher in arithmetic and reading. A 2016 follow-up study found that 6- to 8-year-old boys with high levels of sedentary time and low levels of moderate-to-vigorous physical activity were at an increased risk to perform poorly in reading and arithmetic during grades 1-3.
Danish researchers went a bit further to try and find the actual link between physical activity and cognition. In a statement to Psychology Today, head researcher Jacob Wienecke said, "The children learn more if they move and use the whole body to learn. Compared to previous studies which demonstrated that intense physical activity could improve learning outcomes, we have been able to show that lower intesity activities are just as effective, or even more effective, as long as movement is integrated into the topic at hand."
What do these studies on movement and cognition mean for your kids and a day playing hookey to hit the slopes? Well, two things:
1. Regular moderate-to-vigorous exercise has been linked to improved cognitive performance in children, overall.
2. Specifically integrating movement and learning has been shown to enhance learning and performance.
Therefore, if you and the kids are going to hit the slopes, it's the perfect time to incorporate some basic physics and math lessons as you calculate trajectories, angles, and velocity. Research says the lessons are likely to stick with your kid long after you pack up the skis and head home.
Physically Active Children Become Healthier Adults
A study titled "Fit in 50 Years" followed 712 WWII veterans who were healthy as young men and surveyed them 50 years later to determine what personality traits lead to staying healthy and fit. Their conclusion? The researchers found that "openness to experience" was strongly linked to an inclination to participate in athletic activities and remain physically active into your seventies. Therefore, an adventurous mindset is key to remaining physically active and healthy throughout your lifetime. What better way to encourage being adventurous during the winter than to hit the slopes?
A team of researchers at the University of California, Riverside also conducted a study recently to determine if exercising at an early age affects propensity to continue exercising later in life. This study, conducted on mice, found that mice who exercised at an earlier age maintained a lower weight than their counterparts. Professor Theordore Garland, Jr. suggested in a press release to Psychology Today, "If kids exercise regularly through the school years, then they may be more likely to exercise as adults, which could have far-reaching positive effects on human health and well-being."
So, should you play hookey and take your kids skiing?
Sure! Talk to your kids' teachers and plan a ski trip for a day when they won't be missing any important tests, get their makeup work, and get out on the slopes! Don't want to pull your kids out of school? Hit the slopes on the weekend or during a school vacation.
Whenever you take your kids skiing, you can incorporate age-appropriate learning while you're navigating the trails (with the added benefit that learning while participating in moderate-to-vigorous activity enhances outcomes) and start fomenting a sense of adventure in your children who will grow up to be happy, healthy, active adults.
Where to hit the slopes in the Adirondacks »
Sources:
Psychology Today: "Motor Skills, Movement, and Math Performance are Intertwined"
Psychology Today: "Physically Active Children Grow Up to Be Healthier Adults"