The Lake Placid Holiday Village Stroll
Enjoy a festive holiday celebration in Lake Placid when you experience the annual Lake Placid Holiday Stroll, taking place December 9 - 11, 2016!
Fun will be had by all with music, shows, holiday activities, shopping promotions, and lively nightlife entertainment planned for the three-day weekend. See below for the 2016 Holiday Village Stroll events schedule. Most events are free unless otherwise noted!
If you're interested in staying in the region during the Lake Placid Holiday Village Stroll, there are more than a few lodging options available!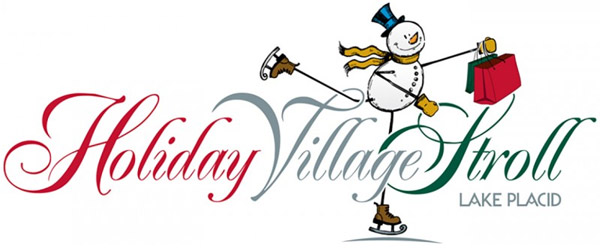 Holiday Village Stroll 2016 Events Schedule
Friday, December 9th
5:00 pm-7:00 pm - Skating Party in the 1931 Arena. Bring your skates, rentals are available. Special appearance by Santa!
6:00 pm-8:00 pm - "Paint & Taste" at Terry Robard's Wine & Spirits. Reservations required.
7:30 pm - Live Music at participating locations throughout town*
Saturday, December 10th
8:30 am - Jingle Bell Run/Walk at the Village Beach - Registration starting at 7:00 am or on Active.com - Benefit for Adirondack Health "Fit For Life" - $100 prize for Best Costume!*
8:30 am-10:30 am - Breakfast with Santa at the Hotel North Woods*
10:00 am-11:00 am - Ornament making inspired by Olympic Medals at the Olympic Museum
10:00 am-4:00 pm - Craft & Vendor Fair from Adirondack Community Church
11:00 am-11:30 am - Holiday Story Time at the Mirror Lake Inn
12:00 pm-1:00 pm Santa arrives on a Fire Truck at Mid's Park - Complimentary hot chocolate & holiday music
12:30 pm-2:00 pm - Children's Holiday Crafts at High Peaks Resort
2:00 pm-3:00 pm - Create Holiday Greeting Cards at the Lake Placid Public Library
2:30 pm-3:30 pm - Gift Wrapping & Wine Tasting at The Pines Inn
2:30 pm-4:00 pm - Soup, Chili & Chowder Tasting/Competition on Main Street
4:30 pm - High Peaks Resort Yule Log Hunt - a community tradition - Meet on the lawn of The Lake House. Light the log at Mid's Park immediately following the hunt.
5:00 pm - Mid's Park Holiday Celebration: Tree Lighting & Special Performance by Lake Placid School Chorus
5:30 pm-7:30 pm - Cookie Decorating and hot chocolate for kids, hot Glogg wine and snacks for adults at the Hotel North Woods' Cabin Grill
7:30 pm - An Adirondack Christmas at Lake Placid Center for the Arts. Many of the Adirondacks' favorite musicians perform a holiday program for the whole family*
9:00 pm - Live music at participating locations throughout town
Sunday, December 11th
8:30 am-10:30 am - Breakfast with Santa at the Mirror Lake Inn Resort & Spa*
8:30 am-4:00 pm - Special Holiday Stroll offers at Whiteface Mountain - Dress as Santa for the day for a free lift ticket - Bring a coat to donate and enjoy buy-one, get-one free lift tickets for the day
11:00 am - Matinee showing of "THE POLAR EXPRESS" at the Palace Theater
5:00 pm-7:00 pm - Free Community Dinner & Silent Auction at The Golden Arrow Lakeside Resort benefiting the Adirondack Community Church
Live music will be featured throughout Lake Placid during the weekend at Dancing Bears (where Double Axel will be playing) and Delta Blue (where Tas Cru will be playing).
*Charges may apply; schedule subject to change