The 2018 Lake Placid Holiday Village Stroll
Enjoy a festive holiday celebration in Lake Placid, NY when you experience the annual Lake Placid Holiday Village Stroll, taking place December 7th - 9th, 2018.
Fun will be had by all with music, shows, holiday activities, shopping promotions, and lively nightlife entertainment planned for the three-day weekend. See the events schedule for the Holiday Village Stroll below. Most events are free unless otherwise noted.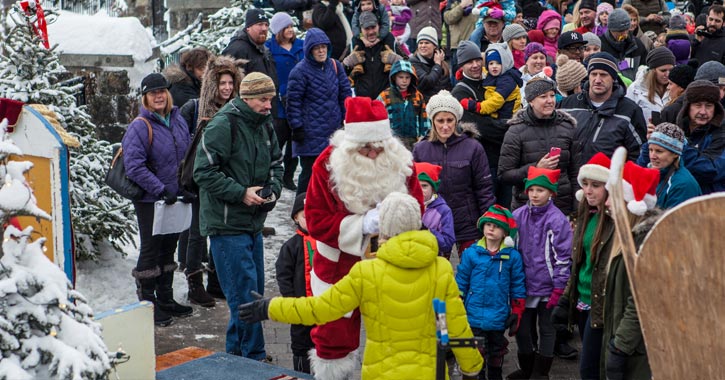 Holiday Village Stroll 2018 Events Schedule
Friday, December 7th
5:00pm-7:00pm - Skating Party in the 1932 Arena (bring your skates, rentals are available). Special appearance by Santa!
Saturday, December 8th
8:30am - Jingle Bell Run/Walk at the Village Beach

Registration starts at 7:00am at the Village Beach - Benefit for Adirondack Health "Fit For Life"*
Participants and spectators are encouraged to bring an unwrapped toy to donate to deserving local families
Sponsored by Lake Placid Marathon

8:30am-10:30am - Breakfast with Santa at the Hotel North Woods*
11:00am-11:30am - Holiday Story Time at the Mirror Lake Inn
12:00pm-1:00pm - Santa arrives on a Fire Truck at Mid's Park
12:00pm-5:00pm - Local Beer Tasting at Adirondack Steak & Seafood
12:30pm-2:00pm - Children's Holiday Crafts at High Peaks Resort - Sponsored by the Lake Placid Center for the Arts
2:00pm-3:00pm - Create Holiday Greeting Cards at the Lake Placid Public Library
2:00pm-5:00pm - Maker's Market at the Alpine Mall
2:30pm-4:00pm - Soup, Chili & Chowder Tasting/Competition on Main Street
4:30pm - High Peaks Resort Yule Log Hunt
5:00pm - Mid's Park Holiday Celebration: Tree Lighting & Special Performance by the Lake Placid School Chorus - Sponsored by Lake Placid Family Dental and Lake Placid Center for the Arts
5:00pm-8:00pm - Double Axel performing live at Dancing Bears Restaurant
5:30pm-7:30pm - Cookie Decorating and hot chocolate for kids, hot Glogg wine and snacks for adults on the second floor lobby of Hotel North Woods
Sunday, December 9th
8:30am-10:30am - Breakfast with Santa at the Mirror Lake Inn Resort & Spa (advance reservations are required)*

8:30am-10:30am - Breakfast with Santa at Dancing Bears Restaurant
8:30am-4:00pm - Special Holiday Stroll offers at Whiteface Mountain:

Dress as Santa for the day for a free lift ticket
Bring a coat to donate and enjoy buy-one, get-one-free lift tickets for the day

10:00am-1:00pm - Candy House making at Generations, with purchase of breakfast
10:00am-3:00pm - Free Sleigh Rides around Mirror Lake - pick up and drop off at Mid's Park
11:00am - Free matinee showing of "The Polar Express" at The Palace Theatre with free popcorn and special gift for the first 150 kids (doors open at 10:30am) - Sponsored by The Palace Theatre and the Lake Placid Christmas Company
Live bands will be playing at various restaurants throughout Lake Placid during the Holiday Village Stroll.
*Charges may apply; schedule subject to change.
If you're interested in staying in the region during the Lake Placid Holiday Village Stroll, there are more than a few lodging options available.