Southern ADK Biking Trails, Paths & Routes
Below are cycling and mountain biking trails that are partially or entirely located in the southern region of the Adirondacks. This includes communities such as Bolton Landing, Chestertown, Glens Falls, Hadley, Johnsburg, Lake George, Lake Luzerne, North Creek, Northville, Queensbury, Speculator, Stony Creek, Thurman, Warrensburg, and more.
Each trail varies in length and offers a new adventure in the scenic Adirondacks. Find one that sounds suitable for your skill level and interests, and prepare for your next biking trip.
Mountain Biking Trails: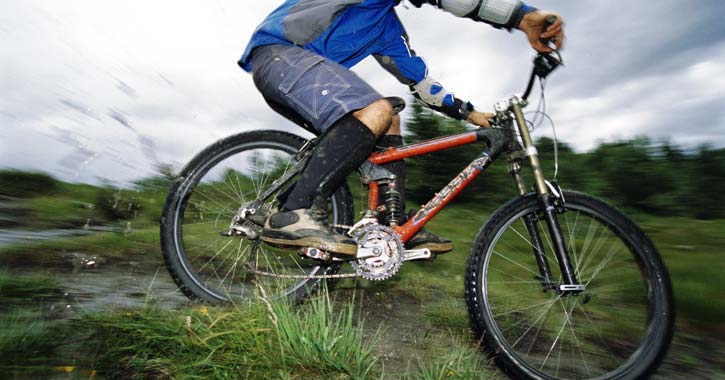 Garnet Hill Lodge's Outdoor Center offers plenty of mountain biking opportunities for riders of all skill levels. The terrain includes cross-country ski trails, old roads, and single-track bike trails around Garnet Hill Lodge. Please note that your stay at the lodge gives you access to the trails at no extra charge.
Access: 39 Garnet Hill Road, North River
Gore Mountain
In the summer and fall, Gore Mountain features challenging terrain for mountain bikers and offers both single track and open trails.
Access: 793 Peaceful Valley Road, North Creek
North Creek Ski Bowl Trail System
This network of trails features a variety of difficulty levels from easy to advanced.
Access: North Creek Ski Bowl Park, North Creek
Caroline Fish Memorial Trail
This multi-use trail has a variety of terrain for all skill levels. The entrance is located at the Dynamite Hill Recreation Area.
Access: 3 Dynamite Hill, Chestertown
Feeder Canal Trail
The Feeder Canal Trail is 9 miles long and connects to the Warren County Bikeway. Unlike the Warren County Bikeway, the Feeder Canal Trail is a gravel path, which is why it is better suited for mountain bikes than road bikes.
Access: Hudson River Overlook Park (Glens Falls), Queensbury
Gurney Lane Mountain Bike Park
Over 13 miles of mountain biking trails are available at Gurney Lane Recreation Area's Mountain Bike Park.
Access: 118 Gurney Lane, Queensbury
Hackensack Mountain Park
Located in the heart of Warrensburg, Hackensack Mountain Park features trails for hiking and mountain biking on mixed terrain.
Access: Warren Street, Warrensburg
Jabe Pond Trail
This short, 1-mile mountain biking trail is located at Jabe Pond and brings riders to a popular fishing spot.
Access: Jabe Pond (Split Rock Road), Hague
Oak Mountain Ski Center
There is a mountain biking area at the Oak Mountain Ski Center in Speculator with multiple trails. However, rental bikes are unavailable, and there are bike park rates, so plan ahead.
Access: 141 Novosel Way, Speculator
Northwest Bay Trail
Take your mountain bike for a spin on the rugged terrain of the 5-mile Northwest Bay Trail in Bolton Landing.
Access: Clay Meadows, Bolton Landing
Cycling Routes:

A 9.2-mile paved bikeway that runs from the shores of Lake George at Battlefield Park to the Glens Falls Feeder Canal, this trail is suitable for nearly all levels of bikers. It includes gradual terrain, some hilly and forested sections, and includes some urban areas as well.
Access: From the North - Beach Road, Lake George
Take on the 17.4-mile Lake George/Bay Road/Bikeway, which begins at Million Dollar Beach, heads east, and then travels all the way to the Warren County Bikeway.
Access: Million Dollar Beach, Lake George
Enjoy a bike ride from Warren County into Washington County along the Lakes And Farms trail. The 26-mile bike path begins at Lake George's Million Dollar Beach.
Access: Million Dollar Beach, Lake George
Visit multiple Southeastern Adirondack communities along the 46.3-mile Stony Creek Loop. The trail begins in Lake George and makes its way to Warrensburg, Stony Creek, Lake Luzerne, and Queensbury.
Access: Million Dollar Beach, Lake George
The 20.3-mile bike trip begins at Exit 24 of the Adirondack Northway and travels north to Schroon Lake.
Access: Intersection of Bolton Landing-Riverbank Road and Schroon River Road, Bolton Landing
Experienced bikers will love the 43.9-mile Three Mountain Ride. This bike loop is centered around three challenging hills on western Lake George - Federal Hill, Graphite Mountain, and Tongue Mountain.
Access: Intersection of Bolton Landing-Riverbank Road and Schroon River Road, Bolton Landing
Go for a bike ride from North Creek to Olmstedville and back! The entire loop is 30.7 miles long and provides a memorable trip through these Adirondack communities.
Access: Ski Bowl Road, North Creek
Experience some of the Adirondacks' less populated roads along the North Creek-Thurman Ride. The 40-mile loop begins and ends in North Creek.
Access: Hanpeter Street, North Creek
Friends Lake Loop
Take a scenic tour around beautiful Friends Lake. There are a few uphill sections, and the round trip is 10 miles.
Access: 3 Dynamite Hill, Chestertown
Loon Lake Loop
This is similar to the Friends Lake Loop, and the two can be combined. You'll have the opportunity to take a break or swim at Loon Lake's public beach.
Access: 3 Dynamite Hill, Chestertown
Challenge yourself to the Three Lakes Ride, a 33.2-mile loop that passes by Brant Lake, Schroon Lake, and Loon Lake in the Southeastern Adirondacks.
Access: Main Street, Chestertown
This 41.5-mile bike loop begins and ends in Chestertown and provides great views of the countryside and the Hudson River.
Access: Main Street, Chestertown
Enjoy a 26-mile loop around the Schroon Lake shoreline. The east side has some elevation changes, and the west side is located along the area's main highway.
Access: Glendale Road, Pottersville
The 31.7-mile Warrensburg-Chestertown Loop brings bikers along the Schroon River between Warrensburg and Chestertown.
Access: Richards Avenue, Warrensburg
Check out the beautiful waters of the Southern Adirondacks by biking on the 41.2-mile Rivers and Lakes Ride.
Access: Main Street, Warrensburg
See the area around Warrensburg by biking the 21.8-mile Glen-Athol Ride. The trail follows the Hudson River north to The Glen, and then it loops down to Athol.
Access: Main Street, Warrensburg
Bike along the Queensbury/Champlain Lock 9 Loop and explore the roads east of Queensbury. The highlight of this trip is the Champlain Canal Lock 9.
Access: Warren County Bikeway, Queensbury
« Back to the Adirondack Biking Guide
Sources:
http://www.visitlakegeorge.com/outdoor-recreation/bicycling/mountain-biking
https://www.bikewarrenco.org/
http://www.northwarren.com/index/biking