An Adirondack & Catskill Hiking Challenge: Hike 23 Fire Tower Peaks!

You must summit 18 of the 27 Adirondack fire tower peaks and all 5 of the Catskills fire tower peaks, for a total of 23 fire tower mountains. Each mountain listed below should have a standing fire tower on the date of your ascent.
The Adirondack Mountain Club, which started this challenge in 2001, asks that in addition to recording the dates of your climbs that you take note of additional details like the weather and wildlife sightings.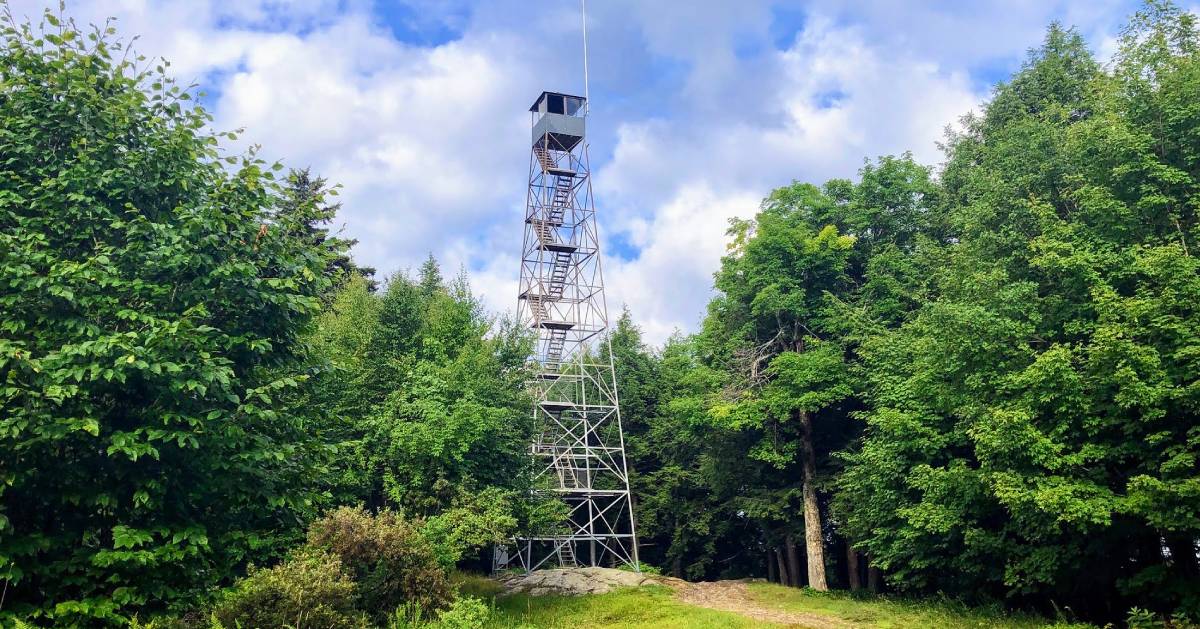 Please note: Fire towers are extremely unsafe during the winter. Do not climb them if you are embarking on the Fire Tower Winter Challenge between the dates of December 21 and March 21.
Also note: The DEC has temporarily closed Moose Pond Club Road to motor vehicles due to unstable bridge conditions over Vanderwhacker Brook; this affects Vanderwhacker Mountain fire tower hike. A new bridge is being designed.
In the meantime, if you are hiking Vanderwhacker: Park in the Route 28N highway pull off near the southeast corner of the Boreas River Bridge, known as the Boreas River Loop Trailhead North Parking Area. From there, hike, mountain bike, or ski to the Vanderwhacker Mountain trailhead.
You can check this DEC page for updates on Moose Pond Club Road; we'll also update this page as information becomes available.
Adirondack Fire Towers:
Are you ready? The Fire Tower Challenge dares you to climb a total of 23 mountains crowned with vintage fire towers.
Adams - Elevation 3250'
Arab - Elevation 2546'
Azure - Elevation 2518'
Bald (Rondaxe) - Elevation 2350
Belfry - Elevation 1840'
Black - Elevation 2641'
Blue - Elevation 3750'
Buck - Elevation 2631'
Cathedral - Elevation 1680'
Goodnow - Elevation 2690'
Gore - Elevation 3563'
Hadley - Elevation 2654'
Hurricane - Elevation 3678'
Kane - Elevation 2180'
Loon Lake Mountain - Elevation 3311'
Lyon - Elevation 3819'
Owls Head - Elevation 2812'
Pillsbury - Elevation 3597'
Poke-O-Moonshine - Elevation 2180'
Snowy - Elevation 3898'
Spruce - Elevation 2009'
Stillwater Mountain - Elevation 2244' (closed during Big Game Hunting Season)
St. Regis - Elevation 2874'
Swede - Elevation 1,900' (closed during Big Game Hunting Season)
Vanderwhacker - Elevation 3389'
Wakely - Elevation 3744'
Woodhull - Elevation 2365'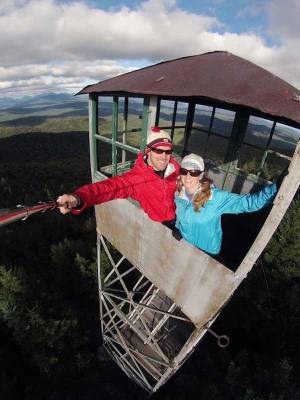 Catskill Fire Towers:
Balsam Lake - Elevation 3730'
Hunter - Elevation 4039'
Overlook - Elevation 3140'
Red Hill - Elevation 2914'
Tremper - Elevation 2724'
See the Glens Falls-Saratoga Chapter AMC's website for more info and updates >>
Get Your Fire Tower Patch
Submit your summit list, dates, any impressions, and $5 postage to the Adirondack Mountain Club:
Fire Tower Challenge
Glens Falls-Saratoga Chapter Adirondack Mountain Club
P.O. Box 2314
Glens Falls, NY 12801
In return, Fire Tower Challenge members will receive their official patch and bragging rights! Please allow four to six weeks to receive your patch.
Fire tower couple photo provided by Pure Adirondacks: Vanderwhacker Mt. Fire Tower