Adirondack Mountain Hiking Challenges
Discover a variety of hiking challenges in the Adirondacks, from family-friendly trails to the High Peaks, fire towers to breweries (really!), these challenges include a little something for everyone.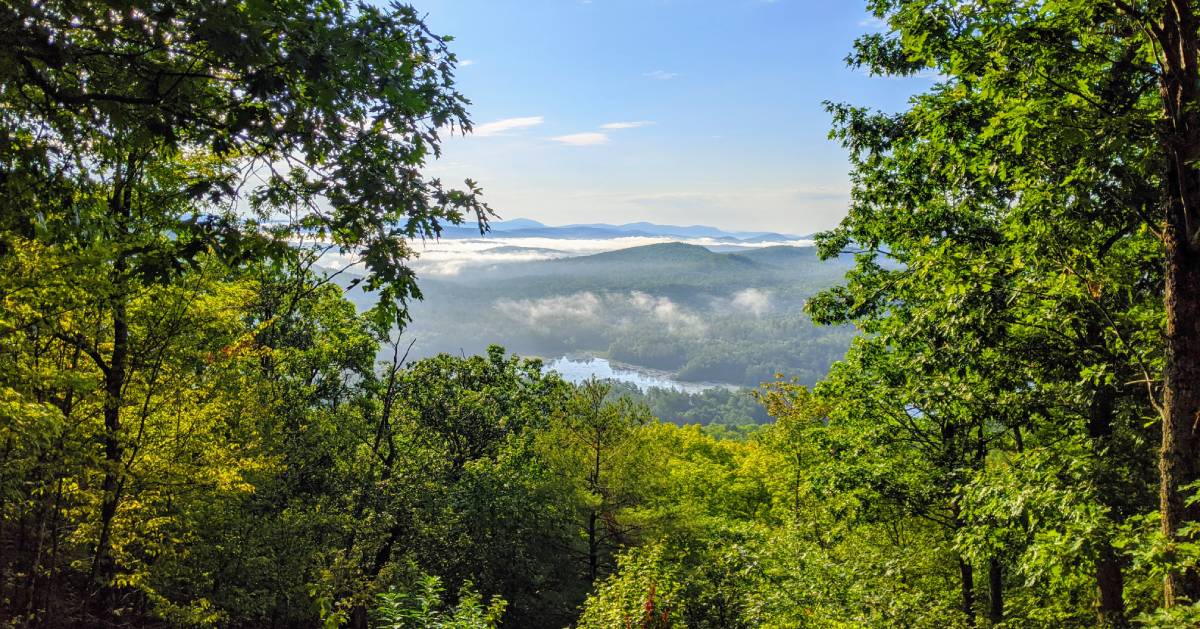 Each of the below challenges includes its own rules and regulations to achieve a winners patch. Make sure to read the details carefully, adequately prepare for your hikes, and hike within your means. Good luck out there!
Town, Communities & Organization Sponsored Challenges
The 4-3-2-1 is a customizable hiking challenge based around Indian Lake, NY. Participants must choose a combination of easy, moderate, and difficult hikes.
To complete this difficult challenge, summit all 46 High Peaks of the Adirondack Mountains.
The Chester Challenge is a family-friendly hiking challenge that focuses on the lesser known trails in the Town of Chester.
To conquer this challenge, hike the 50 mile loop around Cranberry Lake - the third largest lake in the Adirondacks - over multiple days or seasons.
To be a Fire Tower Challenge member, climb peaks topped with vintage fire towers in the Adirondacks and the Catskills.
The family-friendly Great 8 Challenge from St. Lawrence County is actually three separate challenges, each of which contains eight trails.
Also family friendly, the Inlet Outdoor Family Challenge welcomes you to hike, bike, or paddle 12 of 17 chosen locations in the Inlet area.
The Moriah Challenge is a seasonal hiking challenge based around the Moriah/Port Henry area in the Adirondacks and features four family friendly hikes.
To finish this challenge, you must climb all 6 of the Adirondack mountains surrounding Saranac Lake.
Hike three of five specified trails to complete the Northern Pathways Challenge, an Adirondack hiking challenge organized by Champlain Area Trails (CATS).
To complete the Northville-Placid Trail challenge, hikers must complete the enter 135-mile trail either in one trip from end-to-end, or in sections.
To complete the Waterfall Challenge, hikers must collect a total of 12 points after visiting several waterfalls, each of which count as 1 to 4 points.
Privately or Individually Run Challenges
To complete the ADK 6 Pack challenge, hikers must visit six local breweries that have been paired with six mountains across the Adirondack Park.
To complete the ADK-9 challenge, hikers must complete nine dog-friendly hikes in the Adirondacks, with or without a dog.
To complete the Adirondack Blue Challenge, hikers must hike a total of 10 mountains in the northern Adirondacks.
The Fulton Chain Trifecta is a hiking challenge centered in the Old Forge, NY area. Hikers must climb Black Bear Mountain, Rocky Mountain, and Bald Mountain.
The Lake George 12ster is a Lake George Region hiking challenge. Hikers are challenged to summit peaks on the east and west side of the lake.
The Wonders of Wilmington Hiking Challenge highlights lesser-known trails in the Wilmington area, with a bonus hike at Whiteface Mountain.