Adirondack Mountain Hiking Challenges
Push Yourself To The Limit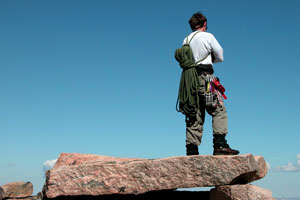 These challenges will test your abilities, your stamina, and your commitment to the sport of hiking.
Of these challenges, the 46er dares you to climb the most mountains while the Cranberry Lake 50 challenges you to hike long distances. The Fire Tower Challenge and the Saranac Lake 6er both include fewer peaks than the 46er, and they guarantee different landscapes, like the views you'll get of vintage fire towers and Saranac Lake.
Research the challenges with our guide below and then get out there and do it!
To complete this difficult challenge, summit all 46 High Peaks of the Adirondack Mountains.
To conquer this challenge, hike the 50 mile loop around Cranberry Lake - the third largest lake in the Adirondacks - over multiple days or seasons.
To be a Fire Tower Challenge member, climb peaks topped with vintage fire towers in the Adirondacks and the Catskills.
To finish this challenge, you must climb all 6 of the Adirondack mountains surrounding Saranac Lake.
The Chester Challenge is a family-friendly hiking challenge that focuses on the lesser known trails in the Town of Chester.
The Lake George 12ster is a Lake George Region hiking challenge. Hikers are challenged to summit peaks on the east and west side of the lake.
The Moriah Challenge is a seasonal hiking challenge based around the Moriah/Port Henry area in the Adirondacks and features four family friendly hikes.
The 4-3-2-1 is a customizable hiking challenge based around Indian Lake, NY. Participants must choose a combination of easy, moderate, and difficult hikes.
The Fulton Chain Trifecta is a hiking challenge centered in the Old Forge, NY area. Hikers must climb Black Bear Mountain, Rocky Mountain, and Bald Mountain.
To complete the ADK 6 Pack challenge, hikers must visit 6 local breweries that have been paired with 6 mountains across the Adirondack Park.
To complete the Northville-Placid Trail challenge, hikers must complete the enter 135-mile trail either in one trip from end-to-end, or in sections.
To complete the Waterfall Challenge, hikers must collect a total of 12 points after visiting several waterfalls, each of which count as 1 to 4 points.
To complete the Adirondack Blue Challenge, hikers must hike a total of 10 mountains in the northern Adirondacks.
See Less Difficult Adirondack Hikes »