Embark on the 4-3-2-1 Hiking Challenge in Indian Lake

In the Indian Lake region of the Adirondack Park, you'll find one of the most customizable hiking challenges around from the Indian Lake Chamber of Commerce: the 4-3-2-1! From an extensive list of local trails, participants only have to choose 10 hikes of various difficulty and finish them to complete the challenge.
Customize Your Hiking Challenge
Based in and around Indian Lake, the 4-3-2-1 allows hikers to enjoy a wide range of scenic trails and then get rewarded with a challenge patch. There is no deadline, and many of the hikes are family friendly.
To start, it's recommended to visit the Indian Lake Chamber of Commerce and pick up a free hiking map showcasing trails and descriptions. Using the map, the goal of the 4-3-2-1 is to hike four easy trails (labeled green), 3 moderate trails (labeled yellow), 2 difficult trails (labeled red), and 1 major hike (either Snowy Mountain or Blue Mountain).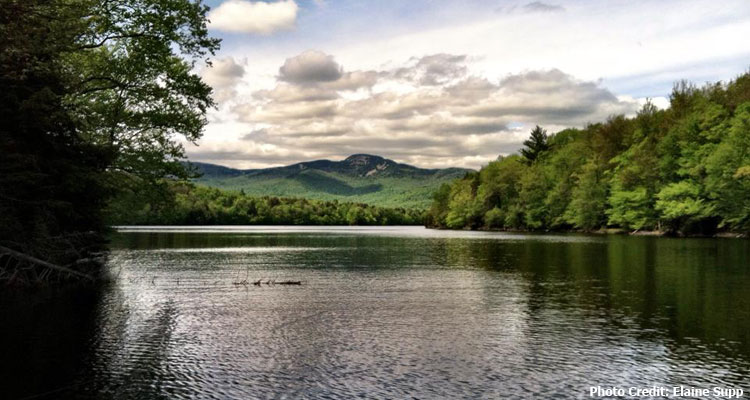 The choice is yours - all you have to do is document your accomplishments by filling out a 4-3-2-1 hiking challenge form and also taking photos of yourself at each appropriate summit sign.
Once you're done, you must present everything to the Indian Lake Chamber of Commerce along with a $5 fee to receive your challenge patch. Alternatively, you can mail your materials to the Chamber of Commerce, and they will mail you the patch.
See the 4-3-2-1 challenge form »
Learn About The Trails
Most of the trails can be hiked year round, but it's always important to use good judgment before attempting any hike. If you're a beginner, start with the easier trails and work your way up. Click the two links below to check out the complete list of trails.
Note: These lists of hiking trails were provided by the Indian Lake Chamber of Commerce.
Ready to experience the beauty of the Adirondacks in and around Indian Lake? Get the family together and begin the 4-3-2-1!
Source:
http://www.adirondackexperience.com/indian-lake/indian-lake-hiking-challenge