Marvel at the Wonders of Wilmington Hiking Challenge
This hiking challenge is one of three Wonders of Wilmington (WOW) challenges, and this one contains trails not included in other Adirondack hiking challenges!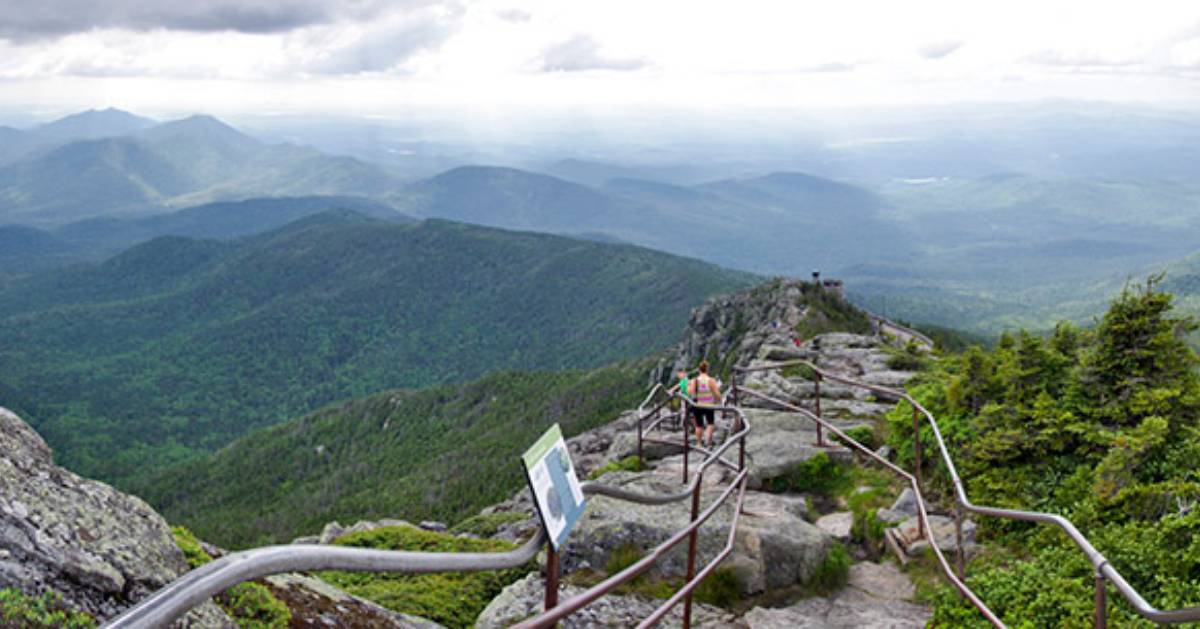 About This Wilmington Area Hiking Challenge
The Wonders of Wilmington Hiking Challenge is designed to explore lesser-used trails that still offer some of the best hiking that the Wilmington area has to offer.
Each trail is between 2 and 8 miles round-trip, with varying degrees of difficulty. There are 6 trails altogether, with a bonus option at the end.
The Trails You'll Take On
1) Stag Brook Falls
Hike the under 0.5-miles to the largest of the falls, or embark on the 1.5-mile round-trip hike. Stag Brook Falls is located on Whiteface Mountain, so you'll experience some elevation gain.
Please note, the waterfall is only accessible when ski season is not in session, because the trail crosses ski trails.
2) Cooper Kiln Pond
This 5.9-mile hike is situated between the Stephenson Range and Wilmington Range, and includes a gorgeous pond with mountain views.
Please note, some sections of the trail are steep and eroded, which may prove difficult for some hikers.
3) The Flume Knob
The Flume Knob is a moderate to challenging, 4-mile hike. This hike is considered a hidden gem in the area, and includes multi-purpose trails.
4) Jay Mountain
Enjoy a 5-mile, moderate hike (or opt for a more challenging 8-mile round-trip hike) on Jay Mountain through mixed forests to a scenic overlook.
5) Marble Mountain
Short but challenging Marble Mountain is 2.4 miles long and includes a few challenging elements, such as a steep ascent after the intersection with Flume Trails. But you're rewarded with a spectacular view!
6) Owens, Copperas, and Winch Ponds
This is a 3.5-mile, easy-to-moderate loop that includes three ponds in the Sentinel Wilderness Area.
7) Bonus: Whiteface Mountain Summit
This one is optional! Hike, bike, ride the gondola, or drive up Veterans Memorial Highway to experience Whiteface Mountain in whatever you you choose.
The 3 Wonders of Wilmington Challenges
The Wonders of Wilmington Challenges include the Hiking Challenge detailed here, a Mountain Biking Challenge, and a Family Fun Challenge. For each, you can register online to be added to the roster and receive the corresponding 3-inch patch. If your pet joins, they can be registered and receive a 2-inch WOW patch.
The WOW Challenge was created by Wilmington resident Karen Keasler in 2021. While many know and love Whiteface Mountain, she wanted to highlight other areas of the Wilmington region as well.
Complete Your Hikes, Get Your Patch
There is $10 registration fee per person in order to receive the 3" challenge patch. Get more details and register here: https://www.adkdata.com/p/challenges/register/wonders-of-wilmington