Learn All About Adirondack Great Camps
In the mid-to-late-1800's, America's well-to-do families began taking an interest in securing lakeside summer homes in the Adirondacks. They were primarily seeking a romanticized version of the wilderness, where they could live in comfort, but in an environment different from the big cities they called home.
As railroad tycoon Dr. Thomas Clark Durant worked to expand rail lines that could transport tourists into the region, his son - William West Durant - explored his passion for building. The younger Durant's architectural explorations would grow into an Adirondack phenomenon: Great Camps.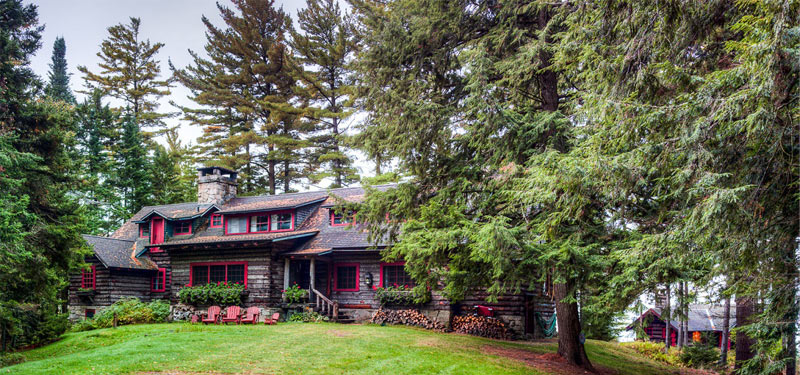 Photo: www.jpmorganadirondackgreatcamp.com
Great Camps - What Makes Them Great?
Constructed from logs, bark, and other native materials, Great Camps featured a wilderness-oriented aesthetic on a much grander scale than buildings normally found in Adirondack municipalities.
Their intricacy and sheer size made them stand out, and enhanced the appeal for their wealthy owners. Many Great Camps were made up of multiple buildings, including a main house, guest houses, boat houses, and other structures.
The Hedges - A Great Camp You Can Stay At
The Hedges, located on the shores of Blue Mountain Lake, is preserved as of 2018 thanks to a group of 60 individuals. This Great Camp was constructed in 1880 by Civil War General Hiram Duryea, opened its doors to guests in 1921, and served as a getaway for Adirondack visitors for nearly 100 years.
In 2000, Pat and Rip Benton acquired The Hedges and instigated a number of restoration projects to improve the property. In 2016, the Bentons put up The Hedges for sale. They then worked for two years with a coalition made up primarily of guests of The Hedges who were interested in preserving this historic property. In 2018, an agreement was reached, and we can now all enjoy this historic Great Camp for many years to come.
Today, The Hedges offers 30 family-friendly and adult lodging options and a variety of recreational activities on site and nearby. Relax at the sandy beach, jump off the swim dock, and make use of their kayaks, canoes, and SUPs. Hike nearby wilderness trails, scale the fire tower on Blue Mountain, or embark on a whitewater rafting adventure.
The Hedges is one of few Great Camps open to the public today, and you can be a part of their history by staying there and experiencing all they have to offer. Their season runs from Memorial Day through mid-October.
Camp Pine Knot, Camp Santanoni & More
W.W. Durant's first Great Camp resulted from transformations he applied to his father's property on Raquette Lake. The end result was Camp Pine Knot, completed in 1885. Camp Pine Knot was the first building to exhibit such a unique rustic architecture on a distinctly large scale, and it inspired Durant to build additional Great Camps.
In 1892-93, Camp Santanoni was built in Newcomb, and its first owners were Robert Pruyn - a wealthy banker from Albany - and his wife, Anna. Santanoni was designed by architect Robert H. Robertson, with later additions being made by the firm of Delano and Aldrich. It consisted of three groupings of buildings: the Gatehouse Complex, the Farm Complex, and the Main Complex. In its prime, Camp Santanoni encompassed more than 12,900 acres.
In 1896, Durant and architect Grosvenor Atterbury completed the buildings at Camp Uncas, once again using logs and native stones as the primary building materials, but incorporating fewer elaborate details than Durant did at Camp Pine Knot. One of the most unique features of Camp Uncas was its built-in log furniture. Upon its completion, Durant sold Camp Uncas to financier J.P. Morgan.
The next year, Durant completed the 27-building Great Camp Sagamore on Raquette Lake. Four years after its completion, Durant sold the camp to businessman Alfred Vanderbilt, whose family used it for the next 54 years.
In 1910, Durant sold a piece of property near Lake Sumner to then Lieutenant-Governor Timothy L. Woodruff, along with the small Camp Omonson that had been built on the land by Dr. Arpad Gerster. The Woodruff Family expanded and re-named the camp "Kamp Kill Kare." In 1914, it was purchased by philanthropist Francis P. Garvan, who renovated and customized it. Kamp Kill Kare is said to be "the epitome of Adirondack rustic design."
In 1920, heiress Marjorie Merriweather Post purchased Camp Topridge on Upper St. Regis Lake, and hired a pair of architects to re-design it. When they were finished, the 68-building Camp Topridge complex was one of the largest of the Great Camps.
Intrigued? Check Out the Great Camps Yourself
Some of the Great Camps have been preserved, and a few have even been transformed into summer camps or historical sites that you can visit for yourself.
In addition to The Hedges, Camp Santanoni hosts a series of Winter Weekends each year. Although the property is open year-round, the buildings themselves are not typically open during the summer months, and these weekends offer an exclusive chance to check out them out while snowshoeing and skiing across the camp.
Learn more about the great camps in author Harvey H. Kaiser's pioneering book »
Want more history? Learn about Adirondack Resort Hotels »
Sources:
http://www.adkmuseum.org/exhibits_and_events/online_exhibits/naturesart/great_camps/
http://www.adirondackexperience.com/discover/adirondack-historic-sites/adirondack-great-camps
http://greatcampsagamore.org/our-history/
http://www.aarch.org/preserve/santanoni/history-architecture/
http://www.dec.ny.gov/lands/53095.html