The History of the Garrow Manhunt
Back in the summer of 1973, at a time when Watergate and the Vietnam War dominated the national news, a manhunt was underway in the Adirondacks for serial killer Robert Garrow - the largest manhunt in New York State up to that point. Not only did this 12-day manhunt spark fear throughout the Adirondacks, but the case would have long-lasting effects in the U.S.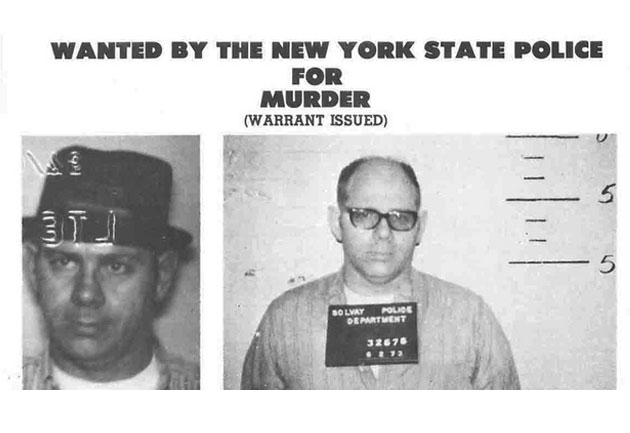 Who Was Robert Garrow?
Robert Garrow was born in 1936 in the Town of Dannemora, but he was raised in Mineville. In 1961, he pleaded guilty to first-degree rape and was given a 10-20 year prison sentence. He was paroled in 1968 to Syracuse because officials believed he was a model inmate who had been successfully rehabilitated.
That turned out to not be the case. Although Garrow was out on parole and had a job as a mechanic for Millbrook Baking Co. in Syracuse, everything spiraled out of control in the summer of 1973.
Robert Garrow: Serial Killer
First, Garrow was charged with molesting two young girls after kidnapping them from an ice cream stand in Syracuse around Memorial Day.
Soon after, on July 11th, the day before his scheduled court date, he raped and murdered 16-year-old Alicia Hauck in Syracuse and buried her body between his house and Syracuse University. At the time, authorities were unaware Hauck had been murdered; however, Garrow was spotted near Syracuse University and warned by his parole officer.
When Garrow failed to appear in court for the official charges against him, Onondaga County Judge Ormand N. Gale issued a warrant for his arrest and charged Garrow with sexual abuse, attempted rape, unlawful imprisonment, and more crimes.
On July 14th, Garrow murdered Daniel Porter and his girlfriend Susan Petz in Wevertown. As a result, a report of a missing couple in the Adirondacks came up, and the body of Porter was found by police six days later with four stab wounds.
The search for Petz continued, but the manhunt for Garrow began in the Adirondacks soon after he attacked four campers. On July 29th, Garrow murdered Phil Domblewski, one of the campers, left his car at the site, and forced one of the other campers to drive him out of the area.
The campers left at the scene escaped and reached police. The abandoned car was taken in, and the license plate showed that it belonged to Garrow. Once the campers identified him through mug shots, the manhunt for Robert Garrow kicked off that day.
The Manhunt in the Adirondacks (July 29th, 1973 - August 9th, 1973)
The manhunt for suspected killer Robert Garrow turned out to be extremely difficult. Although the police had a description of Garrow, it was discovered from Syracuse authorities that Garrow was a woodsman with survival skills. Not only would he be able to survive in the Adirondacks without shooting game, he could fish with little equipment and find berries, mushrooms, and other resources.
Indeed, after leaving behind the last camper, Garrow survived during the first week by seeking out local hunting camps. After breaking in and stealing food and clothes, he would travel parallel to roads, allowing him to evade police who were searching deeper in the woods.
This manhunt incited fear throughout the Adirondacks, as local residents had no idea what to expect. Many acquired guns to keep at home, and paranoia spread to the point that a large number of false sightings popped up around Hamilton County.
In addition, roadblocks were set up in Hamilton County, local troopers carried shotguns, semi-automatic carbines, and bolt-action rifles. Helicopters broadcasted a message from Garrow's wife and son to give himself up.
Despite this large-scale manhunt, Garrow evaded capture. On August 5th, when temperatures began to drop, search parties picked up a pattern in Garrow's movement after a few positive sightings. On August 6th, he was spotted at a Speculator gas station, and then on August 7th, authorities found out Garrow visited his sister's home in Witherbee.
After keeping an eye on the house, on August 9th, authorities followed Garrow's nephew to a nearby thicket where Garrow was hiding. Bloodhounds were used to drive him out, and Garrow ignored commands to surrender. As he took off, conservation officer Hilary LeBlanc shot Garrow and brought him down.
The Buried Bodies Case Trial
Garrow's capture on August 9th ended the manhunt, but his story didn't end there. During the trial for the murder of Domblewski, Garrow told his defense team that he also murdered Hauck and Petz. His lawyers confirmed the locations of the buried bodies but kept the information secret.
To protect the confidence of their client, the defense team aimed to use the information in exchange for a plea bargain. When that failed, Garrow was brought to the stand, and under oath, admitted to those two murders. One of Garrow's lawyers was brought to trial over the public outrage, but he was exonerated. However, the ethics of keeping Garrow's confession secret has been heavily discussed to this day.
Aftermath
Garrow was convicted and sentenced to a 25-year to life sentence at Clinton Correctional Facility in Dannemora. He faked paralysis after being shot during the manhunt and was wheelchair-bound during his prison stay.
In 1978, he was transferred to Fishkill Facility for elderly and handicapped inmates. That summer, he escaped after his son smuggled him a handgun, and a three-day manhunt took place. In the end, Garrow was shot and killed by corrections officers near the prison.
The Garrow manhunt was overshadowed by other major events that year, but in the Adirondacks, it was one of the darkest periods in its history.
Want more history? Learn about The Murder at Big Moose Lake »
Photo provided by Adirondack Films LLC and their film Garrow
Sources:
http://nytroopershistory.com/Garrow-Manhunt---Adirondacks---1973297.php
http://crimefeed.com/2016/09/the-buried-bodies-case-an-alleged-murderer-tells-his-defense-attorneys-where-the-bodies-are-buried-are-his-attorneys-obligated-to-share-that-with-the-court-a-lesson-in-legal-ethics/
http://www.saratogian.com/article/ST/20130622/NEWS/306229943