The Prospect House
Erected: 1877
The Prospect House was constructed as an expansion of the Ordway House, a modest structure built on Prospect Point in Blue Mountain Lake. The finished product opened during the summer of 1882, and was considered to be one of the most magnificent of all resort hotels.
The 4.5-story building was built in the Queen Anne style, and included a remarkably spacious interior. What made the Prospect House most unique is that it was the first hotel in the world that had electric lights in every room. In fact, the wiring was even installed by Thomas Edison himself.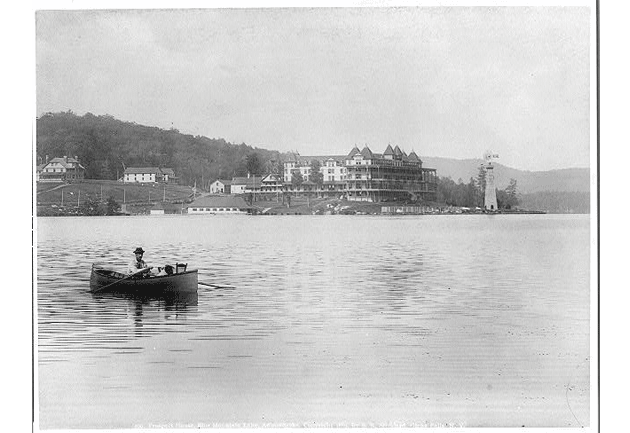 America's elite flocked to the Prospect House to enjoy the resident orchestra, lakefront views, and other amenities, which included a bowling alley, a billiard room, a library, a physicians office, a pharmacy, and a restaurant.
The hotel was built by Frederick Durant, whose railroad tycoon uncle, Thomas, constructed the Adirondack Railroad to help transport guests to their destination in Blue Mountain Lake. Unfortunately, the railroad also led to increased competition from other hotels in the area, which threatened the Propsect House's success.
High operating costs, the financial panic of 1893, and the occurrence of two cases of typhoid fever in the building led the Prospect House to be closed in 1903. The once magnificent structure stood vacant until it was torn down in 1915, but its legacy as a pillar of electrical engineering lives on.
Learn about other Adirondack resort hotels »
Photo:
Prospect House, Blue Mountain Lake, Adirondacks
Credit - Seneca Ray Stoddard via Library of Congress
Source:
Tolles, Jr., Bryant F. "Resort Hotels of the Adirondacks: The Architecture of a Summer Paradise, 1850-1950"