5 Fantastic Fall Foliage Drives to Enjoy in the Adirondacks This Season
This content is supported by Adirondack Mountain Land
The Adirondacks are known for having some of the best fall foliage in the entire country, drawing leaf peepers to the area every September and October. While some enjoy hiking or paddling to see the foliage, another popular way to take in the view is with a scenic drive through the mountains.
We've put together a list of five amazing fall foliage drives in the Adirondacks that you can enjoy this season. As you travel along these scenic highways and byways, schedule some additional time to visit orchards and pumpkin farms, restaurants and breweries, and the many other fun fall activities there are to do in the area.
And, a bonus: If you've ever dreamed of owning your own land in the Adirondacks, keep your eyes peeled for Adirondack Mountain Land signs, as there are often lots for sale near these scenic drives.
1) In the Southeastern Adirondacks: From Lake George to Loon Lake (Warren County)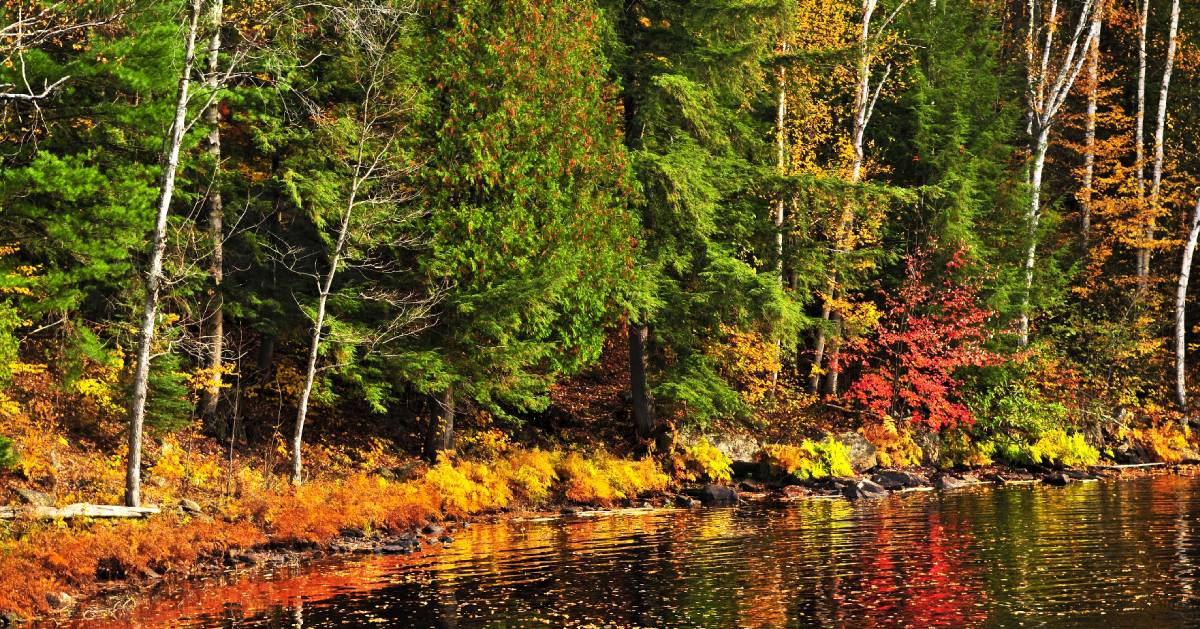 Starting in Lake George in the southern Adirondacks, take Route 9 north to Chestertown. You'll drive through plenty of wooded areas with great fall foliage, passing the Cat and Thomas Mountains Preserve on your right, a prime hiking spot. When you reach Chestertown, take a left at the main intersection to continue on Route 9. You'll soon pass Faxons Pond on your left.
Keep going along Route 9 and you'll reach Loon Lake on your right, a wishbone-shaped lake known for its clean, clear water full of fish and surrounded by trees with spectacular fall foliage. If you'd like to make a stop along the way there are a number of beaches along the shore, some of which are open to the public.
When you reach Loon Lake you'll be half an hour from Lake George. If you're up for it, you can continue on Route 9 and circle around the entire lake, taking a right onto Butternut Flats Road. From there, take a right onto Route 56/White Schoolhouse Road. This will bring you back south to reconnect with Route 9. The whole trip should take a little over an hour.
2) In the Western Adirondacks: From Tupper Lake to Cranberry Lake
You can make your way from one pristine lake to another when you take the 30-minute drive from Tupper Lake, just northwest of the High Peaks Wilderness, to Cranberry Lake. This hidden gem of a drive has the added bonus of being an incredibly easy route, as you just stay on Route 3 heading west the entire way.
On this drive you'll see quaint country houses and vast forested areas with great foliage. When you reach Cranberry Lake you're in for a real treat - this is the third largest lake in the entire Adirondack Park and it has 50 miles of well-developed trails right by the lake.
According to the DEC, Cranberry Lake has had a minimum of civilized encroachment and is just south of thousands of acres of continuous forest lands.
3) In the Eastern Adirondacks: From Brant Lake to Hague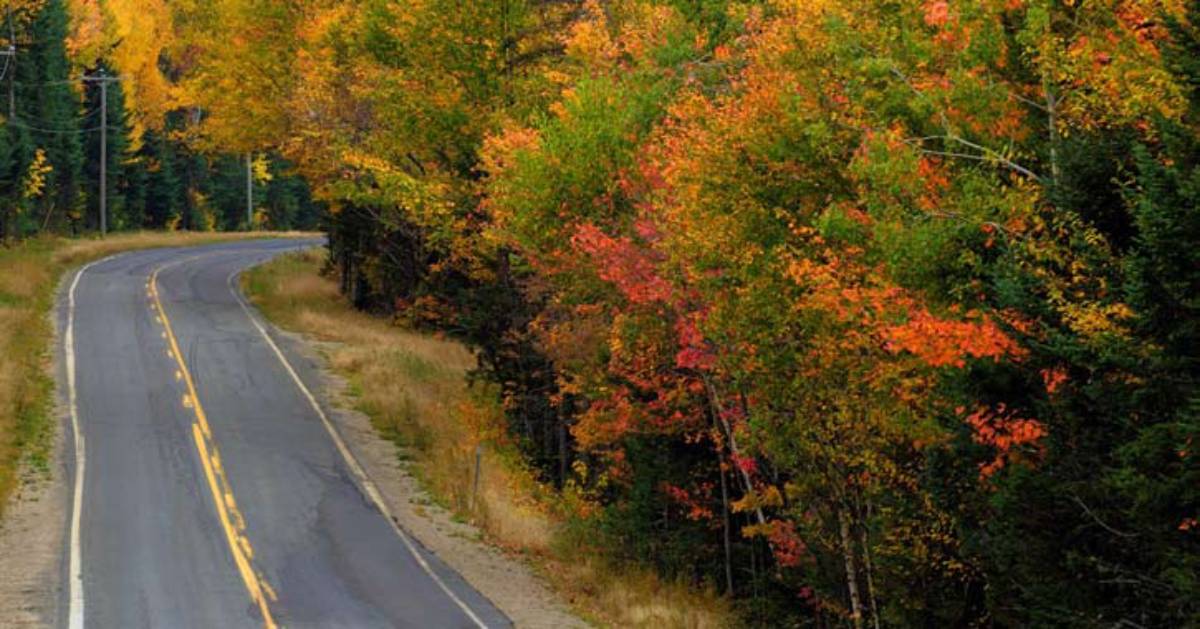 This drive is just about 25 minutes and goes from the tip of Brant Lake, just north of Chestertown, to Hague, right on Lake George. From Brant Lake, head east on Route 8 right along the lake. This route will take you right through the Pharaoh Wilderness Area, where hiking and camping is very popular during the fall.
You'll continue going through plenty of trees and foliage as you travel on Route 8/Graphite Mountain Road, a curvy drive that goes downhill to Hague. Once in Hague, you could check out Peggy's Point or the Hague Town Beach Park.
Or, if you'd like, keep the drive going by heading north on Route 9N towards Ticonderoga, where you could enjoy even further foliage and fall activities going on at Fort Ticonderoga - they even have a corn maze.
4) In the Northern Adirondacks: From Keene Through Lake Placid to Saranac Lake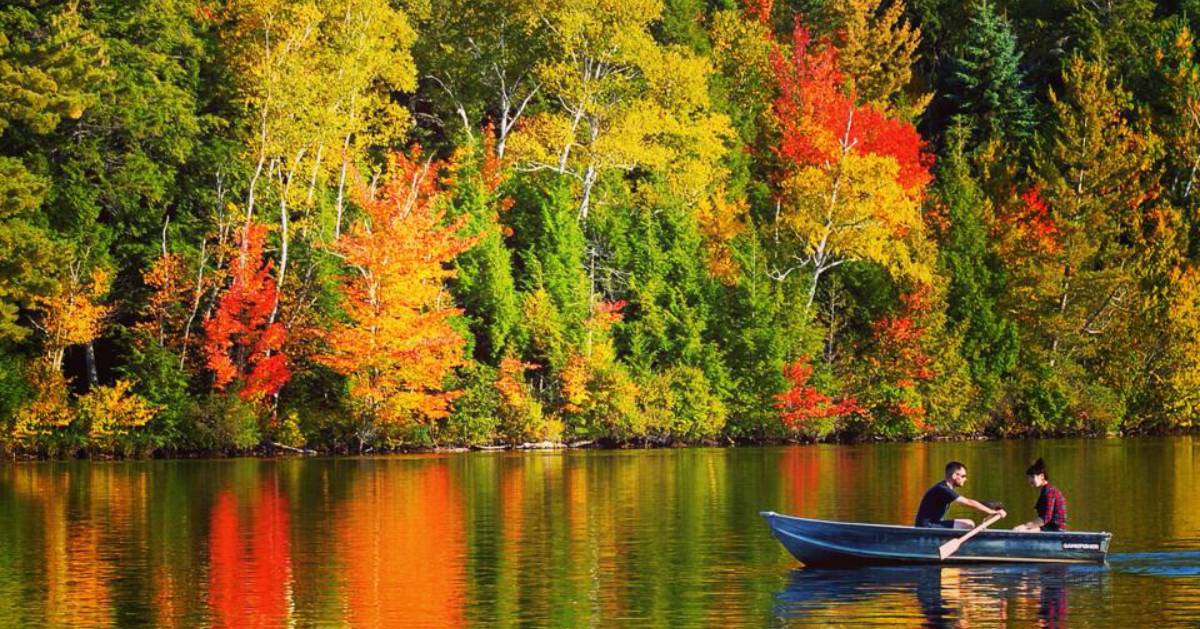 Photo credit: Trish Hennessy
Lake Placid is widely known to have some of the best fall foliage, and you'll drive right through this town on this scenic route. Take Route 73 west from Keene and continue on Route 73/Cascade Road. Cascade Road will turn into Sentinel Road as you approach Lake Placid, then you'll make a left onto Main Street.
Follow Main Street north along Mirror Lake and then take a slight detour just .2 miles north on Mirror Lake Drive to the Mirror Lake Inn, where you could stop for a drink or a bite to eat. Make your way back down Mirror Lake Drive, take a right on Route 86, and continue on towards Saranac Lake. You'll pass the McKenzie Mountain Wilderness on your right and you'll enjoy some waterside views of Lake Flower on your left.
5) In the Central Adirondacks: Blue Mountain Lake to Old Forge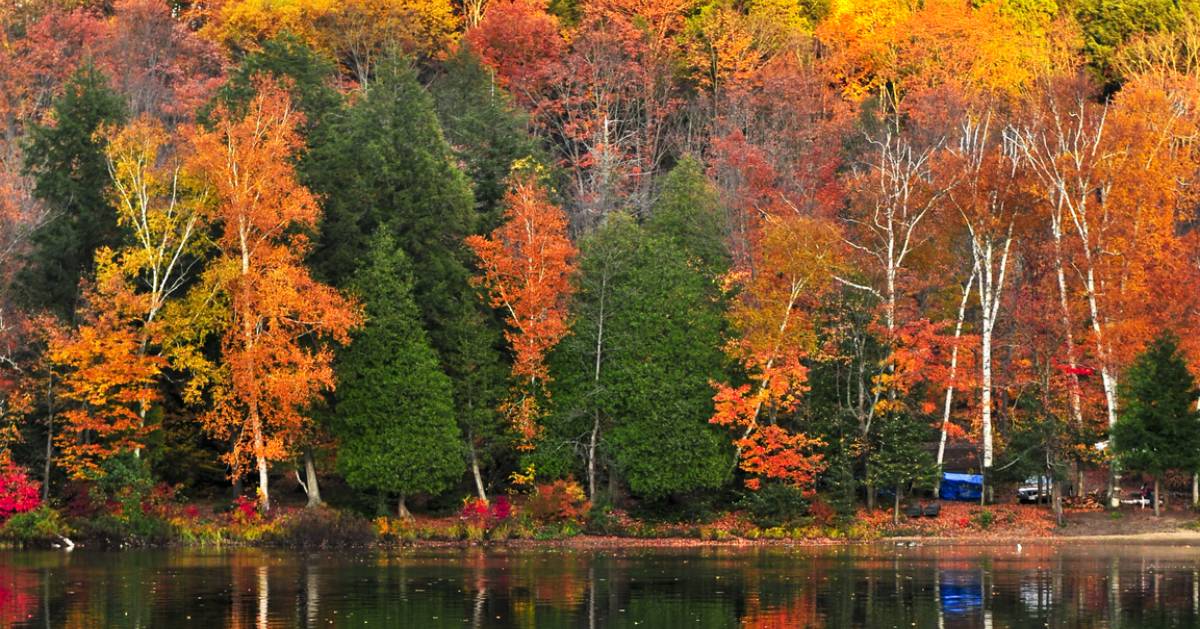 If you take Route 28 from Blue Mountain Lake west to Old Forge, a 45-minute drive, you'll pass through several wilderness areas: Little Moose Mountain Wilderness, Sargent Pond Wild Forest, Pigeon Lake Wilderness, and Moose River Plains. You'll also pass by Raquette Lake and several of the Fulton Chain Lakes.
With so many forested areas and bodies of water on this route you'll likely have incredible scenery the entire way, with multiple photo opportunities - and it's all one long, winding road. When you arrive in Old Forge, consider checking out the Old Forge Dam, which holds back 6.8 billion gallons of water from the Fulton Chain Lakes to avoid flooding the Moose River.