Ticonderoga Area North Country Christmas
November 27 - December 5, 2021
Nothing rings in the holiday season like an all-out, week-long celebration, and the Ticonderoga Area Chamber of Commerce is hosting just that from November 27 to December 5, 2021! During the annual North Country Christmas, many local Ticonderoga organizations and businesses will be sponsoring a wide variety of events that are family-friendly and open to the public.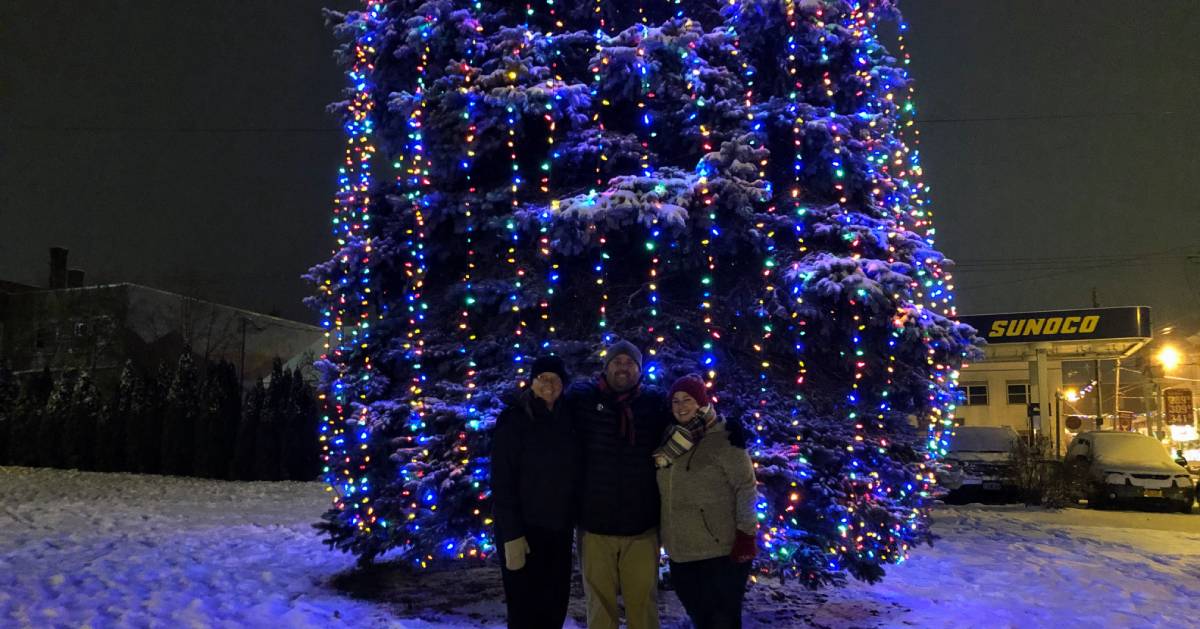 2021 North Country Christmas Schedule
Saturday, November 27
Small Business Saturday
Think local! Many stores will offer promotions and specials for Small Business Saturday. Look for #ShopSmall signs at participating businesses and organizations, and get and complete your Small Business Saturday Passport for a chance to win prizes. See a list of specials and promotions from the Chamber.
The Adirondack Trading Post will be hosting a Vendor Fair. Visit their Facebook page for more info.
Christmas at the Farm
Lillie Valley Farm, 10am to 4pm
Come join the farm for some holly jolly holiday fun. There will be baked goods, kids activities, Santa, and more. Bring your coupon from Adirondack Trading Post!
Sunday, November 28
Rockin' Tree Lighting
Ticonderoga Community Building, 5:30pm
Watch the Christmas tree get lit, listen to holiday music, enjoy a campfire, and more. All kids in attendance can help count down to the tree lighting and get their photo taken with Santa. Take-and-Make Cookie Decorating Kits will be available from the Silver Bay YMCA Teen Center.
Holiday Hay Rides
Ticonderoga Heritage Museum, 5:30pm to 7:30pm
Enjoy holiday wagon rides following the tree lighting and continue to listen to holiday music, sponsored by the Sawyer family.
Monday, November 29
Make Your Own Magic Monday
Everyone is encouraged to make a donation to your favorite local nonprofit! For a directory of Ticonderoga area nonprofits visit TiconderogaNY.com.
Tuesday, November 30
Make Your Own Snow Globes
Black Watch Memorial Library, 6pm
You're invited to make your own Snow Globe with the Black Watch Memorial Library team. Please pre-register by calling 518.585.7380.
Wednesday, December 1
Live Children's Book Reading
Fox and Fern - Adirondack Mercantile, 4pm
Visit Fox and Fern - Adirondack Mercantile to enjoy a reading of It's the Spirit of Christmas, Peaches! by local author and illustrator Shaundra Bartlett Lerman.
Thursday, December 2
4th of July in December Chicken BBQ,
Knights of Columbus Ticonderoga, 4pm to sold out
This is a Best 4th in the North Committee fundraising event! The $14 price tag includes half a chicken, potato, coleslaw, roll, and cookie. There is a limited supply. Call the K of C at 518.585.6520 to reserve your order.
Polar Express Party
Seymour's Restaurant, 5:30pm
Join this free, magical event. Children are encouraged to wear pajamas and enjoy holiday cookies and hot cocoa while watching the Polar Express. Reservations are appreciated. Call 518.585.2801 for more information, dinner specials, and to make reservations.
Friday, December 3
Holiday Shopping & Dining Night
Participating businesses will stay open until 8pm with specials and promotions - look for the snowflake displayed! Get a list of participating businesses from your Holiday Shopping & Dining Guide from the Chamber. Live music will be provided by the Ticonderoga Central School Music Department. Free raffles are coordinated by the Ticonderoga Montcalm Street Partnership. Visit the TACC Facebook page or website for more info.
Holiday Farmers Market
Ticonderoga Area Chamber of Commerce, 5pm to 8pm
Visit the Ticonderoga Area Farmers Market for a special Holiday Market! Vendors will be set up inside the Chamber office with an array of local products, gifts, raffles, and more.
Parade of Lights
Town of Ticonderoga, 6pm to 7:30pm
Businesses, organizations, and community members are encouraged to participate with vehicles, floats, and more in this festive parade. Please register with the Ticonderoga Fire Department by calling Mary at 518.586.6912 or by emailing mcunningham14@nycap.rr.com. All entries must be family-friendly. The route will be posted on the Ti Fire & TACC Facebook pages.
Holiday Mystery Dinner for Kids
Punky Noodles, 6pm to 8:30pm
This is a classic case of a holiday who done it! Enjoy a themed scavenger hunt throughout the museum to figure out who kidnapped Santa's favorite elf. There will be mystery, puzzles, intrigue, role playing, dinner, and crafts. Visit the Punky Noodles Facebook page for pricing and reservations.
Ticonderoga Heritage Museum and Ticonderoga Arts Holiday Gift Shoppe
Ticonderoga Arts Gallery, 10am to 8pm
The Ticonderoga Heritage Museum will join the Ticonderoga Arts Gallery in Downtown Ticonderoga for a Christmas Shoppe! Adirondack artists are represented in the many gifts, books, jewelry, pottery, wood products, and more. (Note, also open Saturday, December 4 from 10am to 2pm.)
Saturday, December 4
Tromblee's Greenhouse & Gift Shop Holiday Open House
Tromblee's Greenhouse, Crown Point, 10am to 4pm
Take advantage of door prizes and discounts from 10 to 30% off along with a complimentary holiday photo with or without Santa provided by Cody Lang. There will also be a kids craft provided by Maiden by the Lake. (Note, this is also happening on Sunday, December 5.)
Living History Event: The Noble Train Begins
Fort Ticonderoga, 10am to 4pm
Join Fort Ticonderoga for this one-day living history event and relive Henry Knox's epic feat as he prepared to move a massive cannon from Ticonderoga to Boston to force the British evacuation in 1776. Tickets are $12 (or free for Ticonderoga Ambassador Pass Holders) and can be purchased upon arrival.
Holiday in Hague
Town of Hague
Stay tuned for more info!
Drive-In Holiday Movie Night
Best Western Plus Parking Lot, 5pm (movie to start at 5:30pm)
Watch Home Alone with the Ticonderoga Festival Guild and Best Western! Non-perishable food item donations will be accepted by the local food pantry, and Best Western will double the donation received. Pizza, hot cocoa, and special treats will be available to purchase to benefit the Ticonderoga Festival Guild and Ticonderoga Food Pantry.
Sunday, December 5
Christmas Craft Fair
Best Western Plus Ticonderoga, 10am to 3pm
A variety of local vendors, crafters, and more can be enjoyed at the Christmas Craft Fair. A gift basket filled with local Christmas goodies will be raffled off to one lucky winner.
Festival of Trees Open House & Reception
Hancock House, 1pm to 3pm
Join the Ticonderoga Historical Society to celebrate the holidays while you enjoy four floors of trees and decorations that fill the historic Hancock House. View the Festival of Trees from November 26 to December 31, Wednesday to Saturday, 10am to 4pm.
Hometown Holiday Train & Music
Public Parking Lot Next to Elks Lodge, 5:30pm to 7pm
Visitors can expect holiday music, festive fun, and a decorated holiday train (a great photo opp!). Attendees are asked to bring a donation for the local food pantry. (This is in lieu of the Canadian Pacific Holiday Train).
All information is subject to change, and all current COVID-19 guidelines will be followed.
« Back to Annual Holiday Events