Ticonderoga Area North Country Christmas
Stay Tuned for 2021 Dates!
Please note, we will update this page with 2021 info as it becomes available. For an idea of what to expect, check out last year's details:
Nothing rings in the holiday season like an all-out, week-long celebration, and the Ticonderoga Area Chamber of Commerce is hosting just that from November 28 to December 6, 2020! During the annual North Country Christmas, many local Ticonderoga organizations and businesses will be sponsoring a wide variety of events that are family-friendly and open to the public.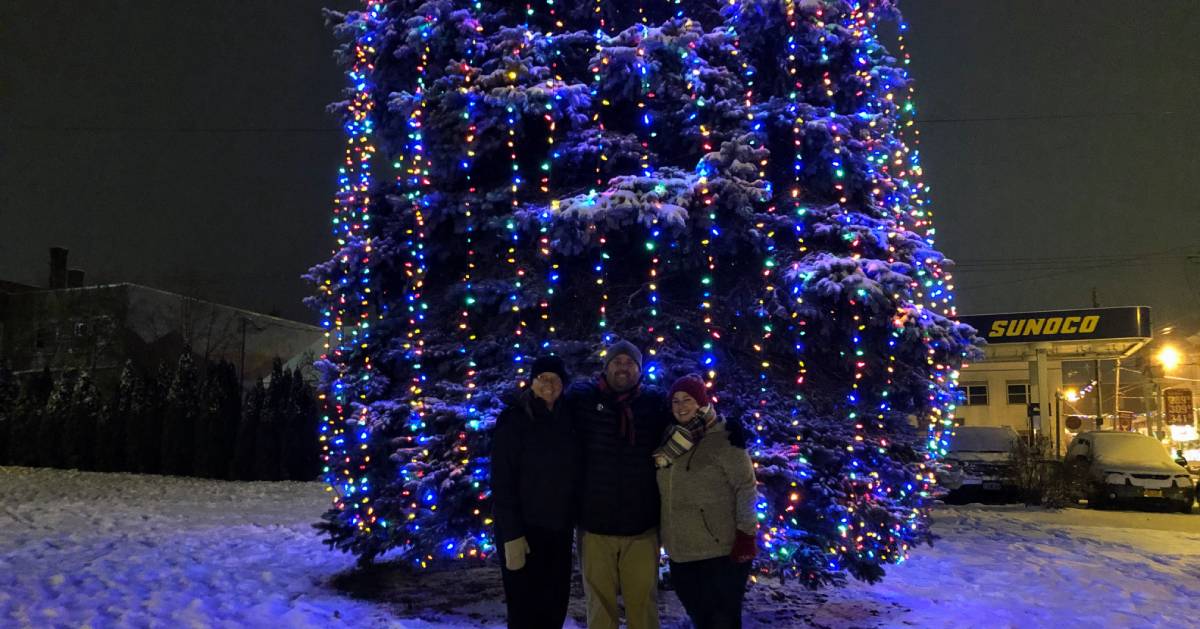 2020 North Country Christmas: COVID-19 Edition
Saturday, November 28
Small Business Saturday
Think local! Support local businesses and organizations - many will offer promotions and specials for Small Business Saturday. Look for the Shop Small signs at participating businesses, and look for (and use!) the hashtag #TACCSHOPSMALL. Email emullen@ticonderogany.com for more information.
Get your SBS TACC Passport and enter to win a prize »
Pop Up Shops at Punky Noodles
Punky Noodles from 10am to 2pm: Stop in to check out pop up shops and let the kids create in the Art Room while you shop! Vendors include Punky Noodles, Huddy & Co., and others.
Christmas at the Farm
Lillie Valley Farm 10am to 4pm: Come out and shop for Christmas trees, wreaths, baked goods, and farm-fresh meat. Enjoy games, treats, and get a family photo taken. Bring a letter to send to Santa with your address - Santa will return your letter! And please bring a canned good to donate to a local food pantry.
Festival of Trees
Hancock House 10am to 4pm: Four floors of trees and decorations fill the historic Hancock House. The Festival of Trees is a prime part of the North Country Christmas, although the decorated trees will be on display from November 23 to December 31.
Sunday, November 29
Wreath Decorating
Tromblee's Greenhouse & Gifts, 10:30am to 12pm: Join Tromblee's Greenhouse and Blee's Floral Design for a festive class of wreath decorating. Participants will be given a wreath and a variety of decorations. All will be shown how to create the perfect holiday bow. The cost is $45. Please pre-register by calling 518.586.2986.
Rockin' Tree Lighting Ticonderoga
Community Building, 5:30pm: Join the TACC and a *special guest* as they light up the community Christmas Tree and listen to holiday music. All kids in attendance will help count down to the tree lighting. Take and make cookie decorating kits will be available by the Silver Bay YMCA Teen Center. This event will also be live streamed on the TACC Facebook page.
Kids Craft Take and Make
Ticonderoga Community Building, 5:30pm: Come to the Tree Lighting and snag a craft for your child to make at home. This is sponsored by Punky Noodles.
Christmas Creation Make & Take
The Country Florist & Gifts, 4pm to 5pm: Make your own Christmas bow. The price varies, depending on ribbon chosen. Space is limited. Visit them on Facebook for details.
Live Children's Book Reading
Fox and Fern-Adirondack Mercantile, 6:30pm: Visit Fox and Fern-Adirondack Mercantile's Facebook page for a live reading of "It's the Spirit of Christmas, Peaches!" by local children's book author and illustrator, Shaundra Bartlett Lerman. Visit Fox and Fern-Adirondack Mercantile to grab copies of books from the Bartlettberry Briar series in preparation for the newest release, Happy Birthday, Peaches!
Tuesday, December 1
Takeout Tuesday
Grab takeout from your favorite Ticonderoga area restaurant, and watch a holiday movie with your family! For a full list of restaurants go to the business directory at ticonderogany.com.
Wednesday, December 2
Warm Up Wednesday
Snap a photo of yourself or your family in your favorite ugly holiday sweaters. Send it in to the TACC Facebook page via private messenger. All photos will be posted the following week for a virtual Ugly Sweater Contest!
Thursday, December 3
4th of July in December Drive-Thru Chicken BBQ
Knights of Columbus of Ticonderoga, 4pm until sold out: Join in this annual Best 4th in the North Committee fundraising event for a 4th of July BBQ in December. The $12 fee includes a 1/2 chicken, potato, coleslaw, roll, and cookie. There is a limited supply. Call the K of C office at 518.585.6520 to reserve yours.
Friday, December 4
Holiday Shopping & Dining Night
Participating businesses will be open until 8pm with specials and promotions on Holiday Shopping & Dining Night. Look for a snowflake displayed in the window! For a list of participating businesses get your Holiday Shopping & Dining Guide from the Chamber. There will be free raffles by the Ticonderoga Montcalm Street Partnership. Visit the TACC Facebook page for more info.
Holiday Farmers Market
TACC, 5pm to 8pm: Visit the Ticonderoga Area Farmers Market for a special Holiday Farmers Market. Vendors will be set up inside the Chamber office offering an array of local products for the holidays. All COVID-19 regulations will be followed. Visit their Facebook page for more details.
Parade of Lights
Town of Ticonderoga, 6pm to 7:30pm: Businesses, organizations, and community members are encouraged to participate (vehicles, floats, etc.) in this event. You must register with the Ticonderoga Fire Department by calling Mary at 518.586.6912 or emailing mcunningham14@nycap.rr.com. You can also register with the TACC. All entries must be family-friendly. All COVID-19 guidelines must be followed. (Don't gather; view from your property, car, or sidewalk.) The route will be posted on the Ticonderoga Fire Department and TACC Facebook pages. This event is sponsored by the Ticonderoga Fire Department with support from the TACC.
Ticonderoga Heritage Museum & Ticonderoga Arts Holiday Gift Shoppe
Ticonderoga Arts Gallery, 10am to 8pm: The Ticonderoga Heritage Museum will join the Ticonderoga Arts Gallery in downtown Ticonderoga for a Christmas Shoppe. Adirondack artists are represented in the many gifts such as books, jewelry, pottery, wood products, and much more. This will also be open on Saturday, December 5, from 10am to 2pm.
Friends Comforting Friends Holiday Lights Display
Brookwood RV Resort: Travel around the campground to see dozens of holiday light displays. Donations will benefit the efforts of Friends Comforting Friends. This event will take place Friday, Saturday, and Sunday evenings from December 4 to December 20. Visit the Friends Comforting Friends Facebook group or the TACC Facebook page for more details.
Tromblee's Greenhouse & Gift Shop Holiday Open House
Tromblee's Greenhouse, Crown Point, 10am to 8pm: Kick off the holiday season with this annual family-friendly and fun event. Get a complimentary holiday themed photo. There will be two door prizes - a free Christmas tree and a wreath! Take and Make Kids Crafts will be provided by Maiden by the Lake. To-go treats will be provided by Swee Cal's. Discounts will be offered at 10 to 30% off. This event is also taking place on December 5 and 6 from 10am to 4pm.
Saturday, December 5 & Sunday, December 6
Selfie With Santa Contest
Ticonderoga area: Follow the TACC Facebook page for instructions on how to find their Wooden Soldier Santa. Take a selfie and private message it to the TACC Facebook for a chance to win a number of prices! All photos will be posted on the TACC Facebook page. Winners will be chosen at random.
Tiny Tim Program & Local Food Pantry Drop Off
The Chamber is also a Tiny Tim and Local Food Pantry Drop off location until Friday, December 4. All donations can be dropped off Monday through Friday between 8am and 3pm.
« Back to Annual Holiday Events