Thanksgiving 2021 Dinners & Specials: Enjoy the Holiday in the Adirondacks
We're rounding up all the Thanksgiving specials in the Adirondacks, including dine-in, takeout, and dessert deals.
We are continuing to update this page as specials are announced.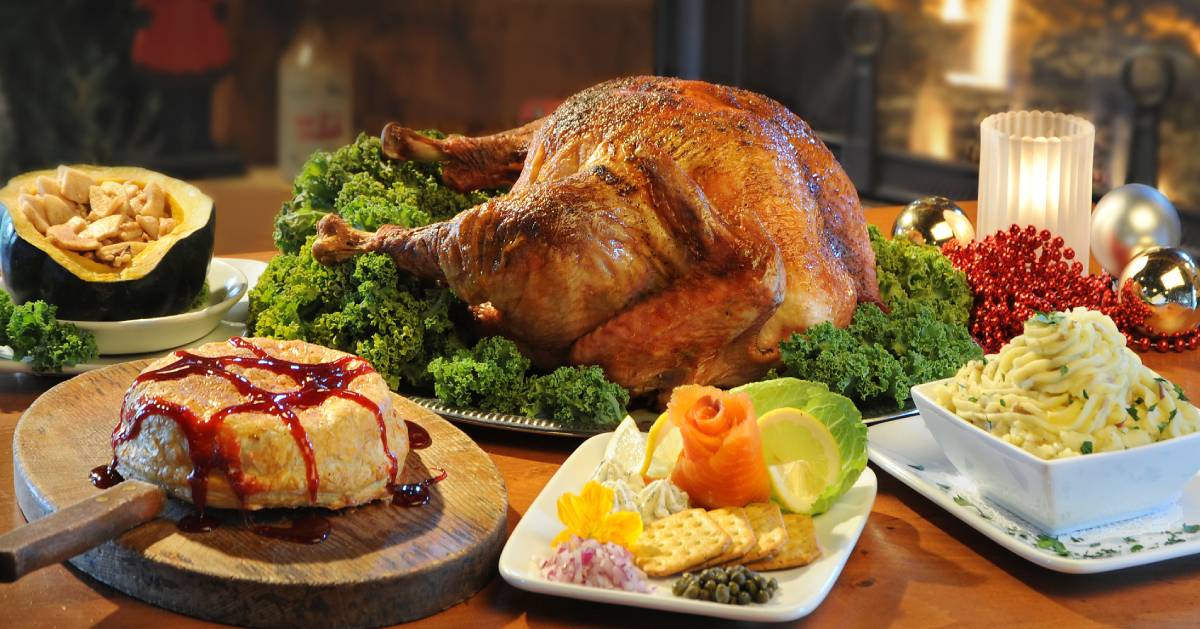 Photo credit: SaratogaPhotographer.com
Friends Lake Inn
Thanksgiving Dinner To-Go
Enjoy a Thanksgiving feast from Friends Lake Inn! They're offering a complete family sized traditional dinner for 10 people, pre-order by November 22 for pickup on Thanksgiving or dinner for 2 or more to be ordered by 12pm on Thanksgiving. See details here.
Garnet Hill Lodge
Thanksgiving Dinner & Overnight Lodging
Make a night of it with your family at Garnet Hill Lodge in North Creek, a perfect place to host the holiday meal. Guests who stay over at the lodge enjoy additional perks and amenities, included guided hikes and live music during Thanksgiving dinner.
Burleigh's Luncheonette
Desserts
Burleigh's Luncheonette in Ticonderoga is offering a variety of holiday desserts including pies, cream pies, cakes, cheesecakes, specialty cheesecakes, cannoli's, and more. Orders must be placed by November 20.
Chrissy's Cafe
Pies
Chrissy's Cafe in North Creek is on vacation until November 29, but they are offering Thanksgiving pies: apple, apple crumb, buttermilk, chocolate, pecan, and pumpkin. Call 518.251.9909 to get your order in.
High Peaks Resort
Thanksgiving Dinner Buffet
The High Peaks Resort in Lake Placid is hosting a Thanksgiving dinner buffet with a menu including herb roasted turkey breast, honey baked ham, oven-roasted leg of lamb, and poached cod. You can find the menu on their website at highpeaksresort.com.
J. Gallup Farm
Pies & Desserts
J. Gallup Farm in Warrensburg is offering a variety of pies to pre-order, from apple to banana cream, along with homemade rolls, cookie platters, and more. Pre-order by Monday the 22nd for pickup or Wednesday the 24th by 4pm. Follow them on Facebook to see details.
Lake Harris Lodge
Thanksgiving Dinner
Lake Harris Lodge in Newcomb is hosting a Thanksgiving dinner with seatings at 12pm and 2pm. Call 518.582.8333 to make a reservation by November 22.
See the menu: https://www.facebook.com/LakeHarrisLodge/posts/438574707662139
Also to Note...
The Warrensburg Volunteer Fire Co. is once again hosting a Thanksgiving Dinner for Seniors the Sunday before Thanksgiving Day.
The Long Horn Restaurant & Pub in Lake Luzerne is offering a Thanksgiving takeout dinner to anyone in need, no charge, no questions asked. Pickup is on November 24.
More details: https://www.facebook.com/LongHornRestaurantandPub/posts/10159493307650281
Stay tuned for more!