New York State Fishing License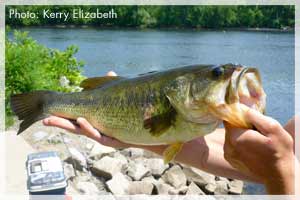 Editor's Note: As we work to flatten the curve through social distancing anglers, hunters, and trappers should purchase their sporting licenses online. They can be purchased at any time and you may use your privileges immediately by carrying your transaction number (DEC-LS#) with you. Anglers, hunters, and trappers can also utilize the HuntFishNY mobile app to display an electronic copy of the license. Back tags and carcass tags must still be mailed, and customers should allow 10 to 14 days for receipt of tags.
Buy your sporting license online »
Anyone fishing in New York State (with a few exemptions) is required to obtain a fishing license before going fishing.
Fishing licenses can be purchased for the entire year, a week, or just a day. Licenses are available to New York State residents as well as out of state residents. Upon purchase of a fishing license, you will be given a booklet entitled "New York Freshwater Fishing Regulations". You are responsible for knowing the regulations in this booklet before you go fishing.
More information on NYS Fishing Licenses »
Exemptions
Free fishing weekends & clinics.
Anyone fishing on licensed fishing preserves.
Citizens that are occupying and cultivating farmland, when fishing on their own land.
Anyone holding farm fish pond licenses and members of their immediate families, when fishing waters that are covered by license.
Free licenses are available to certain groups, more on that here »
Fishing License Fees
New York State Residents:
Senior License (70+ or Military Disabled): $5.00
Annual Fishing License: $25.00
7-Day Fishing License: $12.00
1-Day Fishing License: $5.00
Non-Residents:
Annual Fishing License: $50.00
7-Day Fishing License: $28.00
1-Day Fishing License: $10.00
Fishing License Guidelines
You are required to have your license on your person while exercising any privilege of that license.
You are required to present your license to any police officer, peace office, or the owner, lessee, or other person in control of the lands or waters on which you are fishing.
A fishing license does not authorize you to trespass on private property.
Free Fishing Days!
2021 Free Fishing Days in New York State include February 13-14, June 26-27, September 25, and November 11. Anyone can fish, and no license is required, but all rules and regulations still apply. Take advantage of these days and see how much fun fishing in the Adirondacks can be!
Fish Species in the Adirondacks »
Fishing Seasons in the Adirondacks »
Best Fishing Spots in the Adirondacks »