The Cascade Lakes

Driving north from the southern Adirondacks, the treasures of the Adirondack High Peaks region reveal themselves in earnest as you drive along Route 73 through the Cascades region. Located south of Lake Placid in Keene Valley, the Cascade Road (Route 73) wends its way past Round Lake, Mud Pond, and directly along the shores of the scenic Upper and Lower Cascade Lakes.
Summer: Take a warm-weather excursion to the Cascade Lakes region in Keene Valley. The winding, scenic and mountainous region along Route 73 provides a challenging and incredibly rewarding route for bike touring enthusiasts, hikers, and sight-seers.
Autumn: In the High Peaks region offers spectacular sights, and the Cascades Lakes region is no exception. Driving along the edge of these lakes nestled between blazing orange, red and yellow mountains on both sides provides a tantalizing view of what makes the Adirondacks such a special place.
Winter: Frozen and frosted, the Cascade Lakes become as beautiful a scene as any snow-globe could create! This stretch of winding highway becomes a winter wonderland, with the frozen lakes graced by rock faces that continually produce natural ice formations along the face…sometimes blue, sometimes white, sometimes taking on the hue of the minerals beneath.
Spring: Vivid green and lush, springtime in the Adirondacks is represented best via the endless signature mountain springs that seemingly gush out of nowhere. Babbling brooks, cold water rushing from the rocks and the crystal clear water in the Cascade Lakes make this a great drive at any time.
Driving past the impressive rock cliffs towering over the Cascade Lakes often provides views of intrepid rock climbers navigating the face of Cascade Mountain. When you visit the Cascade Lakes, there is a parking area at the access to the Pitchoff Mountain trail…reaching the top of this peak rewards the climber with beautiful views of the Cascade Lakes and surrounding region. There is also a non-motorboat boat launch located on the land bridge crossing the lake that offers parking for about a dozen cars.
The Keene Valley region is a treasure trove of natural beauty and opportunities for enjoying the outdoors. From Ausable Chasm to the Olympic Village and the tiny hamlets that dot the region, there's always something to do in the High Peaks region!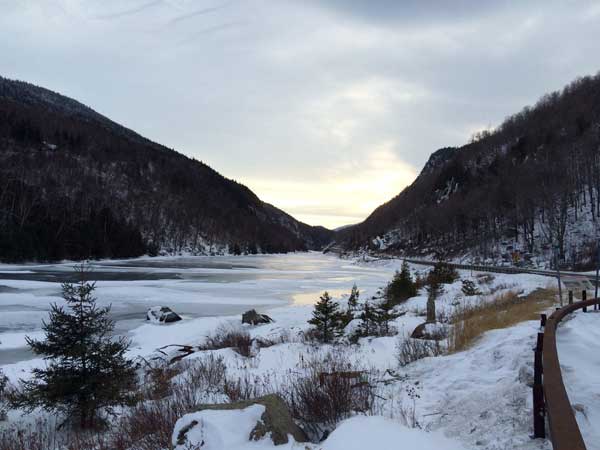 Photo: Alya Baranova