Ausable Chasm: "Grand Canyon of the East"!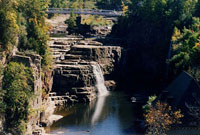 There are few places in the Adirondacks where family fun and thrilling excitement meet in the great outdoors like they do at Ausable Chasm in scenic Keene Valley! Like much of the Adirondacks, Ausable Chasm was formed by glacial activity millions of years ago, an event that produced gouges in the sandstone 150 feet deep, with towering rock walls, steep cliffs, caves and distinctive natural rock formations. Not surprisingly, the Ausable Chasm has long been known as the "Grand Canyon of the East"!
The Ausable River runs through the Chasm northeast right to Lake Champlain. It ranges from 20' to 50' feet wide and up to 200' deep, and was the nation's first tourist attraction!
There are a number of opportunities to enjoy this stunning natural setting, from trails that run along the rim of the gorge, to the Inner Sanctum Trail that allows a river-level view of the gorge. There are self-guided walking trails that provide countless and wondrous views of the Chasm, and a trail that allows you to walk the entire length - nearly two miles. A few of the unique sights include:
Elephants Head: A delight to visitors, it is just that…a natural rock formation that closely resembles an elephants head and trunk.
Devil's Oven is a cave that has been carved out by an ancient water flow - it is far above the rushing river, giving jus a glimpse of the phenomenal age of this formation.
The real gem of experience at Ausable Chasm is the rafting tour. Suitable for nearly all ages, an experienced river guide brings you through the gorge itself, between towering cliffs, through rapids, pools and calm waters. An unforgettable and thrilling up-close exposure to one of nature's oldest playgrounds. Another option? Tubing down the Ausable River - for the kids, this is an adventure like no other.
A recent and unique addition to the events at Ausable Chasm is the addition of guided winter tours that follow the Rim Trail along the towering edge of the Chasm. Few sights are as impressive as the ice formations that appear throughout the Adirondacks, and this tour allows visitors to view huge icicles, ice formations, and a huge ice dome that forms near the falls.
Panning for gold, mountain biking, and kayak paddling tours are just a few of the fun opportunities that await at Ausable Chasm! In addition to walking tours, there are horse trails through the forest with gentle trail horses, experienced guides and miniature horse rides for the little ones! There are even lantern tours begin at dusk, where visitors are given a lantern and lead into the Chasm and along the river. The tour ends with a campfire and marshmallow roast.
Like much of the Adirondack region, Ausable Chasm is a geological and historic wonder amid the splendor the High Peaks, providing a one-of-a-kind family experience with everybody's favorite activities director - Mother Nature!