Cranberry Lake - One Of The Largest Adirondack Lakes
Cranberry Lake in the Adirondacks is a scenic, still lake surrounded by mountainous terrain and plentiful opportunities for outdoor adventure. It is the third largest lake the Adirondacks, behind Lake George and Raquette Lake. The lake is vast, nearly 7,000 acres, and so has a wide range of depth. While the average depth of Cranberry Lake is only six feet deep, large areas are past the 20 and 30 feet marks.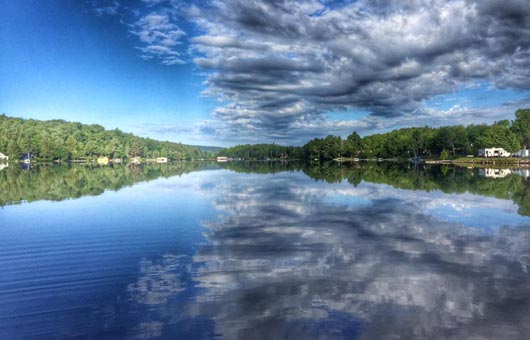 If you're looking for a great place for activities in the water, Cranberry Lake is a true haven for watersports. Visitors enjoy boating, rafting, kayaking, canoeing, paddling and more. Fishing is also very popular in the Cranberry Lake region. The lake itself is stocked with trout to encourage the sport, and nearby rivers also offer excellent trout fishing.
Various trails in the Cranberry Lake region make the area an ideal spot for hiking and exploring, from beginner to intermediate hikers. Enjoy trails in the Cranberry Lake Wild Forest, Western Parcel, Northwestern Parcel, Eastern Parcel and Five Ponds Wilderness Area. In the winter months, many of these great hiking trails turn into excellent snowmobile paths and cross-country ski trails. The Cranberry Lake Wild Forest offers 15 miles of foot trails for easy hiking.
The Western Parcel gives way to over 2,000 acres of snowmobile trails. The Northwestern Parcel offers scenic views along the 7-mile Peavine Swamp Ski Trail. Eastern Parcel trails include hiking on Bear Mountain, Burntbridge Pond trail and the connecting Campground Trail. Here you'll also find the Dog Pond Loop Trail, Otterbrook Trail and other shorter trails. In the Five Ponds Wilderness Area, you'll find the Cat Mountain Trail, Sand Lake Trail, Sixmile Creek Trail, Buck Pond Primitive Corridor and other smaller trails. An additional 13 miles of hiking trails in the Five Ponds Wilderness Area surround Cranberry Lake, known as the High Falls Loop. Try hiking the 50 mile loop of trails in the Cranberry Lake 50 challenge!
Just east of Cranberry Lake village, there is a public campground and day-use area maintained by the Department of Environmental Conservation (DEC). Here you'll find a picnic area, fishing pier, beach for swimming and bathhouses. There are also graded areas for tents or trailers, water outlets, toilets, a trailer pump-out station and showers. Handicapped accessible campsites are also available. You can find two lean-tos in the area. There is a public boat launch on the Oswegatchie River located on Columbian Road.