The Cranberry Lake 50: Go 50 Miles Around the Lake!
The Cranberry Lake 50 is an exciting challenge that offers 50 miles of trails that loop around one of the largest Adirondack lakes - Cranberry Lake. The Challenge is project of Five Ponds Partners, an organization that works to promote sustainable development in the Clifton-Fine and other nearby areas of the Park.
The gorgeous lake is the third largest in the Adirondack park, and one of the best maintained in the state. Located in the western portion of the Adirondack Park, Cranberry Lake is a part of the charming Adirondack towns of Clifton and Fine. The Cranberry Lake 50 challenge can be completed over multiple days or seasons, as extended side trips from the loop are often enticing.
Cranberry Lake 50 Trails Include: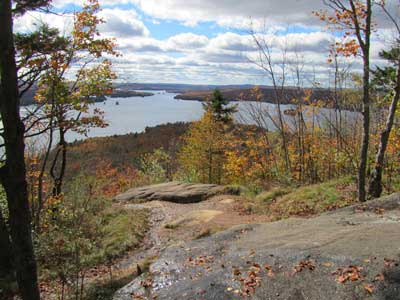 Burntbridge Pond Trail
Dog Pond Loop Trail
Otter Brook Trail
South Bay Trail
Six Mile Creek Trail
Olmstead Pond Trail
Cowhorn Junction Trail
High Falls Loop Trail*
Wanakena Trail
Peavine Swamp Trail
Six Mile Creek Trail
*As of December 2021 there is a new Glasby Creek Footbridge on this loop, replacing the prior 30-year-old footbridge.
Rules:
You may complete the CL50 challenge in as much time as you like
Obey all NYS Department of Environmental Conservation (DEC) rules - regulations are slightly different in various sections of the Adirondack Park
Use proper trail etiquette - "Leave-No-Trace"
Know your limits and weather conditions
Once a hiker finished this challenge, they should contact the Five Ponds Partners to receive their CL50 patch and name on the roster of completions. Please include a donation to cover the cost of the patch and shipping to:
Five Ponds Partnersc/o Bill GleasonP.O. Box 142Wanakena, NY 13695
Photo of Cranberry Lake Courtesy of the Town of Clifton
Notes From the DEC on the Cranberry 50
Know that this is a difficult, multi-day hike. Be prepared for a minimum of three to four days on the trail and primitive camping along the way. Be realistic about your fitness and skill levels. Don't overestimate your abilities, or underestimate nature. Allow for more time than you think you'll need, and be prepared to turn back if the weather gets bad.
There is no official loop direction, although most hikers go clockwise around the lake. Decide your route ahead of time and leave your specific plans with a trusted family member or friend before you go.
Be mindful of the fact that trails cross both private and state lands. Stick to the trail and designated primitive sites.
Unfortunately, the blue Cranberry 50 trail markers are often stolen as souvenirs. This makes it difficult for hikers to rely on the markers for wayfinding. Please leave all markers where you find them.
Visit CranberryLake50.org for more info on the challenge.