Lakes, Rivers, and More in the Eastern Adirondacks
Eastern Adirondacks Fishing, Paddling & Boating
Below are bodies of water that are either partially or entirely located in the Eastern Region of the Adirondacks. This includes Lake George, Brant Lake, and more.
Please note, this list is not exhaustive and is only meant to be a starting point for your Adirondack adventures!
Before you hit the water, be sure to check local licensing and freshwater fishing regulations. Visitors must follow statewide and county laws that help to preserve these waters and their ecosystems for generations to come. For example, the use or possession of bait fish is prohibited at many lakes and ponds in Warren and Essex Counties, per the NYS DEC.
Jump to:
Lakes in the Eastern Adirondacks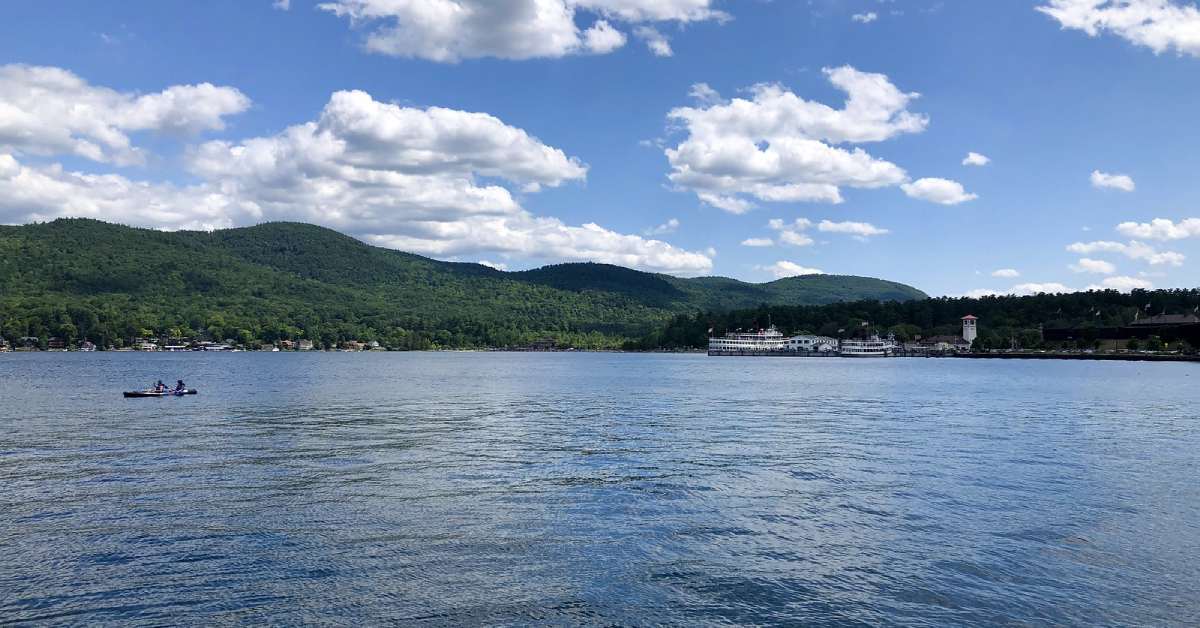 A popular vacation spot dubbed "the Queen of the American Lakes," Lake George is a large, 28,479 acre body of water that stretches from the village of Lake George to the southern tip of Lake Champlain. The lake is dotted with islands, some of which are available for day use, providing plenty of fun places to explore. There are four public launch sites, but there are also plenty of privately-owned marinas available to launch from for a fee. Anglers can try their hands at catching a wide variety of fish, including Landlocked Salmon, various species of trout and bass, Chain Pickerel, Cisco, Black Crappie, Brown Bullhead, Pumpkinseed, Yellow Perch, and Northern Pike.
NYS DEC Contour Maps: South | North
Loon Lake
To the west of Lake George is Loon Lake, a shallow body of water with an average depth of 15 feet. The small, wishbone-shaped lake has a car top launch site near its southwestern tip, and anglers can fish for Largemouth and Smallmouth Bass, Walleye, Rock Bass, Tiger Musky, White Sucker, and more.
Also to the west of Lake George is Brant Lake, a long and thin lake that covers more than 1,300 acres. There is a ramp launch located at the southern end, and you can expect to catch various species of bass, as well as Chain Pickerel, Walleye, Bluntnose Minnow, Golden Shiner, Pumpkinseed, Banded Killish, and more. The lake is also stocked with Rainbow and Brown Trout.
Schroon Lake is located to the northwest of Brant Lake, and its over 4,000 acres are perfect for boating and fishing. There are three ramp launch locations, including one at the Eagle Point State Campground on the western shore. Various species of trout and bass make up the population of the lake, along with many other species, including Atlantic Salmon, Yellow Perch, Northern Pike, Black Crappie, and Rainbow Smelt.
Just to the north of Schroon Lake lies Paradox Lake, an uniquely-shaped body of water comprised of two wide basins and a thin, interconnecting channel. There is ramp launch located at the Paradox Lake Campground, available for a fee during peak season, but free the rest of the year. Paradox is a natural habitat for Lake Trout, but anglers can also catch Rainbow Trout, Landlocked Salmon, and a variety of other species.
Pharaoh Lake, located within the Pharaoh Lake Wilderness Area, is a beautiful and undeveloped spot for a relaxing Adirondack excursion. Brook and Lake Trout, Brown Bullhead, Rock Bass, and Pumpkinseed populate the waters, which have an average depth of 46 feet. The lake is circumnavigated by trails that crisscross the Wilderness Area, so be prepared to hike your way to the lake! There aren't any official launch sites maintained by the DEC.
Eagle Lake in Ticonderoga is only about 420 acres and 19 feet deep on average. There is a ramp launch located along Rte. 74, which crosses over the lake and runs along its southern border. Fish for Yellow Perch, Brown Trout, and Smallmouth, Largemouth, and Rock Bass.
Bass Lake
Thinking of fishing for bass in Bass Lake, located near North Hudson? Think again -- it's actually known as a great spot for Brook and Rainbow Trout. The lake only covers about 39 acres and you'll need to hike a trail that leads to the western shore. There isn't an official launch site, and as the trip out to the lake is about a mile and a half, it may be best to fish from the shore. Journey to the eastern end of the lake for the deepest waters and best fishing.
Lake Champlain is a massive body of water on the New York and Vermont border, stretching from Whitehall to the Canadian province of Quebec. There are several public ramp launches maintained by the DEC, including ones in Crown Point, Port Henry, and Ticonderoga. Fish for Lake Trout, Landlocked Salmon, Smallmouth Bass, Largemouth Bass, Northern Pike, and Pickerel.
Ponds in the Eastern Adirondacks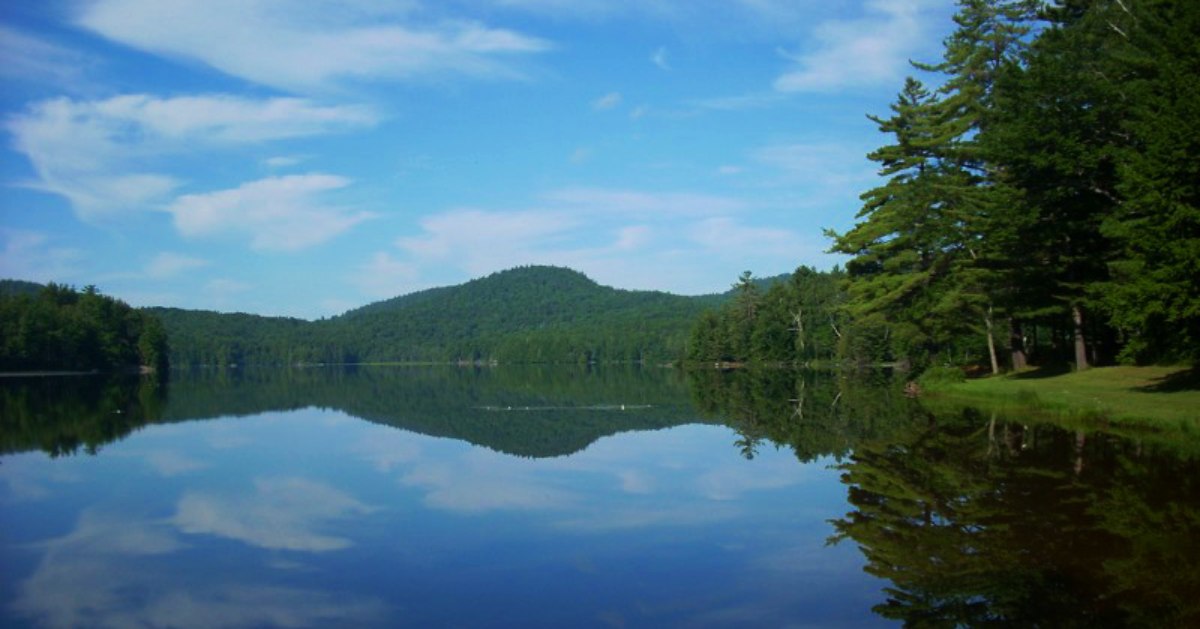 Palmer Pond
Located in Lake George Wild Forest, not far from Friends Lake, Palmer Pond is a small, round body of water known for its Rainbow and Brook Trout fishing. Use Palmer Pond Trail to circumnavigate the pond and take in all of its secluded beauty.
Long Pond
Long Pond in Horicon is also part of Lake George Wild Forest, and is a nice place for Brook Trout fishing and paddling. There's an official hand launch site, located off Long Pond Trail, which leads from a parking area on Padanarum Road to the pond itself.
Springhill Pond
Fish for Rainbow Trout at Springhill Pond. The pond is accessable by a trail that starts at Pharaoh Lake, but it's quite a hike, so you may want to pack light. There are two primitive campsites located along the shore.
NYS DEC Springhill Pond Trail Map
Part of the Pharaoh Lake Wilderness, Goose Pond is a tranquil place to fish for Splake, Brook Trout, and Rainbow Trout. There isn't a boat launch site, but the shore is accessible from Goose Pond Trail.
Putnam Pond
Putnam Pond, outside of Ticonderoga, is a fairly large pond with one public ramp launch site and a state campground. Visitors can explore the lake by paddle or motor boat, as well as fish for Yellow Perch, Black Crappie, and a variety of other species.
Munson Pond
Munson Pond is part of the Hammond Pond Wild Forest, a collection of small ponds and hiking trails located near North Hudson. At Munson Pond, you can try your hand at catching Brown Trout.
Lincoln Pond in Elizabethtown is a great spot for boating, fishing, and camping. The DEC's Lincoln Pond Campground lies on the western shore, complete with a car top launch. Motor boats are permitted on the pond. Anglers can hope to catch Largemouth and Smallmouth Bass, Northern Pike, Yellow Perch, Tiger Musky, Pumpkinseed, and Black Crappie.
Rivers in the Eastern Adirondacks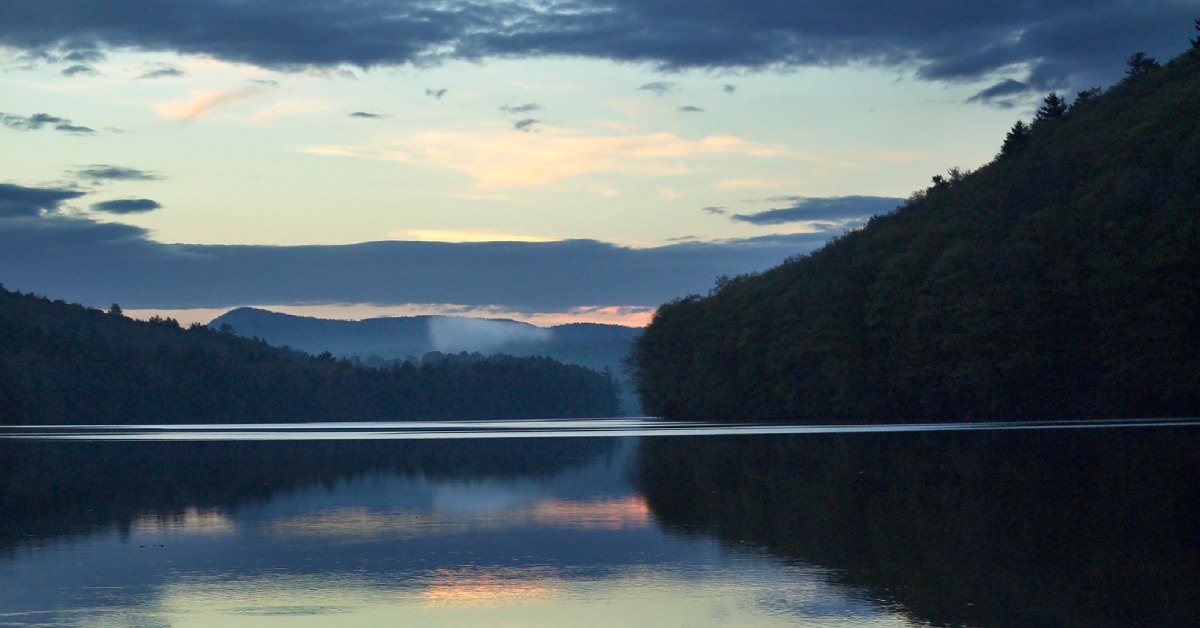 Photo by saratogaphotographer.com
Hudson River (Upper Hudson)
The Hudson River crosses through the eastern Adirondacks on its way from the High Peaks. Just south of North Creek, anglers can fish for Rainbow and Brown Trout on state land and public fishing rights locations. There are rest areas located along this part of the river, which stretches from the Essex/Warren County line to just past Ordway Pond. There are also many hand and ramp launches located throughout the eastern Adirondacks, including sites in Warrensburg and Chestertown.
NYS DEC Public Fishing Rights Map
The Schroon River flows from Schroon Lake to the Hudson River in Warrensburg. There are many locations along the river that are accessible to visitors through state land and public fishing rights locations. There are also hand launch sites in Bolton and Chestertown if you're looking to paddle down the river.
NYS DEC Public Fishing Rights Map
Map of Lakes, Ponds, and Rivers in the Eastern Adirondacks
« Back to the Adirondack Lakes Guide
Sources:
http://www.dec.ny.gov/outdoor/28244.html
http://www.dec.ny.gov/outdoor/23860.html
http://www.dec.ny.gov/outdoor/23897.html
http://www.dec.ny.gov/outdoor/9920.html