Northeastern US Region Map Showing Where The Adirondacks Are Located
Click on the map to get a closer look at the Adirondacks.
Browse these maps of the Adirondack region and discover everything this scenic area has to offer. Nestled in the upper corner of New York State, the six-million-acre Adirondack Park is a unique natural resource with a great deal of history. Unlike many federal and state parks, this unique destination is a mix of private and public lands, where villages, towns and hamlets, 'Forever Wild' lands, and land set aside for recreational use are interwoven throughout the Park. It's no surprise that outdoor activities such as hiking and paddling are extremely popular sports.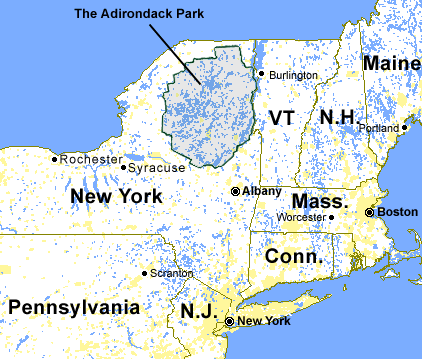 Head to the Adirondack Region Map Listing »
Learn More About the Adirondack Park