Meet Your Lake Placid Olympians!
There must be something in the water, because Lake Placid breeds Olympians! From skiing to luge to the biathlon, Vancouver will be covered with Adirondack natives this winter during the 2010 Olympic Games.
Be introduced to 8 Lake Placid athletes who are ready to represent the U.S. this winter!
Lowell Bailey - Lake Placid - Biathlon: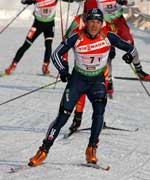 Being from Lake Placid, Bailey has been around the Olympics most of his life. He would stare at the Olympic Oval outside of his Lake Placid High School classroom, and dream about competing in the Olympics someday. Bailey began training for the biathlon in the 1990's. His career reached its height during the 2008-2009 season when he finished 15th place for individual finish in the World Cup in Sweden. Bailey competed in the following events: Men's 12.5 km Pursuit, Men's 10 km Sprint
Results:
Men's 12.5 km - Finished 36th (Race on Feb. 16, 12:45 P.M.)
Men's 10 kn Sprint - Finished 36th (Race on Feb. 14, 11:15 A.M.)
Ashley Caldwell - Lake Placid - freestyle skiing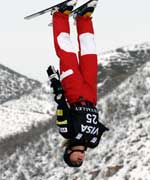 Caldwell is only 16 years-old, but she has already proved she is worthy of a spot on the U.S. Olympic freestyle aerials team. Her experience as a competitive gymnast for 11 years makes her a great competitor for the Olympics. She finished in the top 13 in each of her appearances in the World Cup and is the first Olympian to come out of the USSA's Elite Air Program in Lake Placid. Caldwell will comete in the following events: Ladies' Aerials
Results:
Ladies' Aerials - Finished 12th to qualify for finals.(Event on Feb. 20, 10:00 A.M.)
Finals of Ladies Aerials: Event scheduled to start on Feb. 24, 7:30 P.M.
Peter Frenette - Lake Placid - Ski Jumping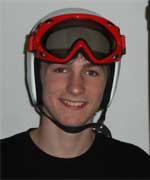 Frenette is an up and coming ski jumper from Lake Placid. At only 17 years-old, he is just beginning his career. He got locked in to the 2010 Winter Olympics in January by placing in the top 20 at the Continental Cup in Japan. Don't miss this local athlete soaring through the Vancouver air. Frenette will compete in the following events: LH Individual, NH Individual
Results:
LH Individual - Final round: Finished 32nd (Event on Feb. 19, 10:00 A.M.)
NH Individual - Final round: Finished 41st (Event on Feb. 13, 11:00 A.M.)
Mark Grimmette - Lake Placid - Luge
This is Grimmette's 5th appearance in the Olympic Games. Beginning his career in 1984, he is one of the older members of the U.S. Olympic Team, and is competing as a doubles team for luge. Grimmette and his partner, Brian Martin, took a bronze medal home in the men's double in 1998 Nagano Olympics and a silver in the 2002 Salt Lake City Olympics. This team is unstoppable, and one to be beat. The duo has taken home the most international medals, 65, ever among American luge competitors and 11 world cup victories. Grimmette will compete in the following events: Doubles
Results:
Doubles - Finished 11th (Event on Feb. 17, 5:00 P.M.)
Haley Johnson - Lake Placid - Biathlon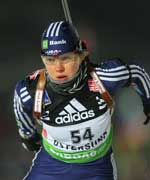 Lake Placid resident, Haley Johnson, started out an Alpine Skier at the National Sports Academy but was quickly pursued by the USA Biathlon, along with fellow Olympians Tim Burke and Lowell Bailey. A blogger, and an artist as well, Johnson stays busy. To help pay for training, Johnson began a small business called Snowfall Cards, where she designs greeting cards inspired by Lake Placid. On a more competitive side, Johnson and her teammates finished 10th in the relay at the 2009 World Championships on South Korea, the best since 1997. Johnson competed in the following events: Women's 7.5 km Sprint
Results:
Women's 7.5 km Sprint - Finished 80th (Race on Feb. 13, 1:00 P.M.)
Brian Martin - Lake Placid - Luge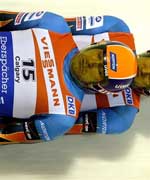 Martin, and teammate Mark Grimmitte, have been a doubles team for about a decade now and are still looking to take home more medals in the Vancouver Olympics. Martin grew up in California, and moved to Lake Placid for additional luge training. His career of sliding down icy chutes has been non-stop since then. Him and Grimmette hold the USA Luge record with 11 World Cup victories. Martin will compete in the following events: Doubles
Results:
Doubles - Finished 11th (Event on Feb. 17, 5:00 P.M.)
Chris Mazdzer - Saranac Lake - Luge
Mazdzer joined a luge program for kids at just the age of 8 years-old, and by the age of 13 he was doing so well that the junior national team took him overseas for competition. A Saranac Lake resident, Mazdzer is now 21 and part of the U.S. Olympic Team. He finished 14th in Lake Placid during the 2009 World Cup, and is also the 2005 Youth A men's singles world champion and took home the silver medal in the 2003 and 2004 Youth A men's singles. Mazder competed in the following events: Men's Singles
Results:
Men's Singles - (Run 1 finished 12th, Run 2 finished 13th, Run 3 finished 13th) Run 4 Official: Finished 13th (Race on Feb. 14, 3:10 P.M.)
Andrew Weibrecht - Lake Placid - Alpine Skiing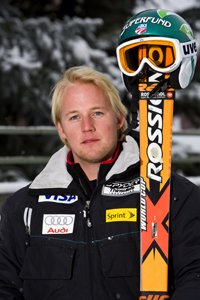 Born and raised in Lake Placid, Weibrecht grew up skiing with his family, though does have plans beyond skiing. He is a student at Dartmouth College, wants to become a scientist, and admits to being completely superstitious on and off the slopes. His motivations come from his fellow U.S. Olympic teammates. In 2008, he finished 2nd in downhill and 4th in both super-G and giant slalom at U.S. National Championships. Weibrecht will compete in the following events: Men's Downhill, Men's Super-G, Men's Super Combined
Results:
Men's Downhill - Finished 21st (Race on Feb. 15, 10:30 A.M.)
**Men's Super-G - Finshed 3rd (Race on Feb. 19, 11:30 A.M.)
Men's Super Combined - Finished 11th - (Event on Feb. 21, 9:30 A.M.)
Related Articles:
« Find More Winter Activites in the Adirondack Winter Guide