Ride The Slopes Of The 2010 Olympic Games From Your Computer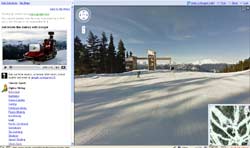 Want to see every inch of the slopes and venues where the 2010 Olympians will be showcasing there abilities? Now you can, and it's all thanks to Google. They have taken their popular Street View to the slopes of Whistler.
As you may know, Street View is an option in Google Maps where you can see what the actual streets and buildings look like in a city. That way if you are visiting an area for the first time you can get a feel of local surroundings. And if you have an appointment somewhere new, you can check to see what the building actually looks like. To get these images Google has sent out cars with 360 degree cameras mounted on them to cities across the US and the world.
Google has kicked it up a notch in preparation of the Olympic Games. They have mounted one of their cameras on a snowmobile that was sent off to ride all around Vancouver and the Olympic venues. The camera captured many beautiful images of Vancouver and British Columbia, including shots of many of the sites of the most popular sports. These include:
Alpine Skiing
Figure Skating
Ice Hockey
Snowboarding
Ski Jumping
To see all of the great venues and beautiful mountains of Vancouver and Whistler, all you need to do is head to Google Maps and enter "Vancouver." Within the options on the left, you'll find a note that reads "Go beyond the streets to ski slopes, new in Street View." Click there and you will experience the Olympic setting like never before.
Could the Adirondacks be next? Now that Google has tested its Street View in one mountain range, could more be far behind? The Adirondacks would be a great region to capture and share with the world. They could start in Lake Placid, site of two previous Olympic Games, and spread out from there. Not to mention, the Adirondacks are also very freindly to snowmobilers.