Paddling Destinations in the Adirondacks: Where to Go
Paddling in the Adirondacks is second to none, and we can help you discover some of the best waterways the region has to offer. With over 3,000 lakes and ponds and 30,000 miles of rivers and streams in the Adirondacks, finding your favorite paddling spot is simply a matter of narrowing it down. Below, you'll learn about some of the most popular Adirondack paddling destinations.
For specific access points, see the best access sites in the Adirondacks.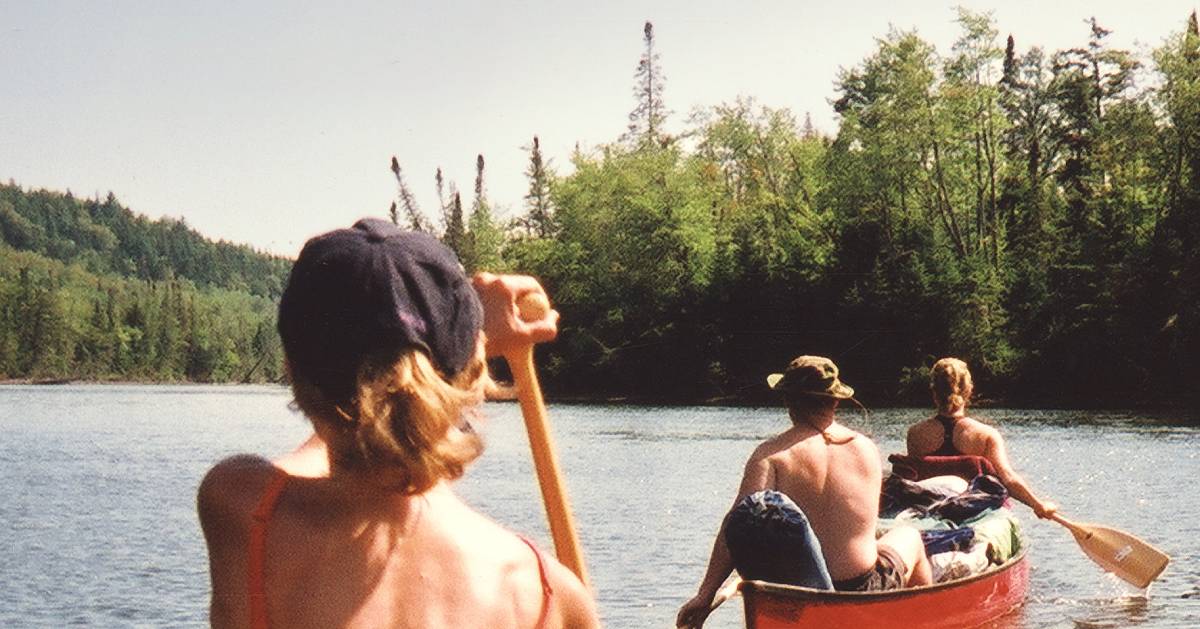 Saint Regis Canoe Area
The Saint Regis Canoe Area, located in the southern half of Franklin County, is home to more than 150 bodies of water. These lakes and ponds are the headwaters of three main rivers: the Saint Regis, the Saranac, and a section of the Raquette River.
In 1972, part of the area that is home to 58 bodies of water was zoned as a Canoe Area. All motorboats and snowmobiles have been prohibited in the area since, as have permanent structures other than three-sided log lean-tos.
The Saint Regis Canoe Area is home to many small ponds with different routes that can be taken to explore the region. One of the oldest and most well-known routes through the Saint Regis Canoe Area is the Nine Carries Route (12-15 miles). This was actually a popular route for canoes and guide boats in the 1800s. The route can be accessed near the NYS Fish Hatchery at Little Clear Pond, off of Route 30. There are lean-tos on the southern shore of Saint Regis Pond, including one on the north and one on the south shore of Fish Pond, as well as campsites situated around the area.
Please Note: A number of trout waters located inside the Saint Regis Wilderness Canoe Area are maintained by the Department of Environmental Conservation (DEC) and feature specific fishing and camping restrictions.
Get more info on the Saint Regis Canoe Area >>
View map of the Saint Regis Canoe Area >>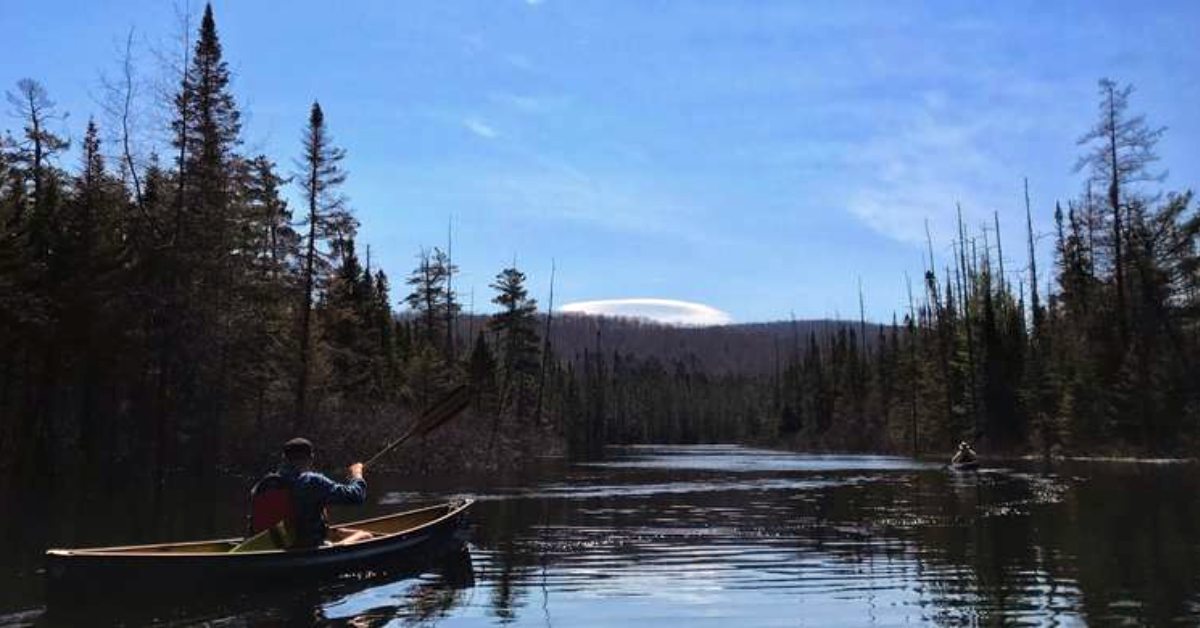 Interested in paddlesports but not sure where to start? Experienced in paddling but want help planning your route? Check out St. Regis Canoe Outfitters! This family-owned business has two outfitting bases, one in downtown Saranac Lake (open year round) and one at the edge of the St. Regis Canoe Area (open May-October).
The company offers rentals and outfitting packages, route planning, transportation, instruction, food packing, and even guided day and overnight trips.
Black River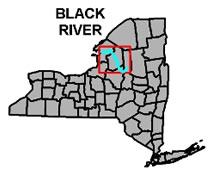 Black River is a historic body of water that flows from the northwestern Adirondacks, through the Tug Hill Plateau, and into Lake Ontario. There are over ten dams and waterfalls on this lengthy river, so hikes, portages, and camping will be necessary to navigate the river in its entirety.
The river ranges from a small mountain creek to a sandy river and even whitewater rapids depending on the time of year. There are launch sites at Lyons Falls, Burdick's Crossing, Glenfield, Beach's Landing, Castorland, and Carthage. There is also a handicap-accessible fishing deck on the river on Waters Road in Lowville.
Upper Segment - North Lake to Lyons Falls (42.6 miles) - There is a boat launch located above the falls at Lyons Falls that provides access to the upper reaches of the river. This section of river travels through the Southwestern Adirondack Park and the Tug Hill Plateau. Many old mills and dams are visible from the water. You can also spot old locks from the era of steamboat travel in the Adirondacks, when locks were used to help larger boats navigate area rivers.
Middle Segment - Lyons Falls to Carthage (40 miles) - This part of the river has a very moderate grade and no dams. Spring flood waters turn this area into a lake as the winter snow melts. This stretch of river is widely used by fishermen, holds more than 35 species of fish, and is well-known for walleye and smallmouth bass fishing. Occasionally, good sized brown trout can be caught, but the ice-cold water and Lyons Falls make this water poorly suited for most trout. Otter Creek, Independence River, and Deer River are the three largest tributaries.
Lower Segment - Carthage to Lake Ontario (31 miles) - Access to this part of the river can be found at Adirondack River Outfitters. The section of the river between Watertown and Dexter offer some of the most exciting waters in the area. This is the only location in New York State where you can find Class IV+ rapids for the entire paddling season. It should be noted that this section of river holds several falls and ledges, and river-goers must be prepared for these, or be ready to get out and walk.
Please NOTE: When this river is flooded, it can become quite dangerous even to those with plenty of experience. Nobody should be on the river during flood season, regardless of experience level.
Get more info on the Black River >>
Moose River Plains Wild Forest Area
The Moose River Plains Wild Forest Area has a wide range of terrain from flat, grassy plains, to forested ridges and mountains. The Cedar Flow River Area is a beautiful 675-acre plot that was formerly used for timber transfer when the Adirondacks were being heavily logged.
Today, the area is known as a fantastic spot for cold water fishing, canoeing, and paddling. This is a very nice area to go on any sort of outdoor adventure with more than a hundred campsites ranging from fully developed campgrounds to primitive tent sites. Moose River Road, located off of Limekiln Lake Road in Inlet, is the best way to access these waters and provides quite a few canoe put-in spots.
Get more info on Moose River Plains >>
Grass River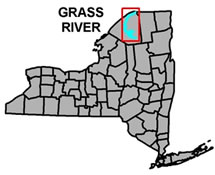 The Grass River, in the northwest corner of the Adirondack Park (St. Lawrence County), is a tributary of the St. Lawrence River. The river consists of two main segments, the North Branch and the South Branch.
Like many in the Adirondacks, the river once served as a water power source for several mills located in the towns that the river runs through. Evidence of this can be seen from the river, as stone foundations, old furnaces, and other historic structures line its banks. Grass River is home to native brook trout, walleye, and smallmouth bass, and is stocked with more than 5,000 brown trout annually.
North Branch (36 miles) - The North Branch of the Grass River flows from Canton to Massena and is great for canoeing. Paddlers with limited skills can navigate this section of the river, as most portages are short and easy. The North Branch generally supports warmwater species of gamefish: walleye, bass, bullhead, and panfish. Canoe access to this portion of the river can be found at road crossings, roads that run along the river, and state land in the area. There are also municipal boat launch sites at Upper and Lower Lakes Wildlife Management Area, Madrid, Chamberlain Corners, and on Andrews St. in Massena.
South Branch (49 miles) - The South Branch of the Grass River flows from Degrasse to Canton and generally supports coldwater gamefish. Native brook trout and stocked brown trout are the main draw for fishermen on this portion of the river. Be aware that there are periods when the water is fairly shallow for paddling. There are several rapids below Russell on a fairly remote stretch of the river, and it is not recommended for novice paddlers. Rapids through Canton make it necessary to portage through the village and put in again just below it.
Get more info on the Grass River >>
Indian River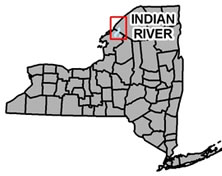 The Indian River flows from Indian River Village to Black Lake and offers excellent fishing and canoeing opportunities. 75 miles of the river are easily canoeable, and there is public access to 15 natural lakes along the way. The lakes range from shallow, productive lakes that support bass, crappie and perch, to deep, coldwater lakes that lake trout and Atlantic salmon call home. Many of these lakes have limitations of 10hp on motorized boats, making them well-suited for paddlers.
The Indian River is slow-moving and spans three counties (Lewis, Jefferson, and St. Lawrence) across the Adirondacks. There is a 25-mile stretch of river that runs along a restricted area of Fort Drum Military Reservation, and a permit is required for canoeing or fishing access. Permits can be obtained (free of charge) from the Provost Marshall's Office in Fort Drum.
Get more info on the Indian River >>
Raquette River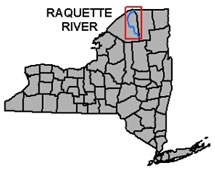 The Raquette River is located almost entirely in St. Lawrence County, with the last 2 miles or so flowing into Franklin County near Massena. The river is broken up into four segments, Upper River, Upper Impoundments, Middle River, and Lower River. One of the best features of the Raquette River is that most of it is easily accessible by motor vehicle, allowing paddlers to enjoy their favorite stretch of the river at any time. Camping and picnic areas are scattered about, allowing for day trips and overnights.
Upper River (18.5 miles) - A large impoundment formed by a hydro dam leads to a 17-mile stretch of challenging whitewater in this segment of the Raquette River. Piercefield Flow is great for canoeing, kayaking, fishing, and observing wildlife, as a number of hidden stumps has naturally restricted the use of large motor boats. Downstream from Piercefield Flow to Carry Falls Reservoir is easily the most challenging section of the Raquette River. This section of the Raquette is full of rapids, falls, and portages, all of which should be scouted and assessed prior to launch. This route should not be attempted by the novice paddler, as it requires expertise in whitewater paddling and quite a bit of endurance. For experienced paddlers, this stretch runs best in the summer, with longer days and lower water levels.
Upper Impoundments (27 miles) - The Raquette River becomes a series of reservoirs for the next 27 miles. Eight reservoirs ranging in size from 122 to 3170 acres provide a perfect setting for family vacations, kayaking, canoeing & fishing adventures, and plenty of relaxation. Boat launches, campgrounds and swimming beaches make this area perfect for the whole family.
Middle River (27 miles) - The middle section of the Raquette River is divided by dams into short, stunning stretches, littered with ponds and reservoirs. Camping areas are few and far between, however an excess of day parks and picnic areas make this a great place for day trips. This section of the river is always close to civilization for those that don't want to go too deep into the wilderness.
Lower River (15 miles) - This segment of the Raquette River is relatively uninterrupted by dams and waterfalls, winding gently toward Massena. There are some rapids throughout this section, which can easily be spotted and portaged around. The 15-mile Lower River can be paddled all at once, or in two short trips.
NOTE: When paddling the Lower Raquette River, please consider that this part of the river is used to generate power, and water levels can change quite suddenly. You may not experience any rapids in one direction, but may encounter some on the way back (and vice-versa) as water is either released or withheld at the dam in Raymondville. Please notify somebody of your expected route and arrival time.
Get more info on the Raquette River >>
Don't Forget!
While out paddling in the Adirondacks, wear a life-preserver, clothing that dries quickly, and take along some sunscreen, sunglasses, a compass, snacks, drinks, bug spray, and other items to make yourself more comfortable.
Find companies that help get you on the water >>