Ride Those Rapids! Find Whitewater Rafting Companies in the Adirondacks
If you've never been whitewater rafting, there are a variety of well-respected outfitters who can guide you into an amazing adventure on one of the many rivers in the Adirondacks. The Park is home to the Hudson River, Sacandaga River, and Moose River, to name a few, that all offer raging rapids.
Spring offers the best rapids in Upstate New York, as the runoff from snowmelt produces fast-moving waters. The Hudson River rapids are rated at Class IV and V when the water is really flowing! Summer and fall rafting trips are calmer, but equally as exciting. The following outfitters can provide you with the gear and instruction you're looking for.
Looking for something a little slower paced? Try a canoe or kayak trip!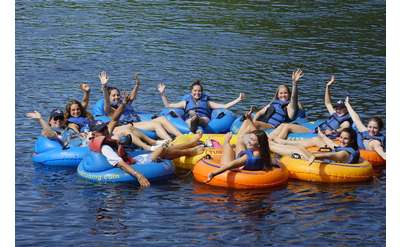 Adirondack Adventures Whitewater Rafting
North River, NY
Adirondack Adventures is the choice for fun in the Adirondacks! Join us on an adventure down the Hudson River Gorge with the most experienced guides around. We also specialize in tubing and whitewater kayak instruction.