Take a Road Trip to These 7 Covered Bridges in the Adirondacks
Once upon a time, covered bridges could be found throughout New York State as well as in the Adirondacks. As the years passed, many were left to fall into disrepair and be replaced by an updated bridge structure.
Today, there are just a few historic ones left standing in the Adirondacks, along with some that offer a modern take on the covered bridge design. If you're planning to take a road trip through the Adirondacks, here are 7 covered bridges that you must stop and see.
1. Jay Bridge (Jay, NY)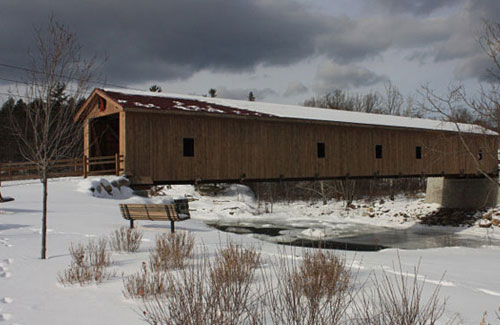 Perhaps the most well-known historic covered bridge in the Adirondacks, Jay Bridge was built back in 1857 by George W. Burr. The bridge is a prime example of the Howe truss design, which uses wooden diagonal web members that are in compression, allowing the bridge to be longer and stronger.
Jay Bridge is located in the Town of Jay in Essex County, and it crosses over the east branch of the Ausable River. In 1997, the bridge was deconstructed and cut into sections because it was considered unsafe for travel. A decade later, Jay Bridge was rehabilitated, repaired with new truss members, and rebuilt over the river.
Today, Jay Bridge is an Adirondack landmark that is used for weddings and community events. On your road trip to Jay Bridge, you should definitely stop to explore Ausable Chasm - the "Grand Canyon of the Adirondacks."
2. Copeland Covered Bridge (Edinburg, NY)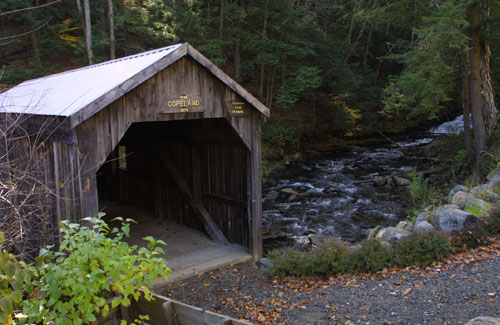 Copeland Covered Bridge was built in 1879 by Arad Copeland, who moved to the area around 1832. Previously, there was a small bridge over Beecher Creek that connected Copeland's house and a small pasture he owned. When that bridge was destroyed, he funded the construction of Copeland Covered Bridge.
This bridge was built with a queen post truss design, which uses two central supporting posts. Some of the bridge's renovations have included a new metal roof, new flooring, and side board replacements. Copeland Covered Bridge is 35 feet long, and in 1998, it was placed on the NYS and National Registers of Historic Sites.
The bridge is an extremely popular spot for visitors who want to stop for photographs. If you would like to stay in this scenic area for a while, Northville is your best option for lodging. The nearby community offers cottages at Lapland Lake Nordic Vacation Center and historic, luxury guest rooms at Inn at the Bridge.
3. Ticonderoga "Kissing" Bridge (Ticonderoga, NY)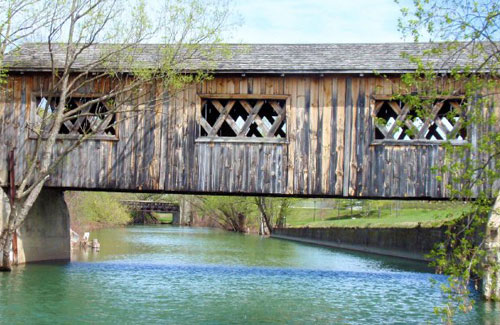 Photo courtesy of Adirondack Winery, credit to Sasha Pardy
Are you looking for a more romantic covered bridge in the Adirondacks? If so, try the Kissing Bridge in the Town of Ticonderoga. Located in the northern end of town, this covered bridge crosses over Ticonderoga Creek/La Chute River. In 1994, the bridge was covered by the local Elks Lodge and named the Kissing Bridge.
About 2.5 miles east of Kissing Bridge is another can't-miss hotspot in the region - the historic Fort Ticonderoga!
4. Lake George RV Park Bridge (Lake George, NY)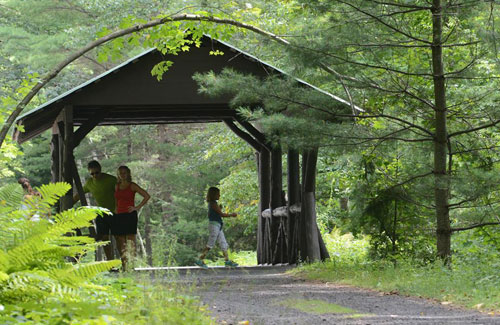 Photo: Lake George RV Park
Just outside the Blue Line, you'll find a covered bridge at Lake George RV Park in Lake George, NY. Built over an old railroad track, the covered bridge connects the RV Park to the popular Warren County Bike Trail.
5. Old Forge Covered Bridge (Old Forge, NY)
Over in Old Forge, NY in Herkimer County, the Old Forge Covered Bridge has been a permanent fixture since July 1987. The bridge goes over the Middle Branch of the Moose River that runs through Old Forge.
This covered bridge is for pedestrian travel and is located parallel to NYS Route 28. It's actually within walking distance of the popular Enchanted Forest Water Safari outdoor water park and the year-round Water's Edge Inn.
6. Three Brothers Bridge (Bolton Landing, NY)
Bolton Landing is a charming community that is north of Lake George Village, but did you know there's a covered bridge nearby? Built by the Trask Family in 1907, this covered bridge connects the Three Brothers Islands and spans 92 feet.
Although the islands are private property, you can go for a paddle or boat trip on Lake George and view the bridge from the water. Go for a trip with Bolton Boat Tours, located just a few miles north of the Three Brothers Islands.
7. Salisbury Center Bridge (Salisbury, NY)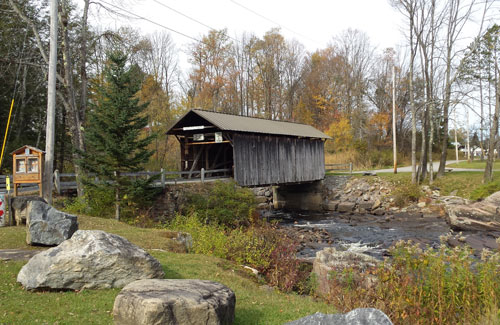 Photo Credit: Casi Hess
In Herkimer County on the border of the Adirondacks is a covered bridge in the Town of Salisbury. The bridge was built in 1875 by Alvah Hopson, and it is roughly 42 feet long. In 1972, the bridge was added to the National Register of Historic Places. Salisbury Center Bridge is open for vehicular travel, but it doesn't see much traffic.
Do you have photos of the covered bridges on this page that you'd like to share?
« Find more things to do in the Adirondacks
Sources:
http://www.nycoveredbridges.org/covered-bridges/
http://www.coveredbridgesite.com/ny/ny_home.html
http://www.edinburgny.com/copelandbridgehistory.html