Teddy Roosevelt Weekend in Newcomb: Activities, Events & More
Please note, the 2020 TR Weekend, scheduled for September 11 to 13, will be virtual. Joe Wiegand (Teddy Roosevelt) will streamlive from his home base of Medora, North Dakota. Get details here.
Did you know Teddy Roosevelt had a love for the Adirondacks and a special connection with Newcomb, NY? This small town in the heart of the Adirondack Park was actually the starting point of Roosevelt's midnight ride to the presidency. Join in the community's celebration of the life and times of Teddy Roosevelt during TR Weekend, September 6 to 8, 2019.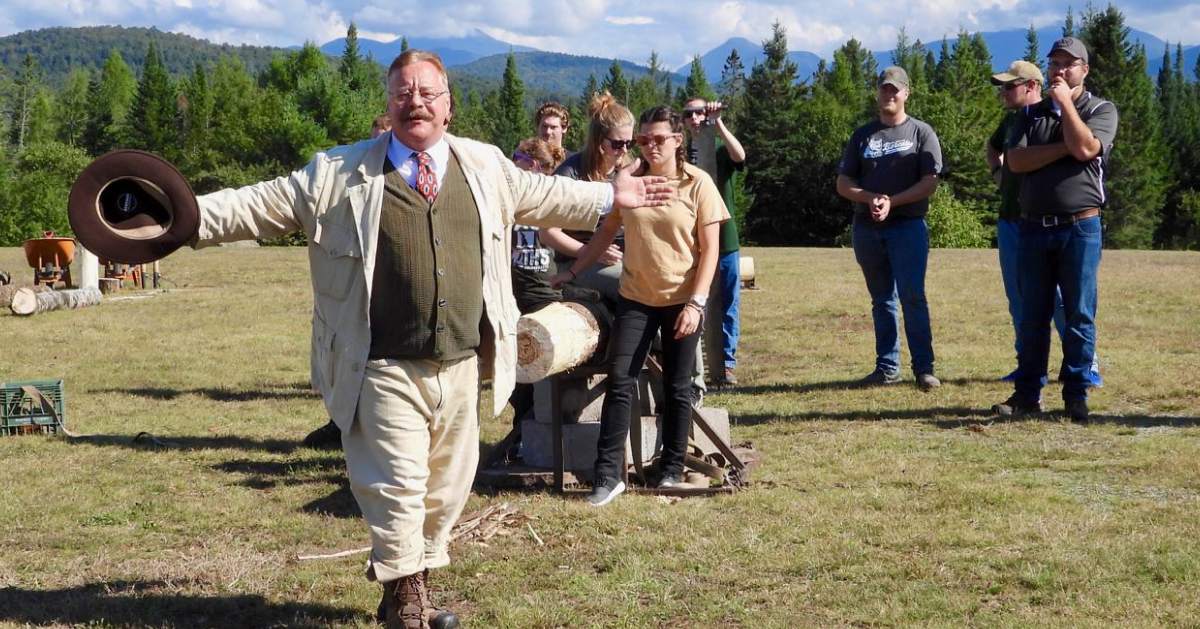 Photo provided by Discover Newcomb
During the three-day celebration, events will take place all over the Town of Newcomb. There will be nature walks, demonstrations, food, activities for kids and families, and more.
2019 TR Weekend Schedule
Friday, September 6:
4:30pm to 6pm: Dinner Cookout at the Newcomb Central School, dine in the NCS Cafeteria
6pm to 8pm: Family Fun Night "Rockin Through the Ages," Class of 2022 at the NCS gymnasium
Saturday, September 7:
8am to 10am: Breakfast at the Newcomb Central School by Class of 2022
8:45am to 1pm: Wagon ride into Camp Santanoni, reservations required
9am to 11am: Fishing Derby at Winslow Pond
9:30am to 10:30am: Running of the Colors at St. Barbara's Episcopal Church
10am to 3pm: Float Plane Rides with Tom Helms at the Town Beach
10am to 5pm: Newcomb Historical Musical exhibit, "Behind the Scenes at Camp Santanoni"
10am to 3pm: Goodnow Mountain History with Mike Gooden, climb Goodnow Mountain and fire tower and learn about its history
10am to 2pm: Car Wash at the Newcomb Health Center parking lot
10am to 4pm: TR Weekend Craft Fair at the Fire Hall
10:30am to 1pm: ESF Timber Sports Team Scrimmage at the Overlook
11:30am to 1pm: Lunch by the Class of 2021 at the Newcomb Central School Cafeteria
Times to be determined: Movie at the NCS Auditorium "Panama Diplomatic Trip"
1pm to 4pm: Newcomb Mountain Quilters, quilt squares for veterans and breast cancer quilts at the Adirondack Interpretive Center
1pm to 2pm: Log Rolling with ESF students and volunteers at Newcomb's Public Beach
1:30pm to 2:30pm: Fly Fishing Demo by Rick Kovacs at the Cloudsplitter-Outfitters on 28N
2:30pm to 3pm: Family Tree & Ice Cream Social at the Overlook with Joan Burke
4pm to 4:30pm: TR speaks on Family at the Newcomb Historical Museum
Time to be determined: Italian Dinner at the NCS Cafeteria
6:30pm to 8pm: Q&A with TR: re: Nobel Peace Prize and Diplomatic Trip to Panama at NCS auditorium
8:30pm: Fireworks at the Overlook
Sunday, September 8:
8am to 10am: Breakfast at NCS by the Class of 2023
8:45am to 1pm: Wagon ride into Santanoni by Newcombe Farm
9am to 10am: Ty Yandon Memorial 5K race starting from the Newcomb Health Center
10am to 2pm: Golf Tournament at the High Peaks Golf Course by the Class of 2020
10am to 11:30am: Huntington Lodge Open House at Arbutus Lake
1pm to 3pm: McNaughton House in the Upper Works
Time to be determined: Thawus Club in the Lower Works
1pm: Blacksmithing with Dan King at the Blast Furnace in the Upper Works