Newcomb Hosts TR Weekend: September 15-17, 2017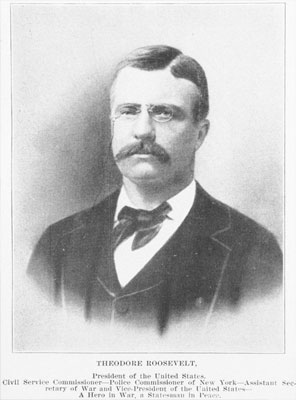 Did you know Teddy Roosevelt had a love for the Adirondacks and a special connection with the Town of Newcomb, NY? This small town in the heart of the Adirondack Park was actually the starting point of Roosevelt's midnight ride to the presidency. Join in the community's celebration of the life and times of Teddy Roosevelt on September 15-17, 2017 - TR Weekend!
During the three-day celebration, events will take place all over the Town of Newcomb. There will be nature walks, demonstrations, rides, a fishing derby, dinners, fireworks, activities for kids and families, and more!
2017 TR Weekend Schedule
Friday, September 15:
Theme - Women's Suffrage Movement & the Centennial of Women Winning the Right to Vote in New York State
1pm-4pm: "Mining in the Mountains - The Tahawus Story" - Exhibit at the Newcomb Historical Museum
4:30pm-6pm: International Food plus Gourmet Mac & Cheese Dinner hosted by NCS Senior Class "Suffragettes" - School Cafeteria
6pm-7pm: After dinner, there will be a presentation featuring Mary Cirbus, Program Coordinator for the Adirondack Architectural Heritage Association
Saturday, September 16:
Theme - United States Enters World War I
8am-10am: Pancake Breakfast hosted by NCS Class of 2020 - School Cafeteria
8am-10am: Paddle from Cloud-Splitter Outfitters to Long Falls - Meet at Hudson River Bridge on Route 28N
9am: Free Wagon Rides to Camp Santanoni
9am-11am: Fishing Derby - Coach Winslow's Pond on Route 28N
9:30am-10:30am: Running of the Colors (4th Grade to Adult) - Winebrook Hills Neighborhood
9:30am-10:30am: Blacksmithing Demonstration with blacksmith Dan King (Tupper Lake) - Newcomb Overlook on Route 28N
10am-1pm "The Best Coffee in Town" hosted by Ed LaCourse
10am-2pm: Car Wash/Bake Sale hosted by Class of 2020 - Newcomb School front parking lot
10am-3pm: Float Plane Rides piloted by Tom Helms (Long Lake) - Newcomb Town Beach Dock
10am-3pm: Goodnow Mountain Interpretation hosted by Mike Gooden, ESF Forester; a family-friendly hike with spectacular views
10:30am-12pm: ESF/Paul Smith's Timber Sports Teams Scrimmage - Newcomb Overlook on Route 28N
11:30am-1pm: Pulled Pork Lunch hosted by NCS Class of 2019
12pm-3pm: A showing of the American Experience TV presentation entitled "The Great War-America Comes of Age"
1pm-2pm: Log Rolling Competition hosted by ESF & Paul Smith's Timber Sports Teams - Town Beach, Lake Harris
1pm-4pm: "Mining in the Mountains - The Tahawus Story" - Exhibit at the Newcomb Historical Museum
2:30pm-3pm: FREE Ice Cream Social - Newcomb Overlook on Route 28N
2:15pm-3:15pm: Blacksmithing Demonstration with blacksmith Dan King (Tupper Lake) - Newcomb Overlook on Route 28N
3:30pm-4:30pm: Join guest speaker Dr. Rich Frost as he discusses the Plattsburgh, NY movement started in 1914 that trained 27,000 young men for military leadership roles in preparation for the U.S. entry into World War I
3:30pm-4:30pm: "Rubber Ducky Race" hosted by the Class of 2021; purchase a Rubber Ducky from a class member for $5 each or 3/$10
4:30pm-6:30pm: BBQ Dinner hosted by the NCS Class of 2019
6:30pm-7:30pm: Junior Class members will present "The Role of American Women During World War I" - School Auditorium
7:30pm-8:30pm: Join Dr. Roy H. Ginsberg, Newcomb Foreign Affairs Roundtable Moderator, and Pres. Theodore Roosevelt (aka Joe Wiegand) for a special session on World War I: "America at War and the Quest for Peace, 1917-2017" - School Auditorium
Dusk: Fireworks after presentation at Newcomb Overlook; Class of 2021 will be selling glow sticks, funnel cake, flags, balloons, and more
Sunday, September 17:
Theme - Upper Works & Tahawus Day
8am-10am: Breakfast hosted by NCS Class of 2019 - School Cafeteria
9am: Free Wagon Rides to Great Camp Santanoni
9am-10am: Ty Yandon 5K Race - Newcomb Health Center
10am: Memorial Service honoring local Newcomb World War I Veteran, Leslie Braley, and all military veterans - Huntington Cemetery
10am-2pm: TR Weekend Golf Tournament hosted by the NCS Class of 2018
10am-11:30am: Huntington Lodge Tour, followed by a guided nature walk guided by Charlotte Demers, ESF - Look for sign on Route 28N and follow directions to Huntington Lodge
1pm-4pm: Join Paul Hai and President Theodore Roosevelt for tours of the McIntyre Blast Furnace and McNaughton House, at the site of the former Village of Adirondac, and a tour of the newly renovated Masten House - Follow signs on Tahawus/Blue Ridge Road
For additional details, visit the Town of Newcomb's website »
Learn about Roosevelt's midnight ride from Newcomb to Buffalo »
Find more things to do in the Adirondacks »
Photo: New York State Public Library Digital Collections